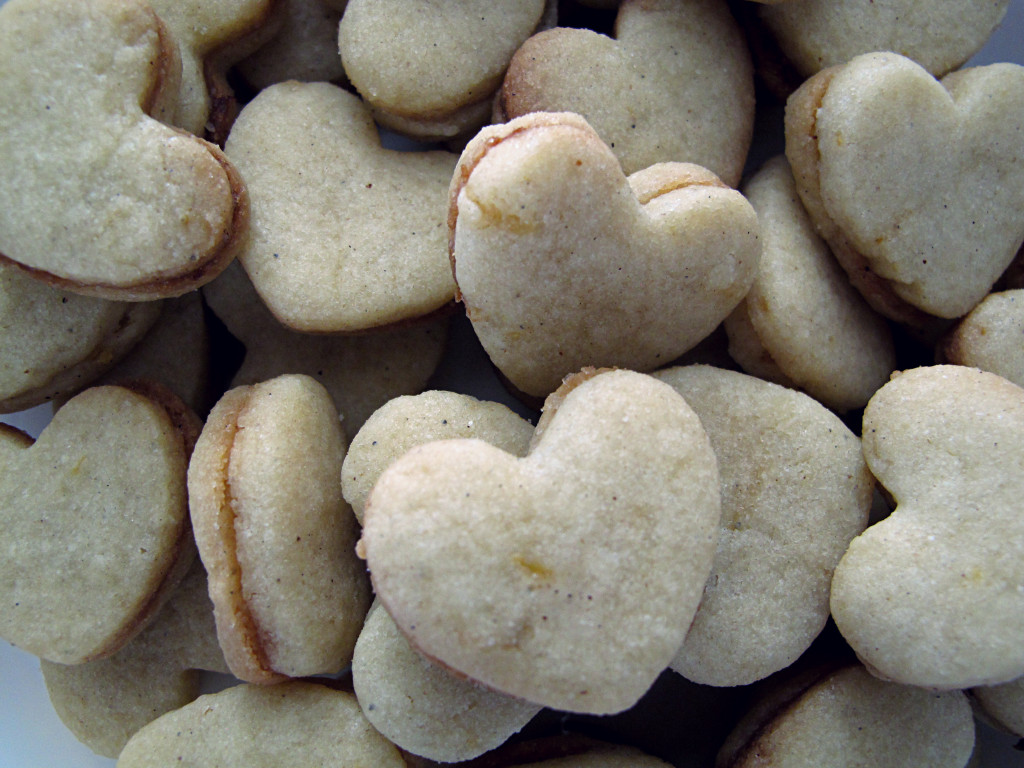 Cardamom Cookies with Lemon Icing
Valentine's Day is almost here!  Nothing says "I love you" more than something heartfelt, homemade, and of course, tasty.  We love making these heart shaped Cardamom cookies with lemon icing, and wrapping them up in pretty packaging for our family, friends and lovers.
Our co-Founder Tracy was inspired by her old neighborhood in Chelsea, where she lived right above COOKSHOP.  West Chelsea is beautiful, with classic New York brownstones surrounded by great restaurants and galleries. The centerpiece of the neighborhood was CHELSEA MARKET, a paradise of the best and freshest ingredients.
A favorite treasure is also 3 TARTS, a little store with absolutely delicious baked goods.  They make all their own cookies, tarts, truffles, marshmallows and ice cream sandwiches. One of the best were the Cardamom Lovelies – which brings us to today's post.  Since we don't get to the East coast as often these days, we decided to make them ourselves.
Cardamom is commonly used in India cooking and in Nordic baking.  It's a sweet-spicy, Earthy spice that comes in little seed pods. Also one of the world's most expensive spices, Cardamom falls just behind saffron threads and vanilla beans.  For sweets, it adds a wonderfully complex flavor profile to dark chocolate.  Here, we mix it with classic flavors of butter, sugar and lemon, for a lighter tangy cookie.  Thought Cardamom in pod form is much more fragrant than the ground spice, we take the easy route and use the ground version in this recipe.
Ingredients
Dough:
2 1/2 cups all-purpose flour
1 1/2 tablespoons grated lemon zest
1 1/2 teaspoons ground cardamom
1 teaspoon salt
2 sticks (1/2 pound) unsalted butter, softened
3/4 cup sugar
1 large egg yolk
2 tablespoons heavy cream
Lemon Honey Icing:
½ cup of confectioner's sugar
2 tsp of vanilla sugar (I make this by leaving vanilla bean pods in a little container of white sugar)
2 tbsp of lemon juice
2 tbsp of honey
Directions
Whisk together flour, lemon zest, cardamom, and salt. Beat butter and sugar with an electric mixer until pale and fluffy, then beat in yolk and cream. At a low speed, mix in flour mixture in 3 batches just until a dough forms. Quarter the dough and form each piece into a 6-inch disk.  Chill dough, wrapped separately in plastic wrap, until firm (2 to 3 hours).
Preheat oven to 350°F with a rack in middle. Roll out 1 piece of dough between sheets of parchment paper into an 11-inch round (1/8 inch thick). Slide dough on the parchment onto a tray and chill until firm, about 15 minutes.
Cut out as many cookies as possible with cookie cutter (chill dough again, if necessary), reserving and chilling scraps. Transfer cookies to a large parchment-lined baking sheet, arranging them 1 inch apart.
Bake until edges are golden-brown, 9 to 12 minutes. Cool on baking sheet 5 minutes, then slide cookies, still on parchment, onto a rack to cool completely.
Make more cookies with remaining dough and scraps (re-roll only once) on cooled, freshly lined baking sheets.
Mix all the icing ingredients together in a small bowl. Dip the bottom side of the cookie into the icing so that its lightly coated.  Take another cookie and sandwich them together, set aside to cool. Repeat until all cookies are sandwiched. Chill in fridge for a couple hours or overnight for the best results.
Written and photographed by Tracy Chow & Jennifer Yu