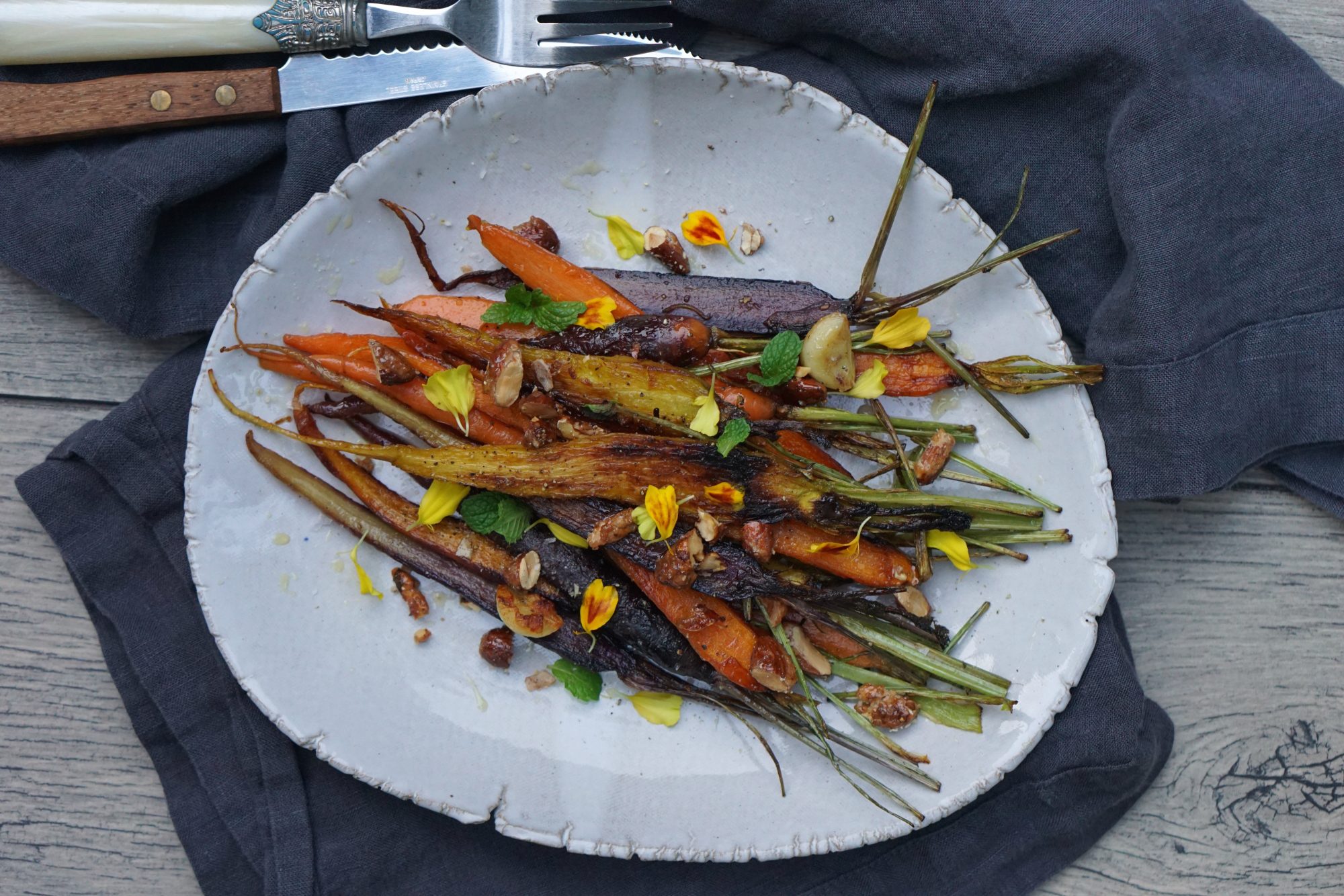 Carrots with Honey & Candied Nuts
What is more gorgeous than a heap of colorful carrots, with their tops and wispy roots in tact, caramelized golden brown in spots, tumbling rustically on a platter? Maybe adding sticky honey, crunchy sea salt, a sprinkle of Pecorino cheese, and a handful of chopped candied nuts?
I love a vegetable dish that's as much a feast for the eyes as it is for the mouth. This Carrots with Honey & Candied Nuts recipe delivers on all fronts. Imagine caramelized carrots sweetened lightly with honey, salty morsels of crunchy sea salt, umami-packed Pecorino, and crunchy candied nuts… mmmmmmmmm………
This dish is definitely making it onto my Thanksgiving menu this year. You can make the candied nuts up to a week in advance, using our candied peanuts recipe. I used walnuts and almonds, but you can use whatever makes you happy! These little suckers are so addictive though, my husband started hiding them in really high corners of the kitchen that I can't see or reach. But luckily it's Thanksgiving, time for a little extra indulgence 😉
Serves 4-6 side dish portions | 30 minutes 
Ingredients
1 bunch small to medium sized carrots with the tops on, preferably a mix of colors
2 tbsp olive oil
A few sprigs thyme
1 bay leaf
1 clove garlic, lightly smashed with the side of a knife, but still in tact
1 tablespoon honey
Maldon sea salt or Fleur de sel
Fresh ground black pepper
1 tbsp Finely grated Pecorino Romano cheese
1/4 cup candied nuts, roughly chopped
Directions
Scrub carrots and remove all but 1 inch of the carrot tops. I like the carrots unpeeled because it feels more rustic, but you can peel them. Slice carrots in half, lengthwise.
Heat olive oil, bay leaf, thyme, and garlic in a large pan, over medium heat. When the oil is hot, add the carrots and cook for about 10 minutes, tossing occasionally, until carrots tender but not soft.
Add honey and toss to coat the carrots, and transfer to a platter. Sprinkle sea salt, black pepper, and Pecorino Romano cheese all over the carrots. Sprinkle candied nuts on top of the roast carrots to finish.