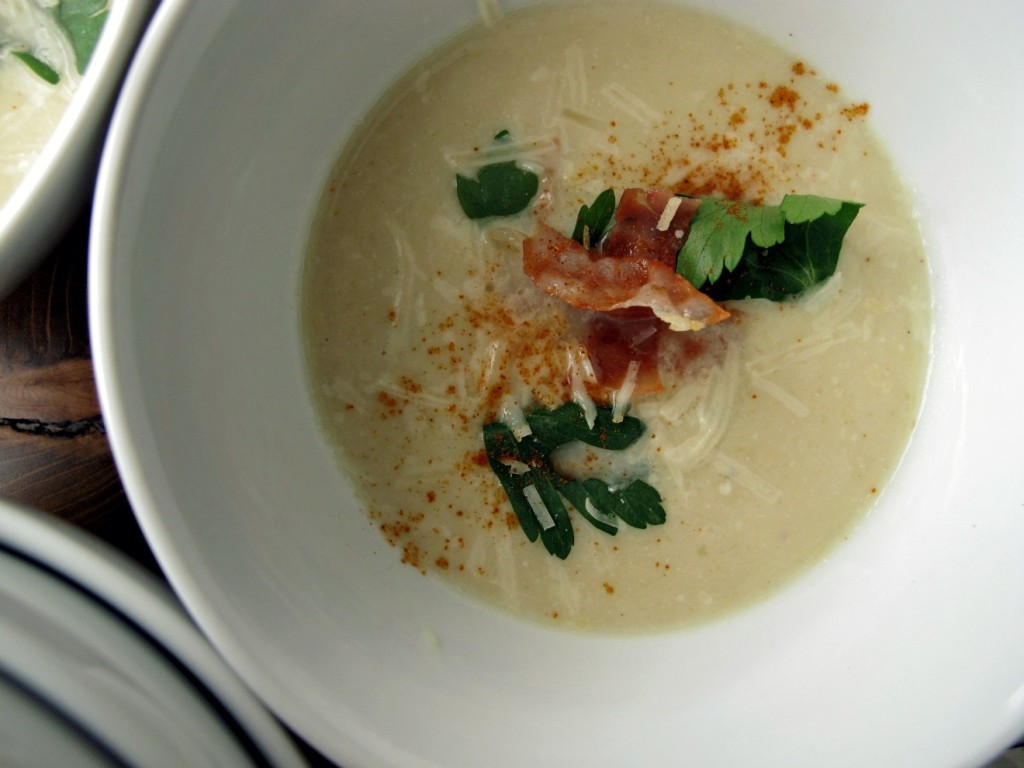 Cauliflower Leek Soup with Crispy Prosciutto
If you had to just one dish for the rest of your life, what would you pick?
Me?  I would happily slurp down soup for breakfast, lunch and dinner.  Soup warms the heart, soothes the soul, and beckons like a cozy, crackling fireplace on an icy winter's day.  I was lucky enough to be raised on the heavenly brothy nectars, made with love by my grandmother, from black chicken and ginseng, dried razor clams and scallop, meaty pork bones and winter melon.
Thankfully, gone are the days when soup meant cracking open a can of Campbell's alphabet soup.  Today's soups come in all shapes and sizes, with flavors to please every palate and sing praise for every culture.  For the uninitiated and the professional soup lover alike, this cauliflower leek soup recipe is a perfect for the fall.  It's savory, scrumptious, and easy to make.
Ingredients:
2 large heads of cauliflower – 1lb each or 3 smaller heads, roughly chopped
8 cups of chicken stock
1 cup of heavy cream
4 tbsp of unsalted butter
4 to 5 medium leeks, white and light green parts only, chopped
Salt
½ cup of chopped flat leaf parsley
4 oz of prosciutto, thinly sliced
¼ tsp of cayenne pepper
¼ cup of grated Parmesan cheese
Directions:
Tip for cleaning leeks:  Peel the outer layer of leek and discard.  Cut the leek where the dark green leaves begin, keeping only the white and light green parts.  Slice each leek lengthwise down the middle, and swish the leeks in a large bowl of water, making sure to wash between the outer layers.  Leeks can hide dirt and grit in between the layers, and there is nothing worse than biting into sandy grit.  Drain, and chop into ¼ inch pieces.
In a large pot, melt 4 tbsp of butter over low-medium heat, and add chopped leaks.  Season lightly with salt, and sauté for 10 minutes until leeks are soft.  Add chopped cauliflower, chicken stock and cayenne pepper.  Bring to a boil and reduce heat to a simmer. Allow vegetables to cook for another 20 minutes until very tender.
Let the soup cool on the stovetop.  When cool, puree in batches in a food processor, or in the pot if you have an immersion blender. Once all the soup is pureed, bring it back to a simmer, then whisk in heavy cream.  Taste soup and add salt to taste.
Cut prosciutto into thin strips and fry in a skillet until golden and crisp. To serve, ladle soup into a bowl, garnish with a light dash of cayenne pepper, fresh chopped parsley, a sprinkle of Parmesan cheese and 3 to 4 strips of crisp prosciutto.
Written and photographed by Tracy Chow & Jennifer Yu