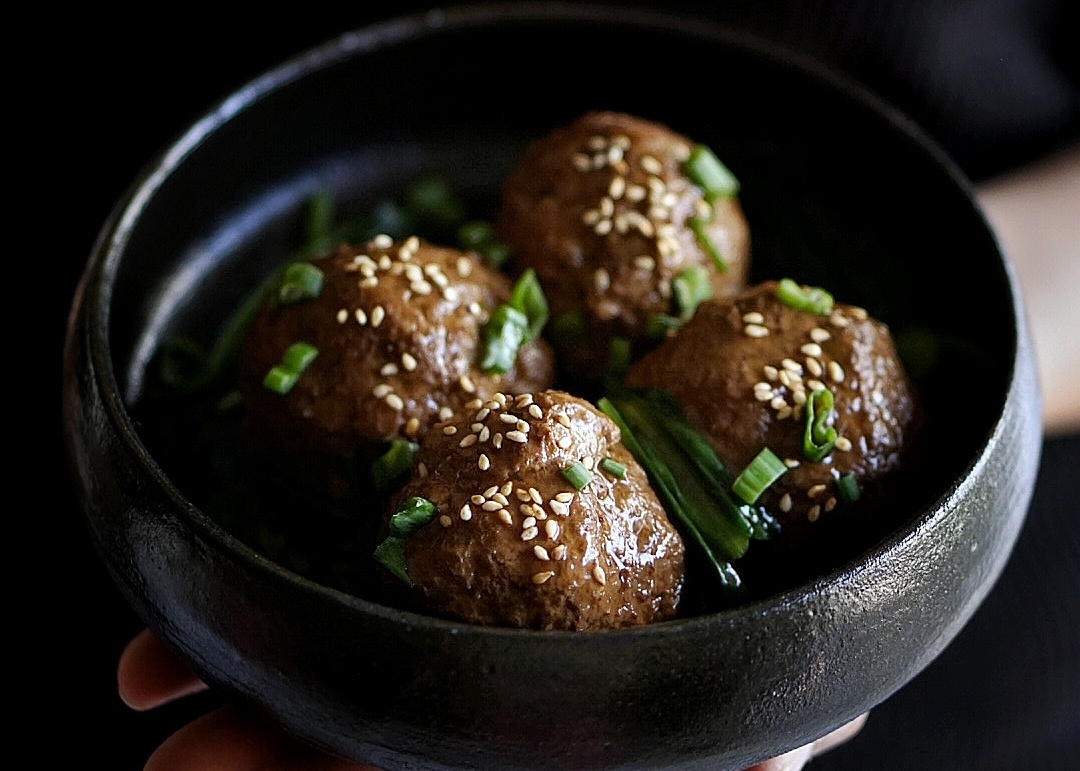 Chinese Meatballs with Lotus Root
One of the things I love most about Chinese cuisine is the diversity of ingredients used, and the creativity used to transform these ingredients into delicious dishes. If you say "ewww" at the mention of tongue or some other ingredient that appears in nearly every culture's cuisine except America, I will definitely silently judge you. Luckily, Chinese Meatballs with Lotus Root is a dish that everyone will enjoy, even those unfamiliar with lotus root.
Lotus root is the root of the water lily, the pretty green leaves that sit on top of ponds, with beautiful lotus flowers. The root anchors the plant into the mud at the bottom of the pond. It also happens to be delicious, and a critical component of our Chinese Meatballs with Lotus Root recipe.
I'm a big fan of stuffing every dish with vegetables so that it's healthy and delicious. In this Chinese Meatballs with Lotus Root recipe, lotus root is finely grated and added to the meatballs, to give them a soft, silky, fall apart in your mouth texture. The meatballs are braised and served on top of blanched greens, and topped with a savory sauce.
Makes 6-8 2 inch meatballs.
Ingredients:
Meatballs
1 pound ground pork (not the lean kind!)
Half of a segment of lotus root, minced or grated
1 egg
1 tbsp minced green onion
1 tsp minced ginger
1/2 tbsp corn starch
1 tbsp shaoxing cooking wine
1/2 tbsp oyster sauce
1/2 tbsp light soy sauce
Pinch sugar
Pinch salt
Poaching Liquid
1 star anise
1 bay leaf
1 tbsp light soy sauce
1 tsp dark soy sauce
Pinch salt
Directions:
1. In a mixing bowl, combine minced lotus root and ground pork.
2. Add remaining ingredients, and stir vigorously with a wooden spoon in one direction for 1-2 minutes. This whips the pork mixture into a paste-like consistency and prevents meatballs from breaking when poaching.
3. Roll pork and lotus root mixture into 2 inch meatballs with your hands, and set aside.
4. Fill a medium pot with about 3 inches of water. Add meatball poaching liquid ingredients, and bring water to a simmer.
5. Add meatballs one at a time to the poaching liquid, and bring water to the lowest possible simmer. Simmer meatballs for 3 hours. Alternatively, use a slow cooker.
6. Let meatballs soak in poaching liquid until ready to serve.
7. When ready to serve, make a glaze with the poaching liquid. Remove 1 cup poaching liquid and bring to a simmer in a small pan. Make a slurry with 1/2 tbsp corn starch and 1 tbsp cold water. Add slurry to the pan and stir until combined, and the glaze has the consistency of a gravy.
8. Serve meatballs on top of blanched greens, and drizzle with glaze.