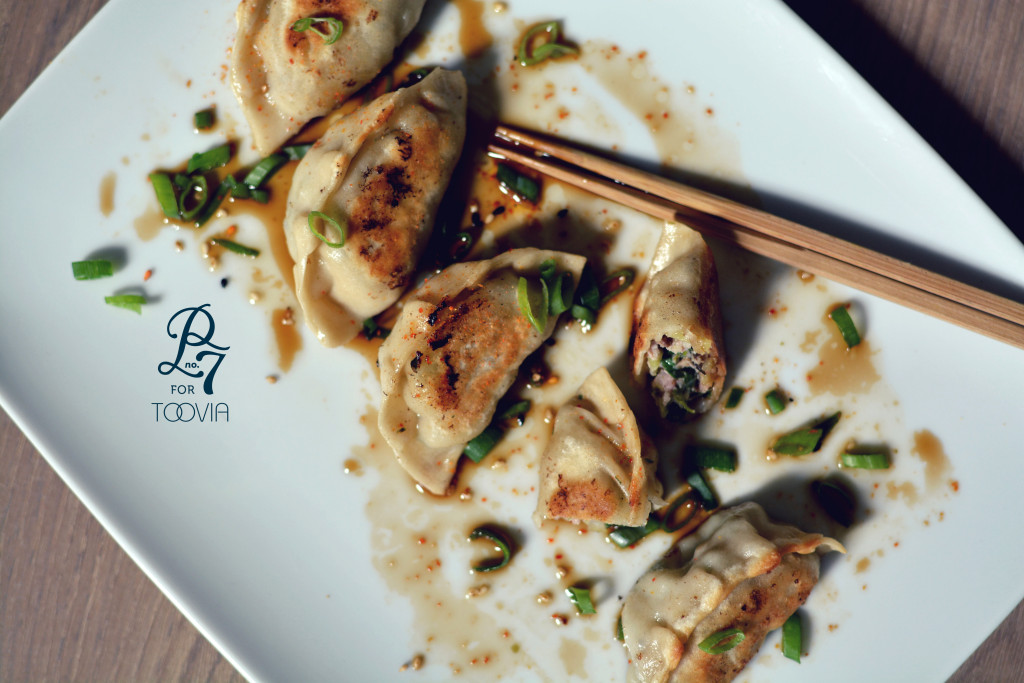 #ilovemom Contest by Toovia & Pantry No. 7
We are pleased to announce an exciting collaboration with our friends at Toovia, for Mother's Day 2014!  Through its #ilovemom photo contest, Toovia wants you to show some love to your mom, via photos of you and your mom.
As the judges, we will help pick the 5 most inspiring mom & daughter photos.  Prizes include amazing designer gift baskets with goodies from Laura Mercier, Lauren Ralph Lauren, Diptyque and more.  Click for contest details.
To kick things off, we spent a nostalgic day in the kitchen recreating the one hand-me-down recipe that reminds us of our childhood.  The one dish that inspires us to dream big, cook fabulously each day, and never feel far from home.  This, for us, is the incredibly delicious Bok Choy & Shiitake Pork Dumpling.
To get your creative juices flowing, our Co-Founder Jen Yu also shares her mother's story, which inspires her to be a better person every day.
Jen Yu's #ilovemom story:
My mother grew up in China during the 1960's Cultural Revolution.  In an effort to abolish capitalism and grow the working class, schools had been closed indefinitely.  At age 14, she was torn away from her family and sent to work in a rural rice field, with no end in sight.  For years, she covertly studied contraband books in darkness with the hope that one day, she would be able pursue an education again.
To this day, I am astounded by her will to survive and her personal drive to succeed, when then toughest of the tough succumbed to the treachery of their circumstances.  When I was four, my mother earned a chance almost unheard of in the China of 1987, the chance to pursue further education in the US.  She left with a suitcase of clothes entirely unsuited to American culture, broken English, a pocketful of change, and big dreams.
It wasn't until recently that I fully grasped the magnitude of her courage and sacrifice, so that I would have the freedom to pursue my dreams.  To support her studies, my mother was a full time nurse to an elderly handicapped lady in exchange for a place to live.  After graduation, she climbed the corporate ladder to the Vice President level within a few short years, in spite of the challenges she faced as a female minority in a foreign country.
During those years, she also won a battle against breast cancer, while somehow taking me to countless music lessons and sports practices, all without taking a single day of sick leave from work.  And no matter how tough things got, she always found the time to make me an amazing home-cooked meal.
Today, I want to honor my mother, by sharing my story about her.  Her love, bravery, and extraordinary strength are a constant inspiration for me, and I know there are many of you out there with similar stories.
When I miss my mom, I whip up a batch of the bok choy & shiitake pork dumplings I grew up eating. These were always hand-made on the kitchen table amid boisterous laughter among my grandmother and aunts.  It's been handed down through many generations to me, and I hope you share it with your loved ones too.
Bok Choy & Shiitake Pork Dumplings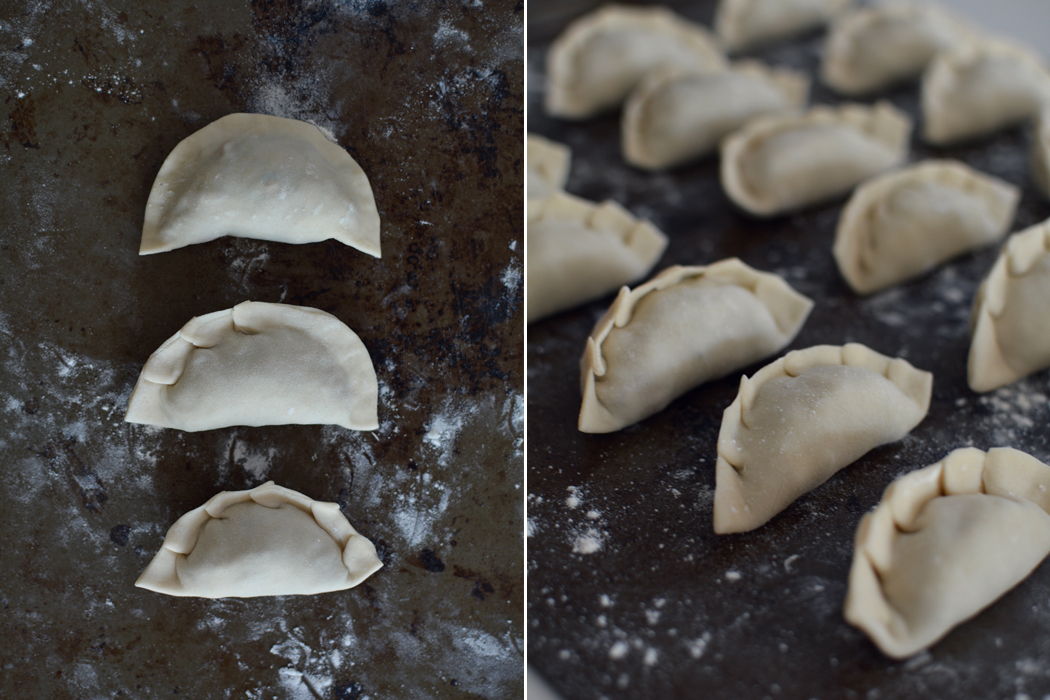 Cook & Prep Time: 2 hours | Makes about 3 dozen dumplings 
Ingredients:
Filling:
1lb of minced pork
1 1/2 cups of sliced dried shiitake mushrooms, rehydrated and finely chopped
8 – 10 medium heads of bok choy (about the length of your hand), finely chopped
1 tsp finely minced ginger
1 tsp fish sauce
1 tbsp of cornstarch
3 tbsp of water
1/4 cup of sake
salt & pepper
Dough:
500 grams of flour
1 1/4 cups of warm water
1/2 tsp of salt
1 tsp of oil
Sauce:
4 tbsp of ponzu sauce
1/2 tsp of sesame oil
3 tbsp of chopped scallions
2 tbsp of sake
1/2 tbsp of sweet mirin
Directions:
For dough: Mix 1 cup of water, oil and salt.  Stir until salt has dissolved. Slowly pour water into flour and stir with a fork. Use enough water so that the dough comes together, and use the remaining water if necessary. Using KitchenAid mixer, knead dough with dough hook until dough is soft and shiny – about 10 minutes. Wrap and set aside.
For filling: Finely chop bok choy and shiitake mushrooms. Heat a medium skillet with a tbsp of oil, and stir fry shiitakes and bok choy for a couple of minutes. Season with salt and pepper to taste, and add a splash of sake. Continue to stir fry until all liquid has evaporated. Once bok choy mixture has cooled, add minced pork, cornstarch, water and mix well.  We recommend pan frying a small patty of meat filling to check the filling is well seasoned, then adjusting to taste.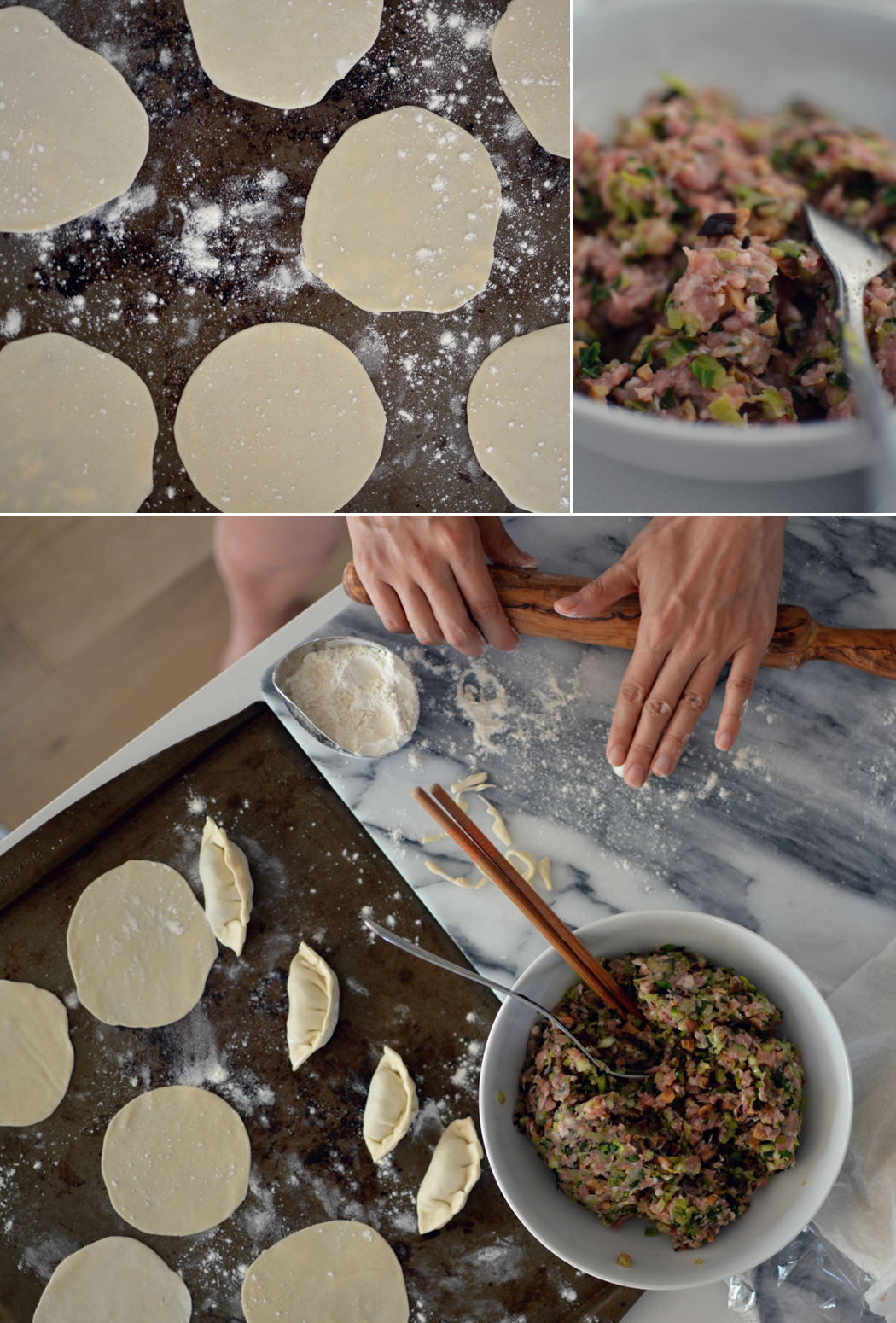 To fold dumplings, roll the dough into 3/4 inch size balls with the palm of your hand.  Roll out the dough balls into a 5 inch round shapes using a rolling pin. We do this on a cool non-floured marbled surface. Scoop a generous spoonful of filling in the middle of the dumpling skin and fold dumpling skin in half.  Gently press along the sides to remove any air pockets and to seal the edges (if you're using pre-made wrappers, wet the inside edge with a little water so the dumpling skin sticks).  Place on flat surface and pleat the sides, gently pressing as you go.  We trimmed the edges of our dumplings to make them look neater, but you don't have to.
Place completed dumplings on a generously floured surface. Repeat until all dough and filling has been used up.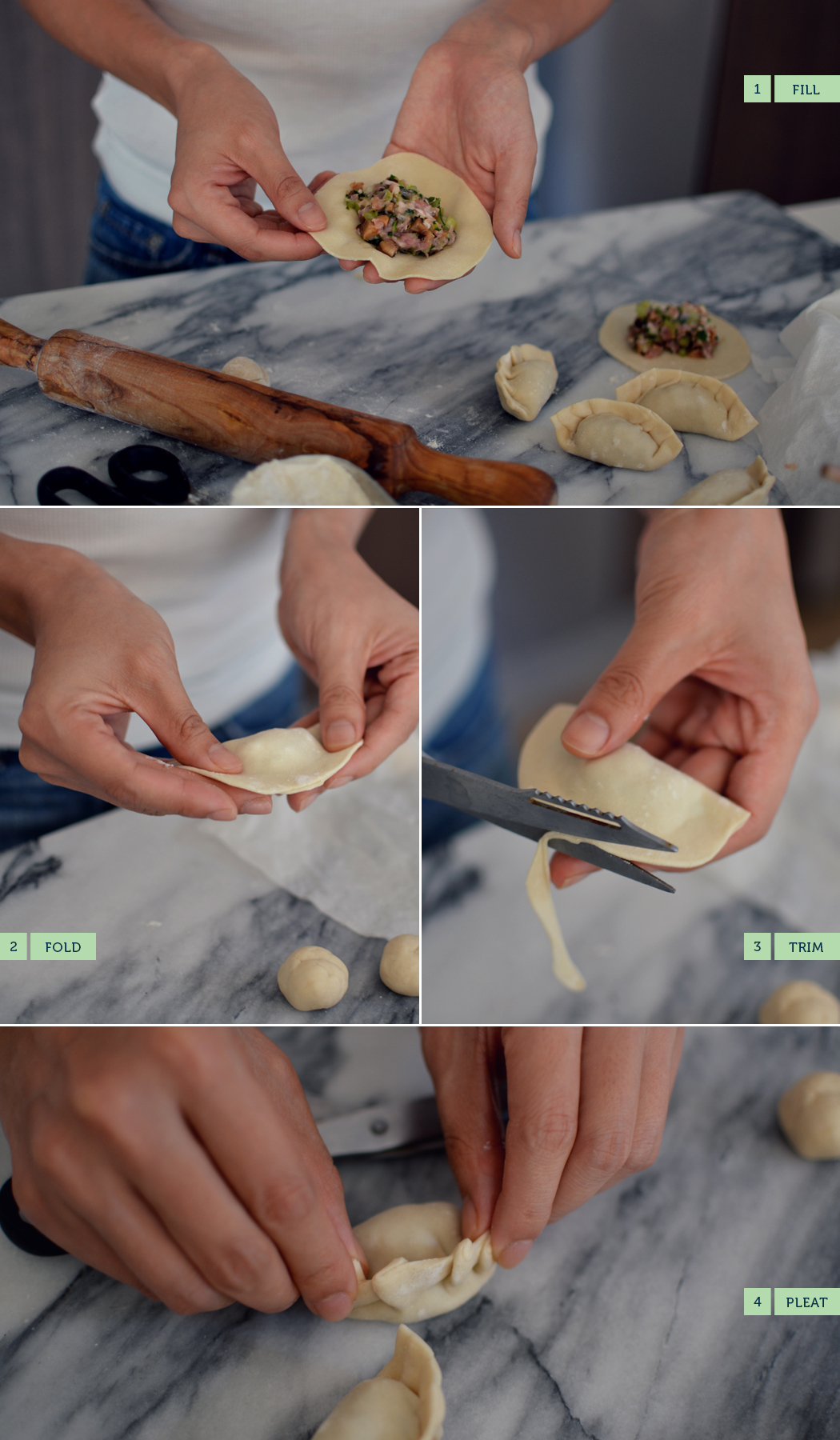 For sauce: in a small skillet, heat oil on medium high heat.  Stir fry chopped scallions lightly.  Add remaining ingredients and let reduce until sake has cooked off a bit. Pour into a small sauce bowl.
To pan fry dumplings: Heat a skillet with oil on medium high heat, and add dumplings to pan. After a few seconds, add a splash of water and cover skillet with a lid for about 5 minutes. Turn heat down to medium. Once the water has evaporated and the bottom of the dumpling is a nice golden brown, flip them over to pan fry the other sides.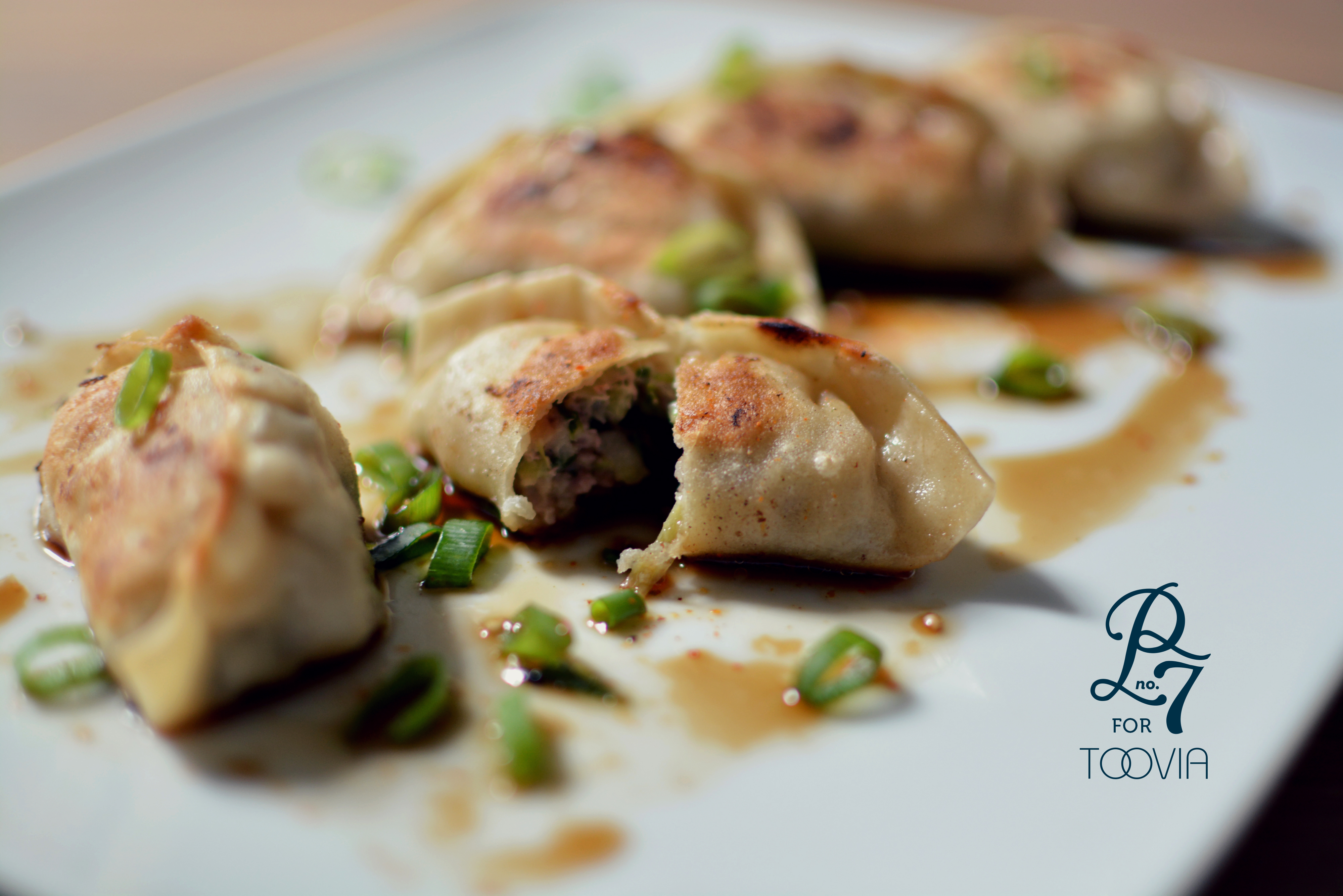 She helped the class to articulate their reasons for liking/not liking certain aspects of theatrical performances that we
https://college-homework-help.org
were required to see which, in effect, helped the class to sharpen their skills in writing persuasive papers