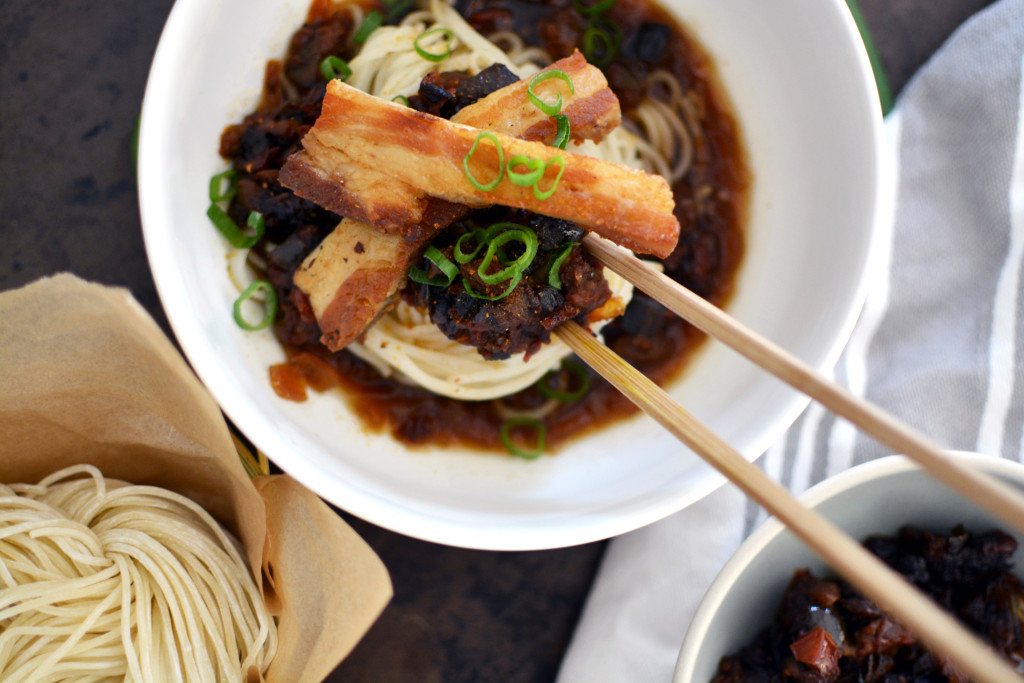 Eggplant Sofrito Ramen
I'm Chinese-Canadian, and have lived in the US for the last 6 years. What I've learned living in the US is that Americans ask all sorts of strange questions about Chinese culture, including classics such as:
"Where are you from? No, like where are you REALLY from?"
"Chinese, Japanese, Korean?" Um…is that even a question?
"Ni hao mah!" loudly in a obnoxious accent.
And some lesser heard questions like:
"Can you tell the government to ban ivory import to stop the hunting of African elephants?" What.
"Why do Chinese people eat so much rice?"
On that last question, I will let you in on a secret… not every Chinese person loves rice *gaaaasssp*. There are two main carbs in Chinese cuisine – rice and noodles. Both are typically served plain and used as a vessel to accompany more flavor meat and veggie dishes. Some people are rice people, while others prefer noodles. I myself am a noodle person.
I loooove noodles and soup, really any kind of Asian noodle & soup. Chewy, fresh noodles in a savory broth, with braised meats, lightly cooked veggies, and fragrant herb garnishes. Heeaaavvvven! Check out this Serious Eats article for literally everything you could possible want to know about Asian noodles.
And in the meantime, cut it out with the awkward questions.
This recipe is adapted from Ivan Orkin's Chile-Eggplant Mazemen Ramen article in Food & Wine (September 2013).
8 servings | 2.5 hours 
Ingredients:
Eggplant Sofrito:
1/2 cup oil
1 large onion, 2 cups minced
1 small eggplant, 2 cups (small dice)
2 medium tomatoes (small dice)
1 tsp chili powder
1 tsp smoked paprika
Fresh or frozen noodles (not dry noodles)
Togarashi and scallions for garnish
Shoyu Tare:
1/3 cup oil
1 large onion, diced
2 slices of ginger
2/3 cups reduced-sodium soy sauce
1/2 cup sake
1/8 cup sweet mirin
2 cups chicken stock
1 tbsp instant dashi
Directions:
Eggplant Sofrito: In a large pan, heat oil and saute onions and eggplants on low heat until very soft – approximately 1 hour. Add tomatoes and continue to cook for another hour. Add spices and season with salt. Cook for another 20 minutes.
Shoyu Tare: Heat oil in a sauce pan, add onion and saute until soft. Add slices of ginger and cook for another 10 minutes. Add soy sauce, sake and mirin and bring to a boil. Add stock and dashi and simmer for another 5 minutes. Set aside.
Pork belly: find the recipe here.
To serve, ladle 1/3 cup tare in a bowl. Add noodles, 1/4 cup sofrito, and a few slices of pork belly. Garnish with scallion and togarashi.
Photographed by Tracy Chow and written by Jen Yu