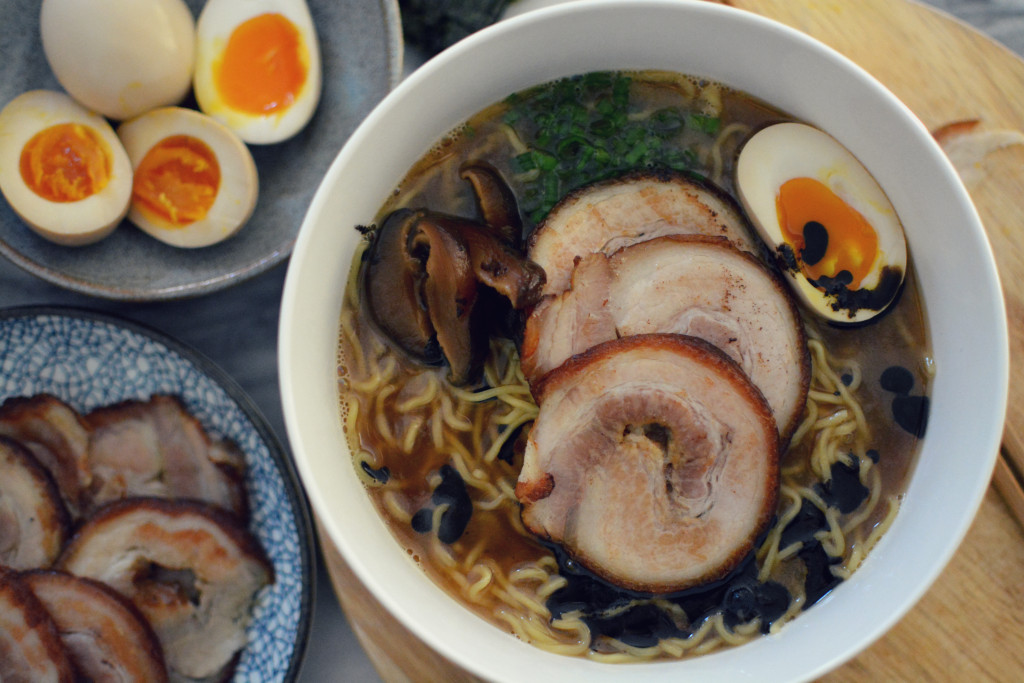 Ramen with Cha Siu
Those of you who know me are well acquainted with my fanatic love of soup.
I wake up on Sunday mornings with a ravenous hangover that can only be cured by a steaming bowl of spicy Korean soup.  Eggs, my friends, are for amateurs!  At 2am, after a big night out, I want nothing more than a big hearty bowl of soup to slurp down with one last frosty beer.
At any time of day, there is literally nothing on earth I crave more than scalding hot, salty bowl of broth floating with pearls of veggies, meats, seafood and chewy noodles.
Having grown up in a food-loving Chinese family, I have a particularly weakness for Asian soups.  Spicy sour fire-red kimchi chigae, fragrant lime-splashed pho, meltingly tender Chinese beef & tendon noodle soup, and of course, the incredible umami-rich Ramen.  The more bones and offal, the more flavor!
Asian soups are also some of the most time intensive dishes to prepare, with bone broths taking the entire day to coax into miraculous liquid remedies.  If you live in LA like us, you can find a soup spot open at any hour of the day to satisfy that craving.  If not, try your hand at making one!  It's not easy, but it's a fun way to spend a day experimenting in the kitchen with your mates over cold beers.
We decided to try our hand at ramen, the latest craze in Asian soups.  With world-famous ramen shops like Ippudo and Momofuku blowing up the culinary scene, it's easy to find ramen recipes.  We used the Momofuku recipe to guide our ramen adventure.
One lazy Sunday, we hauled home a giant stockpot, piles of chicken and pork bones, wobbly slabs of pork belly, and of course, our dish-washing willing friends.  We whipped up a steaming cauldron of broth, braised divine rolls of cha siu (pork belly), and a pot of lovely soft boiled eggs.  8 hours later, we sat down for a Sunday friend family dinner with our own home-made ramen broth and luscious cha siu.
Servings: 8 – 10 bowls | Cook & prep time: 8 hours
Ingredients
Ramen Broth 
4lbs of chicken (whole or legs and thighs)
2 cups of dried shiitake mushrooms, rinsed
5lbs of pork neck bones
2 large carrot, quartered
1 large onion, halved
1 bunch of scallions
2 3×6 piece of kombu
8 – 10 servings of store bought ramen noodles (we used Sun Noodle Brand)
Cha Siu
2lbs of pork belly (2 large slabs)
800 grams of sake
300 grams of soy sauce
2 cups of water
1 carrot
1 onion
String for tying the pork
Salt for seasoning
1 Asian pear or apple

Garnishes
4×4 squares of Nori (4 squares per serving)
1 bunch of scallion, chopped
Soft boiled egg
8 room temperature eggs
Leftover soy sauce from Cha Siu braise (tare)
Black garlic oil
1 bulb of garlic, sliced very thinly
6 tbsp of sesame oil
Pickled shiitake
Shiitake mushrooms from ramen broth
1/2 cup of sugar
1/2 cup of soy sauce
1/2 cup of sherry vinegar
2 3-inch knobs of fresh ginger
Directions
Ramen broth: Fill a large stock pot with 6 quarts of water. Wipe kombu down with a damp towel and add to stockpot. Bring water to a simmer over high heat, then turn off heat and allow kombu to steep for 10 minutes.
Remove the kombu and add the rinsed shiitake mushrooms. Bring the water to a boil, then simmer for 30 minutes. Remove shiitake mushrooms and set aside for the pickled shiitakes.
Add chicken to the stock and simmer until the chicken easily falls off the bones, about 1.5 – 2 hours. Remove the foam with a skimmer as the broth simmers. Remove all the chicken and add pork bones. Bring to a boil, then reduce to low-medium heat and simmer for about 7 hours. Add water as the broth reduces, so broth doesn't dry up.  Stop adding water after the 5th hour. During the last hour, add scallions, carrots and onion to sweeten the broth.
Pour the broth through a cheesecloth-lined strainer into another large pot. The broth can be used at this point or can be further reduced and stored in the fridge (dilute with water when ready to use).  In either case, at this point you should season the broth with tare.  Tare is a concentrated liquid that provides the flavor for ramen, and usually includes shoyu (soy sauce), dried fish, and other ingredients.  We use the braising liquid from the cha siu as tare for our ramen.
Traditional ramen shops put the tare at the bottom of ramen bowls and spoon in the broth. To better control the seasoning, we like to flavor the broth in the pot.
*Adapted from Momofuku cookbook.
Cha siu: While the broth is simmering, prepare the cha siu.
First, score the meat side (not the skin side) of the pork belly horizontally and vertically as shown in the images below.  Season the meat side with some salt – don't worry about under seasoning the pork as it will braise in a pot of soy sauce.
Roll the pork belly tightly and tie with kitchen string, in the same method you would use to tie a roast. Once you've tied the pork belly vertically and horizontally, heat up a dutch oven with a bit of oil and sear the pork belly on all sides.
Add quartered carrot, onion and pear to the pot and fill with sake, soy sauce and two cups of water. Put a heat proof plate or bowl on top of the pork belly to hold it down in the simmering liquid.  Cover with the lid and braise for 2 hours. Do not exceed 2 hours or leave overnight as the pork belly will get very salty from the soy sauce.
Remove the pork belly from the simmering liquid, set aside to cool.  Once cool, refrigerate the pork belly, so that it is easier to slice.  Set aside the simmering liquid (tare), which will be used to season the soup and the soft boiled eggs.
When the ramen broth is ready, remove the pork belly from the fridge.  Carefully remove the string and slice to your preferred thickness. I like to sear the slices of cha siu slightly before serving as it adds more flavor to the fat.
Soft boiled eggs: Place a small Asian steamer rack in a medium size pot and fill with water. Bring water to a rolling boil before carefully adding your room temperature eggs. For a soft boil egg with a very runny center boil the eggs for 7 minutes (for a more solid center leave in for a minute longer). Once the time is up, put eggs in an ice bath to stop the cooking process. Carefully peel eggs and drop into the cha siu tare. Let the eggs sit in the tare for 30-60 minutes before removing. Do not leave the eggs for longer than an hour as they get very salty. Cut the egg in half before serving.
Black garlic oil: In a small sauce pan, combine sesame oil and thin garlic slices and cook garlic slowly until it turns completely black, essentially burning the garlic.  Keep an eye on the garlic to prevent accidents.  Once garlic is completely black, remove from sesame oil and grind in a mortar and pestle.  Once smooth, add sesame oil back in and mix.
Pickled shiitake: Slice the shiitake mushrooms that were set aside from the ramen broth. Combine with sugar, soy sauce, vinegar, ginger and water in a saucepan.  Simmer for 30 minutes. Let it cool, discard ginger and pack mushrooms along with liquid into a clean jar or container. They are ready to eat immediately or you can store in the fridge for up to 2 weeks.
*Recipe adapted from Momofuku
Once all the toppings are ready, cook the ramen noodles. In a medium pot of boiling water, cook noodles batch by batch. Do not cook all 8 to 10 servings at the same time, as that will take too long and you will end up with soggy ramen. If you're using a ramen brand that you haven't used before, try a small batch to test the texture of the ramen, and adjust the timing to your liking. We boiled our noodles for 1.5 minutes despite the instructions on the package to cook the noodles for 2 minutes.
Assemble ramen bowls by ladling a generous portion of broth into each bowl, over the strained ramen noodles.   Garnish noodles with 3 slices of seared cha siu, soft boiled eggs, shiitake mushrooms, scallions, nori and a small drizzle of black garlic boil. For the nori, create a mini fan with your 4 small squares of nori and tuck it into the side of the bowl.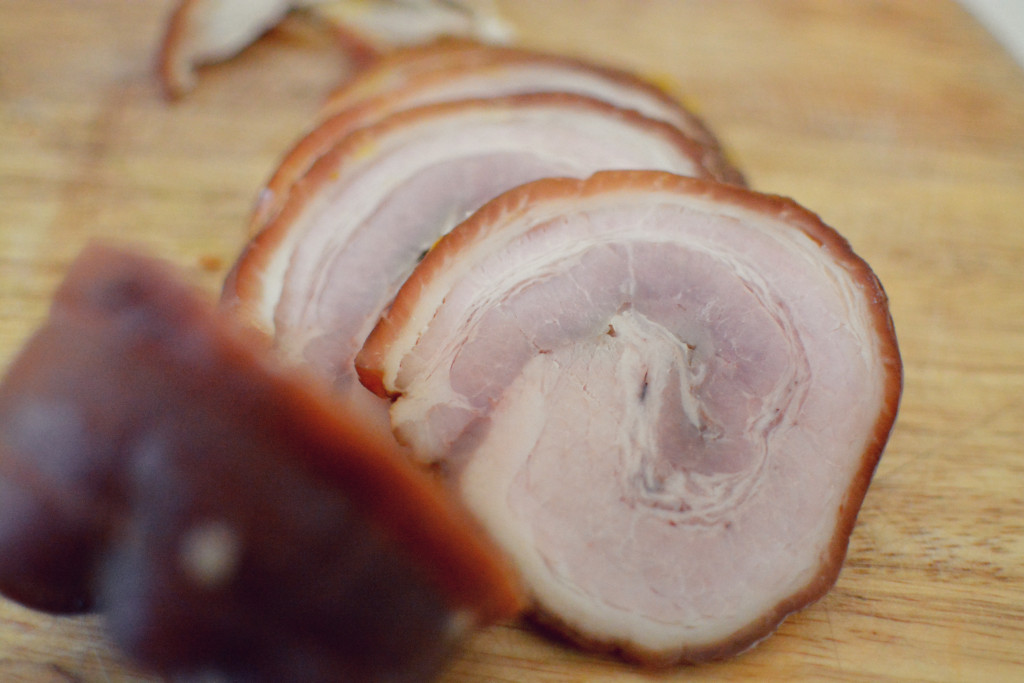 Written and photographed by Tracy Chow & Jennifer Yu
There is no going back, so the
http://spying.ninja
only thing left to do is to teach others how to avoid making the same mistakes