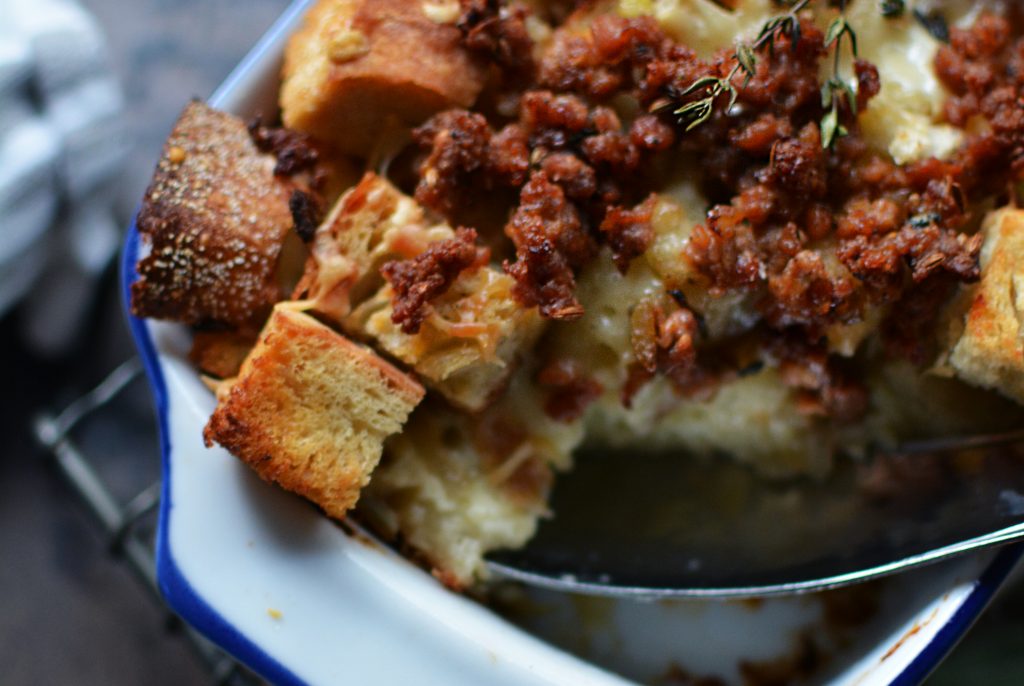 Fennel Sausage Bread Pudding
Thanksgiving is almost here! It's one of my favorite holidays of the year because it's all about food. Every year we try to come up with new and modern twists on traditional Thanksgiving fare, because let's be real, how good is your aunt's soggy stuffing anyway?
This play on stuffing is inspired by one of my all-time favorite LA restaurant dishes, Mario Batali's Fennel Sausage Pizza at Pizzzeria Mozza. Incredible chewy, yeasty and crispy pizza crust full of big air pockets and blackened in spots, topped with a little scallion and red onion, crowned with generous blobs of a divine fennel sausage. The fennel sausage is rich and fragrant with anise-scented fennel seeds and fennel pollen.
We borrowed the fennel sausage idea for this decadent Fennel Sausage Bread Pudding, which will without a doubt steal the show from the main course. Unlike a regular dry or mushy stuffing, this bread pudding strikes a perfect balance between sweet, savory, crispy and fluffy. With the addition of Gruyère cheese, fresh fennel bulbs, earthy thyme and sage, and rustic chunks of country style bread, this Fennel Sausage Bread Pudding is both over the top delicious and impressive.
10-12 servings + leftovers | 2.5 hours 
Ingredients:
Fennel Sausage:
4 lbs of pork shoulder
3 tbsp of toasted fennel seeds
2 tbsp of smoked paprika (regular paprika or hot paprika can be used as well)
2 tbsp sugar
2 tbsp pepper
2 tbsp salt
1/4 cup of red vinegar
3/4 cups of cold water
3 tbsp of minced garlic (about 10 large cloves)
Bread Pudding:
3 eggs
3 cups of milk
3 cups of cream
A pinch of nutmeg
Salt and pepper
1 1/2 cups of shredded Gruyère cheese
4 sticks of celery
2 fennel bulbs
1 onion
2 cloves of garlic
3 tbsp of butter
4 large sprigs of fresh thyme
1 tbsp of chopped fresh sage
12 cups of 1 inch cubed rustic country style bread
Directions:
Fennel Sausage: Cut up pork shoulder into 1 inch cubes. In a mixing bowl, combine all spices and rub evenly over the pork. For best results, pork should be marinated over 24 hours.  The meat should be very cold when you grind it.
Set up a Kitchen Aid mixer grinder attachment and grind up the meat in batches. Once all meat has been passed through, set up your paddle attachment and turn on the Kitchen Aid mixer at low speed. Combine vinegar and water in a small bowl. Slowly add the vinegar mixture to the meat until the meat mixture is slightly sticky. You probably won't use up all the vinegar mixture.
This recipe makes a lot more sausage than you will need for the bread pudding. Save 1-2 cups for the bread pudding (depending on how meaty you like it) and freeze the rest in batches for later use. Our faves are Mario Batali's Fennel Sausage Pizza, and Orecchiette with Fennel Sausage and Swiss Chard.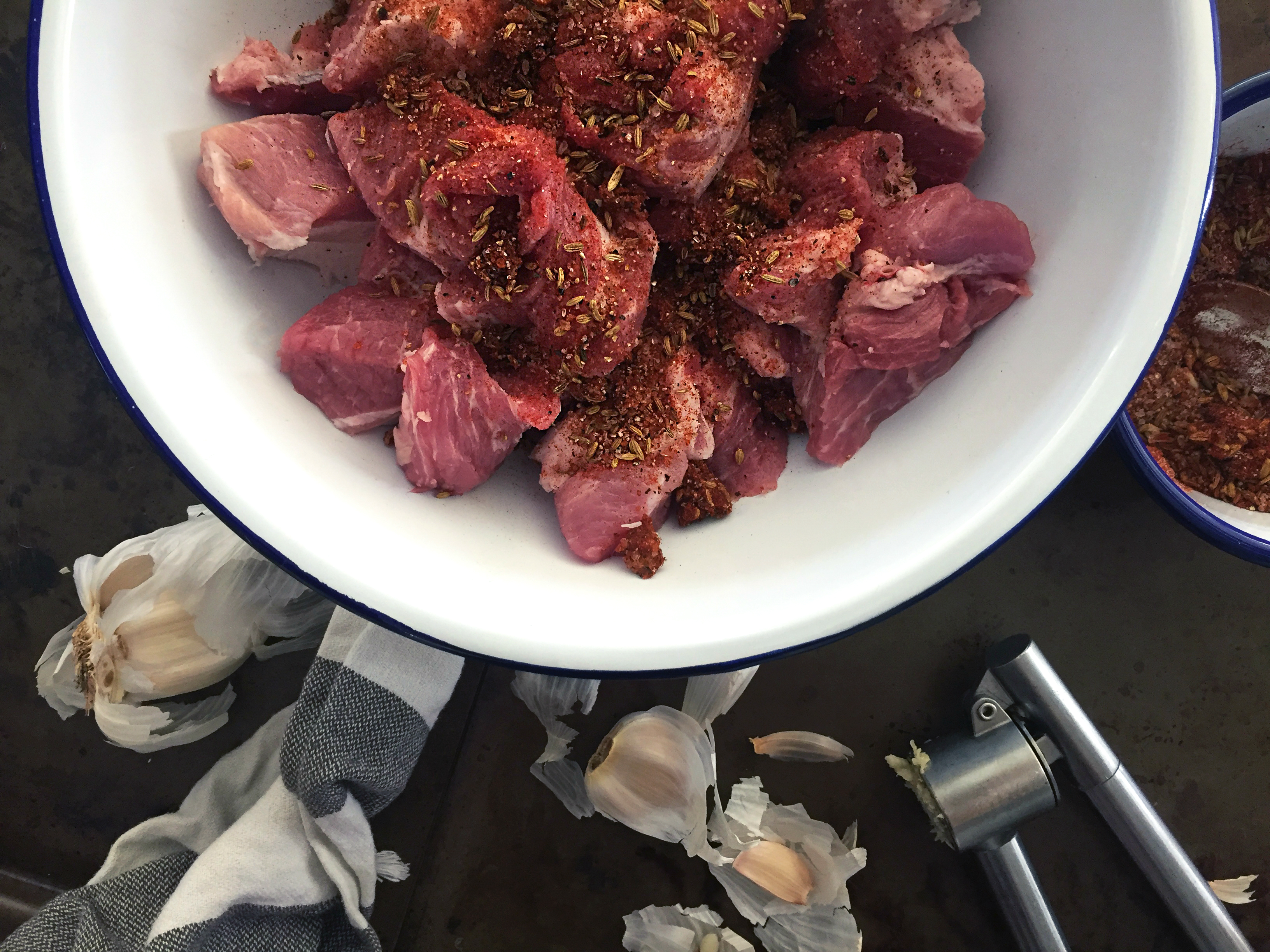 Bread Pudding:
Preheat oven to 350 degrees. Spread out cubed bread on a baking sheet, and toast until lightly browned. Keep an eye on it to make sure it doesn't burn.
In the meantime, combine eggs, milk, cream, nutmeg in a medium bowl, and season with salt and pepper. Set aside.
Heat a saute pan with butter, and add chopped onion, fennel, celery and garlic. Season lightly with salt and pepper. Cook a few minutes until soft, and set aside.
In the same pan, cook 1 cup of fennel sausage (or more if you wish!), breaking up with sausage with a spatula as the it browns.
In a large mixing bowl, toss together sautéed vegetables and toasted bread. In a 9 x 13 baking pan, spread out a layer of bread mixture, and top with a layer of grated cheese and a layer of sausage. Continue to layer until all ingredients have been used up. Your final layer should be sausage and cheese. Pour the egg and milk mixture over the layers, and lightly push down on the bread. Some of the bread should be peaking out so that it can brown nicely.
Place in oven and bake for an hour, until custard is set.
By Tracy Chow and Jen Yu
Finally, all of the questions above can help you determine the writing process (or processes) that
i need help with my science homework
will be most effective for you in this particular situation