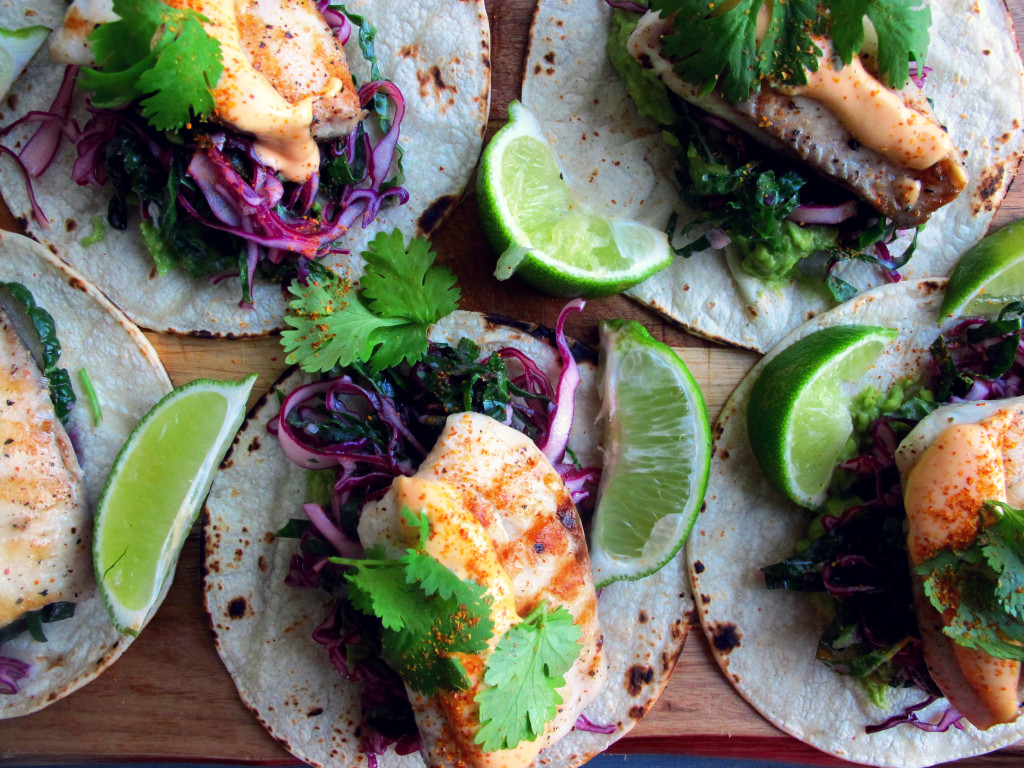 Fish Tacos with an Asian Red Cabbage and Kale Slaw
Nothing embodies a sunny Californian summer quite like fish tacos.  Grilled or battered and fried, served with corn or flour tortillas, drizzled with salsa or crema, the humble fish taco beckons invitingly from food trucks and upscale restaurants alike.
Feeling inspired by our city, the beautiful city of Los Angeles, we combine the flavors of Asian cuisine with the familiar Mexican fish taco.  Our fish taco recipe starts with a charred corn tortilla and a simply grilled piece of Tilapia.  We top each taco with an Asian red cabbage and kale slaw, spicy guacamole, spicy siracha aioli, cilantro and a squeeze of fresh lime juice.
Fish tacos are a fabulous and healthy treat, and will have your friends popping by all summer long!
Makes 6 tacos | 30 minute prep time
Ingredients:
Asian Red Cabbage and Kale Slaw: 
10 kale leaves, thinly sliced
1/4 red cabbage, shredded
2 tbsp of light sour cream
1/2 tbsp of fish sauce
2 tbsp of rice vinegar
1 clove of garlic, minced
2 tbsp of olive oil
Juice of 1 lemon
Red pepper flakes
Salt and pepper to taste
Spicy Siracha Aioli:
1 – 2 tsp of sirachi (depending on your preference)
A dash of JAPANESE HOUSE SPICE
1/4 cup of mayo
Juice of half a lime

Spicy Guacamole:
2 ripe avocados
A dash of Japanese house spice
Juice of 1 lime
Salt to taste
Fish: 
2 tilapia cut into 6 pieces
Salt and pepper
Dash of cayanne
6 corn tortillas
Cilantro and limes to garnish

Directions: 
Season fish with salt, pepper and cayenne pepper and set aside. In a small bowl, mix together dressing for the slaw, taste and adjust flavors to your preference. A side note on cutting your vegetables – make sure you don't shred your cabbage too thin otherwise your slaw will lose it's crunch, and cut your kale at a diagonal to get long thin pieces (see pictures below). In a large mixing bowl combine dressing, cabbage and kale and set aside.
In a small bowl, combine ingredients for the spicy aioli. If you cannot find the JAPANESE HOUSE SPICE no worries, just use the siracha sauce. Set aside.
In a medium bowl, half your avocados and scoop them out into your bowl and mash with the back of a spoon or a mortar and pestle and season with salt, lime juice and house spice. Set guacamole aside with the avocado seed to prevent the guacamole from going brown.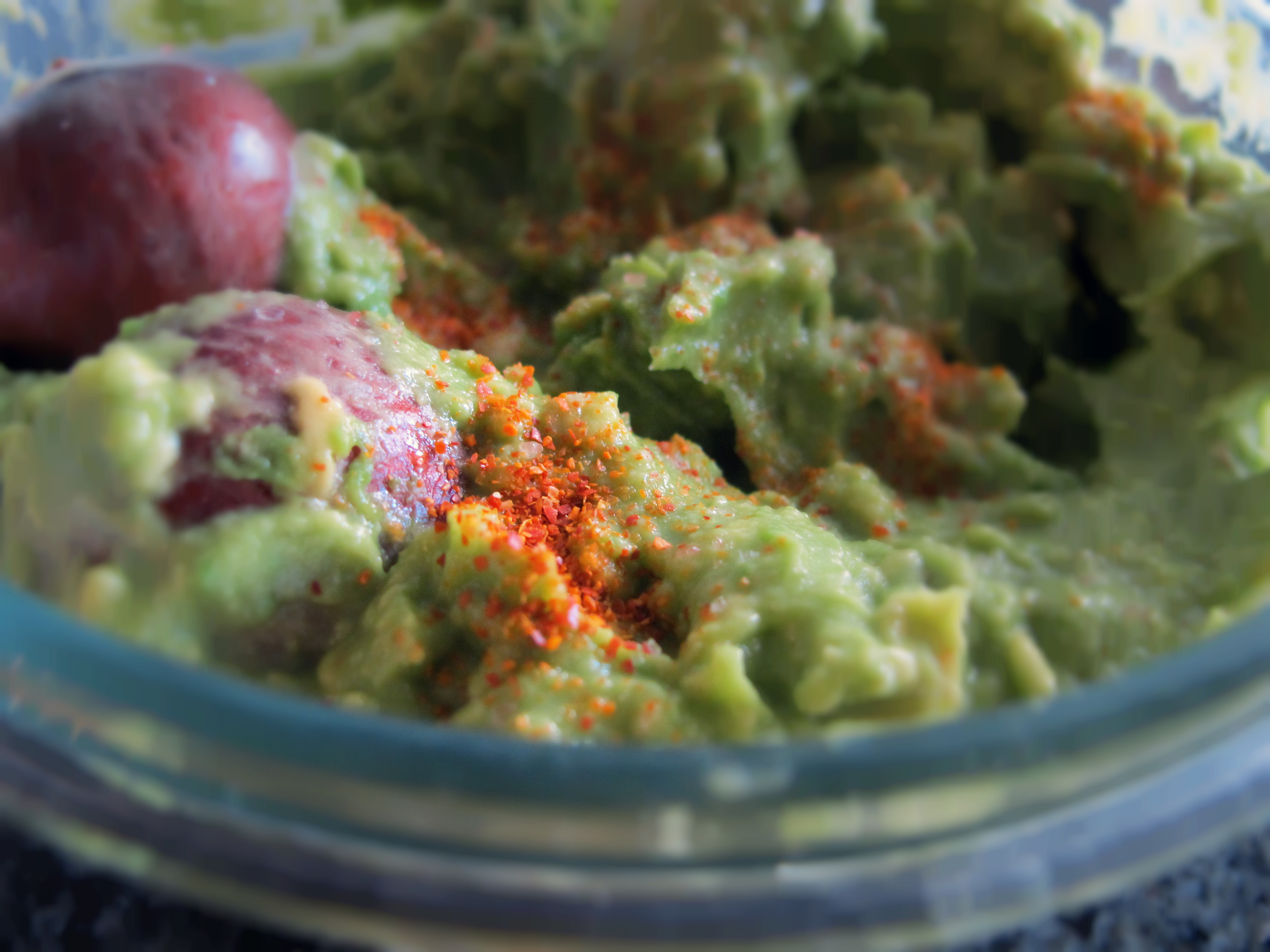 Heat a large skillet with a tablespoon of oil. Grill fish on each side for about 3 minutes or until lightly browned. Meanwhile, use your gas top stove to heat up your corn tortillas – 30 seconds on each side should do. Don't worry if you burn it on the sides a little, it adds a lot of flavor! When your fish is done, remove it from the skillet and set aside.
To assemble tacos make sure you're putting all your ingredients on the corn tortilla length wise this way you get a taste of everything in every bite. First add guacamole to your corn tortilla, then the slaw, then the piece of fish and top it off with the spicy aioli and cilantro and serve with a wedge of lime on the side. You can also replace the fish with shrimp and make delicious shrimp tacos!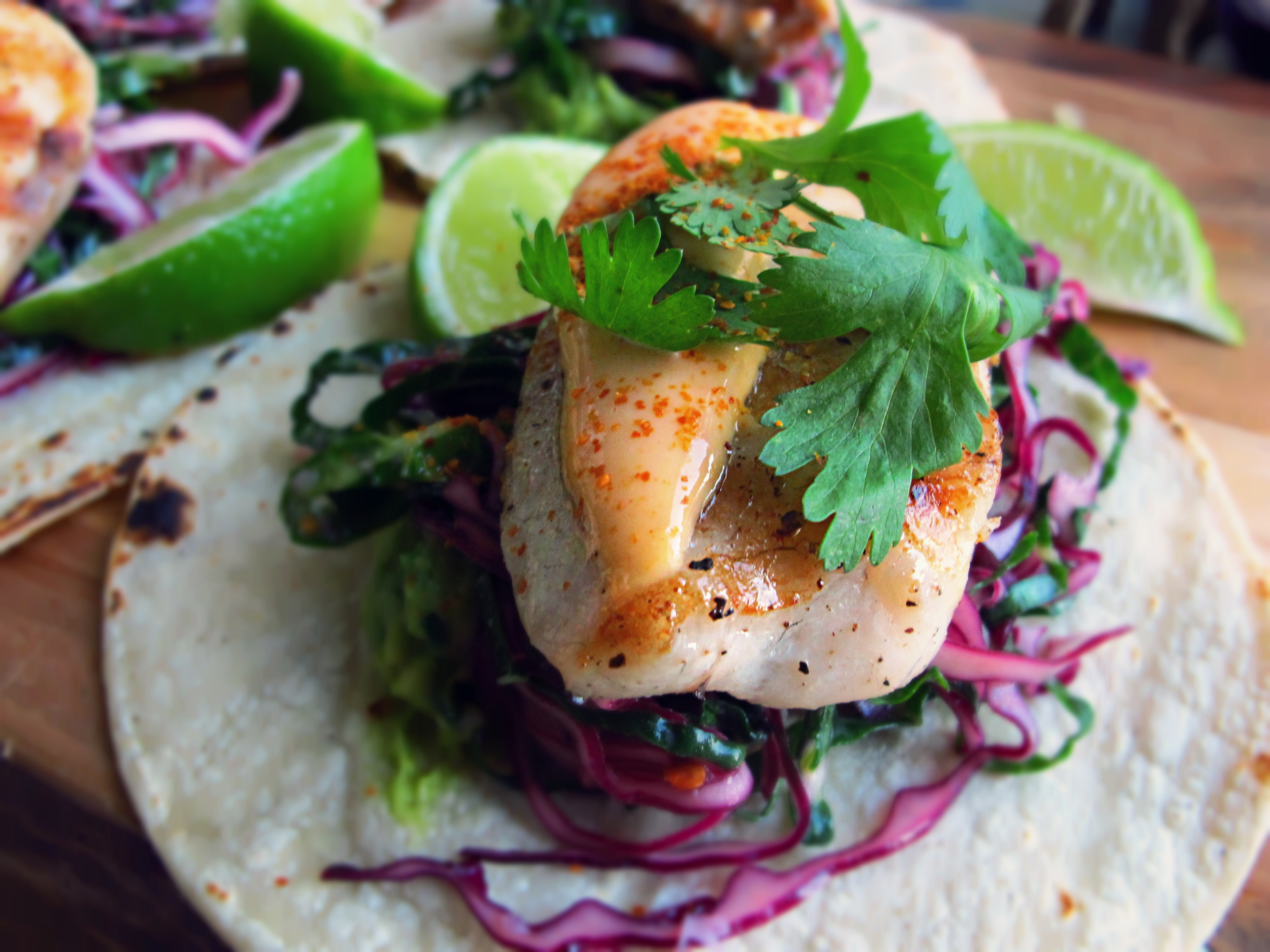 Written and photographed by Tracy Chow & Jennifer Yu
Thus,
essaynara.com/
most students apparently can profit from self-explanation with minimal training