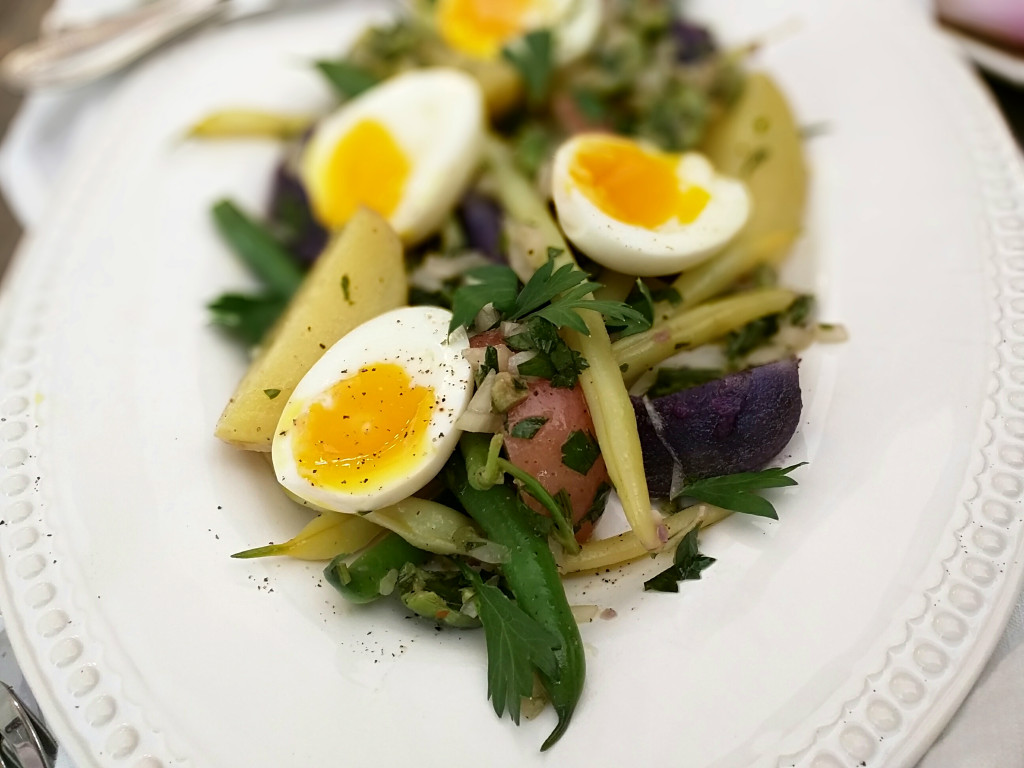 French Bean & Potato Salad
You know what I love to eat most in the summer? A juicy seared steak, charred green onions, and bold salads made with seasonal farmer's market veggies. Everything is piled decadently onto big platters in the middle of a table, carafes of wine are passed around like they're bottomless, and loaves of bread are torn with eager hands.
It's nearly the end of September, but we're still getting the last weeks of searing summer heat on the west coast. That means it's still barbecue season! One of my favorite summer salads to make is a French bean & potato salad with a Castelveltrano olive vinaigrette, and some oozy goozy soft eggs. Reminiscent of a Niçoise salad, it skips the tuna and uses the beautiful mild Castelvatrano green olive instead of the bolder black olive. It's impressive, delicious, goes with any grilled meat or fish dish, and can be made ahead of time. What more can you ask for in a salad?
4 side servings | 45 minutes 
Ingredients:
Salad
1 pound medium waxy potatoes, preferably mixed in color (about 4 potatoes)
1/2 pound mixed green beans & yellow wax beans
2 large eggs
Castelvetrano Olive Vinaigrette
1/3 cup extra virgin olive oil
2 tablespoons minced shallot
1 tablespoon chopped capers
1 teaspoon Dijon mustard
2 tablespoons red wine vinegar
1 tablespoon fresh lemon juice
1/2 cup pitted and coarsely chopped Castelvetrano olives
3 tablespoons chopped flat-leaf parsley
Kosher salt
Freshly ground black pepper
Directions:
Boil potatoes until just cooked through but still firm (you don't want a mushy potato). Drain and let cool slightly.
Trim the beans and add to a pot with simmering water. Cook until firm-tender, about 2-3 minutes, then place in a bowl of ice cold water to preserve the color.
While the potatoes are cooking, prepare the vinaigrette. In a small bowl, combine the shallots, capers, mustard, lemon juice and vinegar. Slowly whisk in the olive oil. Add salt and pepper to taste. Stir in olives and parsley, and set aside.
When the potatoes are cool enough to handle, slice lengthwise into wedges. Season lightly with salt and pepper, then toss gently in half the vinaigrette. Cover and set aside at room temperature.
Cook the eggs. Fill a small pot with enough water to generously submerge the eggs, and bring to a rapid simmer. Gently lower the eggs into the water with a slotted spoon. Cook the eggs for 6 minutes. Remove the eggs with a slotted spoon, and bathe in cold tap water for a few minutes to help loosen up the shell. Just before serving, remove eggshells and carefully slice eggs in half.
When ready to serve, dress the beans with the remaining vinaigrette, reserving a bit to drizzle over the composed salad. Using your hands, gently toss together the beans and potatoes, and pile onto a serving platter. Drizzle with remaining vinaigrette, sprinkle with a little chopped parsley, and arrange the eggs on top.
Written & photographed by Jennifer Yu