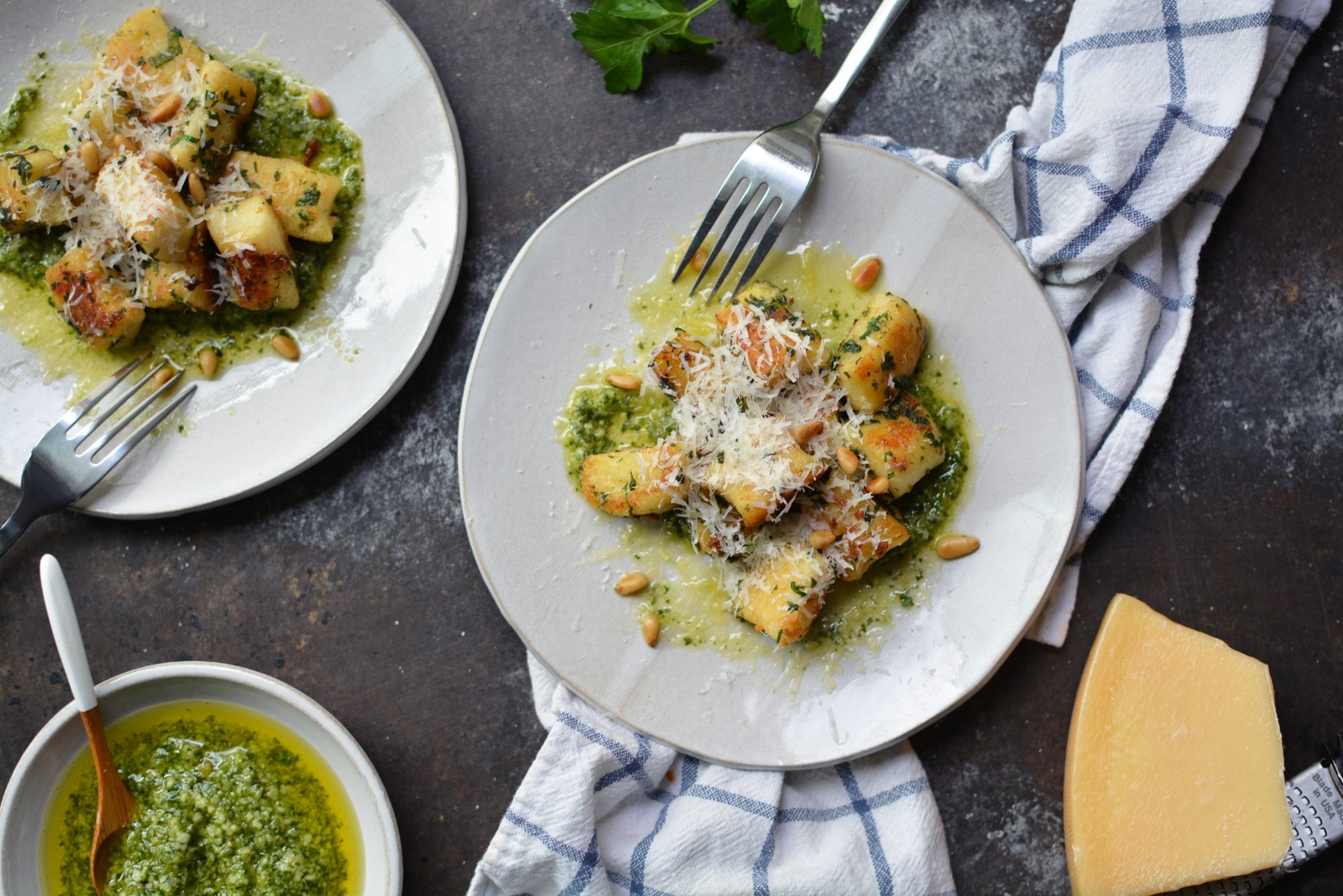 Fried Gnocchi with Garlic, Herbs, and Pesto
Gnocchi is infamously difficult to get right, but when you do, it's actually a lot less effort to make than fresh pasta. I've made my fair share of gnocchi that falls apart when boiled, that comes out gummy or too hard. Since potatoes and eggs come in different sizes, leading to different moisture levels in the gnocchi dough, you can't follow a recipe exactly as written and expect good results. The key to success is to taste test the gnocchi during the dough making process. Boil a test piece of dough and add more flour as needed, until the consistency is just right.
When the gnocchi comes out perfectly, you will feel like an iron chef and impress all of your friends! What's even better than a regular potato gnocchi? Pan fried gnocchi with garlic, herbs, and pesto! Soft, fluffy gnocchi that are crispy and golden on the outside, pan fried in a savory blend of garlic and herbs.
Serves 6-8 | 1.5 hours
Ingredients
2 lbs russet potatoes
1 to 1.5 cups of flour
1 egg, whisked
2 tsp salt
Handful of parsley, basil and mint, roughly chopped
Cloves of garlic (quantity depends on serving size, see recipe below)
Olive oil
Pesto for garnish (see recipe)
Freshly grated Parmesan for garnish
Directions
Preheat oven to 400°F. Clean and dry potatoes, and pierce them multiple times with a fork. Place potatoes on baking sheet, and bake for about 45 minutes. Potatoes should be soft all the way through when you pierce them with a knife. Let cool enough to handle, and remove potato skin. Pass the potatoes through a ricer, or mash the potatoes, and set aside.
Sift together salt and 1 cup of flour. In a large bowl or on a clean surface, combine riced/mashed potatoes with the egg and sifted flour. Knead gently until dough forms a smooth but slightly sticky ball.
Roll out a bite sized ball of dough, and boil it in water to test the consistency of the gnocchi. If the dough breaks apart as it boils, it needs more flour. In this case, add one heaping tablespoon of flour to your dough at a time, and continue testing until you have the right consistency. We always start with less flour and make our gnocchi with the test method, because potato and egg sizes vary, which changes the level of moisture in the dough. For fried gnocchi, you want a gnocchi that has just enough flour to hold the potato together, to give the gnocchi a crispy exterior and a soft pillowy inside.
Line a baking sheet with parchment paper, and lightly flour the surface. Divide gnocchi dough into 4 sections. Roll each section into 1 inch thick tubes, and cut into 1/2 inch pieces, placing cut gnocchi on the baking sheet. Bring a pot of salted water to boil, and cook the gnocchi until they rise to the surface, about 3-5 minutes.
Heat a large frying pan on medium, add 2 tbsp of olive oil and 1 clove of minced garlic. Make sure oil isn't so hot that the garlic burns. Add about 16 pieces of boiled gnocchi to the pan, and sprinkle with chopped basil, parsley and mint. Continue to fry until each side is golden brown. Make the gnocchi in batches to get a nice crust on each one.
Plate gnocchi, and garnish with a light drizzle of pesto and grated Parmesan.
Tip for Freezing: Place uncooked gnocchi pieces on the floured tray and sprinkle a little more flour on top. Place tray directly in freezer. Once the gnocchi are frozen, transfer to a ziplock bag. When cooking frozen gnocchi, do not defrost, just add directly to boiling water.