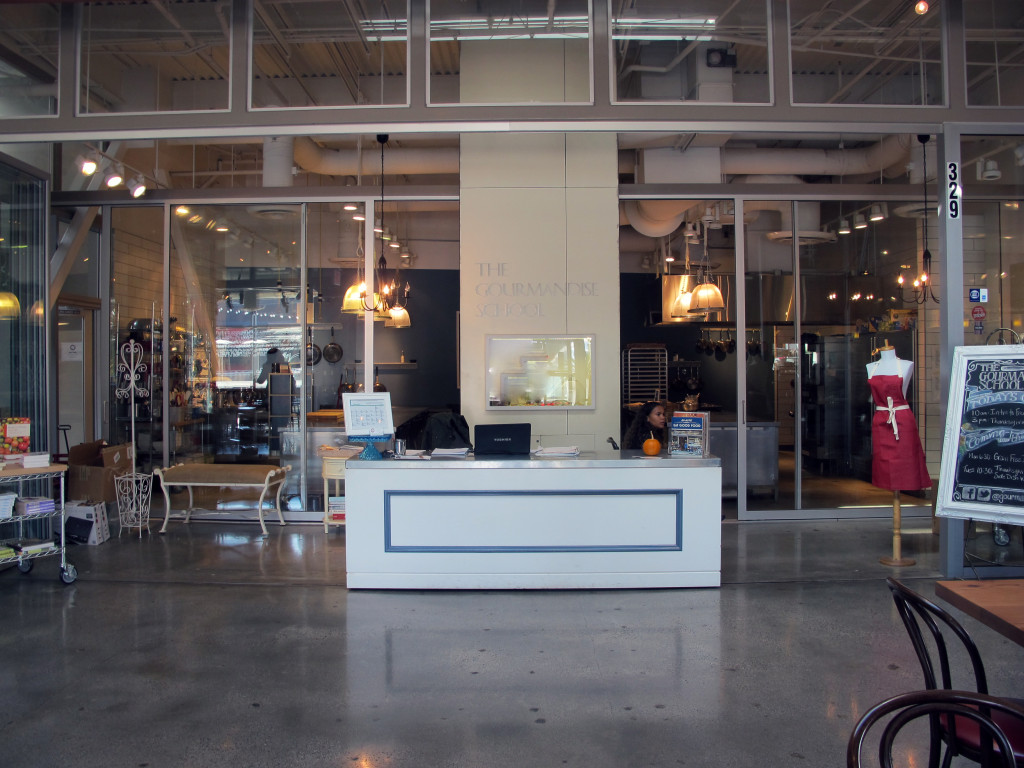 Interview with Clémence and Hadley of the Gourmandise School
Clémence Gossett and Hadley Hughes are the dynamic duo that created The Gourmandise School of Sweets and Savories, a Los Angeles based cooking school that offers classes in the trendy French  macaron, pastries, breads and more.  Hailing from South of France and from the great American south, the self-taught chefs and culinary entrepreneurs are a perfect example of what it means to cook from the heart.  We began taking their classes last year and fell in love with them!  You can find the cooking class schedule here.
The love of the culinary arts is a lifelong journey of indulgence and learning.  The lovely Gourmandise ladies shared their inspiring culinary journeys with us, and we want to invite you along for the adventure.
Clémence Gossett
The original founder of the Gourmandise was born in Paris, and grew up between France and Washington.  Her retired grandparents owned a restaurant in Saignon, a small town in Southeast France.  Clémence spent many summers washing dishes at the restaurant, and discovering a blossoming talent for baking.  At age 11, she created a chocolate cake, which was so delectable that made it onto the dessert cart at the restaurant!
Rather than pursuing a professional career as a chef, she decided to go to film school.  But she never lost her passion for concocting creative confections.  While Clémence worked at a FOX studio, she would sell cookies from her cubicle every Friday.  As much as we try to veer away what we're meant to do, eventually all crossroads come to an end, and our passions clasp us in a fiery embrace.
Finally conceding to her first love, cooking, Clémence opened a small bakery in Venice called Gourmandise Desserts.  Soon, she started offering baking classes one night a week.  As luck would have it, an enthusiastic student was also a writer for Daily Candy and wrote about the class.  Suddenly Clémence found herself in high demand, teaching classes at multiple cooking schools in Los Angeles, where she met her partner Hadley Hughes.  They bonded over their love for American pastries with a French flair, and opened the Gourmadise School of Sweets and Savories.
In our interview with Clémence, she shared her grandmother's recipe for Ruche Amandiers with us (recipe below).  This is a lovely confection of honey-infused puff pastry and roasted almonds, served with honey caramel pastry cream.   Like magic, a single whiff of the sticky sweet buttery pastry, will transport you to the wind blown seaside pastures of the South of France.
Which 3 cookbooks have inspired you the most?
1. La Technique by Jacques Pepin
2. Tartine (the recipes work very well)
3. Water Flour Salt Yeast: The Fundamentals of Artisan Bread and Pizza
What are your 7 must have pantry items?
1. Chocolate
2. Cocoa powder
3. Organic unbleached flour
4. Strauss butter (European style butter)
5. Sel gris (Grey sea salt)
6. Apricot jam
7. Organic brown sugar
What would you have for your last meal?
Oatmeal with very ripe peaches and honey.
Hadley Hughes Booth
Born and raised in Atlanta on chicken fried in a well-worn cast iron skillet, and homemade pecan banana bread, Hadley is what we would call a true Southern belle.  Love of food runs deep in the blood, and Hadley's mother was no exception.  An amazing cook from the South, she found her #1 kitchen helper in Hadley at a young age, and was never short of a pair of pitter-pattering feet shadowing her around the kitchen.
Like Clémence, Hadley never had any professional culinary training, but studied Architecture. Never able to shake wonderful memories of a childhood in her mother's kitchen, she dreamt of opening up a food truck.  She decided to take a few cooking classes to brush up on technique, and chance brought her together with Clémence.  Shortly after, Hadley began working with Clémence as a teacher, and eventually opened up a cooking school of their own.
Like all joys in life, moments of triumph are often defined by those of tragedy.  Four months after The Gourmandise opened its doors, Hadley was diagnosed with Celiac disease.  A confounding moment for a pastry chef, Hadley was determined to find a way to still enjoy the things she loved.  Rather than let the disease break her spirit, her way back to healing is through food and healthy living.
Hadley shared her family's hand-me-down recipe for New Orleans style pecan banana bread, adjusted to fit a gluten-free lifestyle (recipe below).
What are your 7 must have pantry items?
1. Almonds flour
2. Coconut flour
3. Eggs
4. Coconut
5. Sugar
6. Honey
7. Coconut oil
What would you have for your last meal?
The Smoked Trout Dish from Gramercy Tavern in New York City.
Ruche Amandier Tart Recipe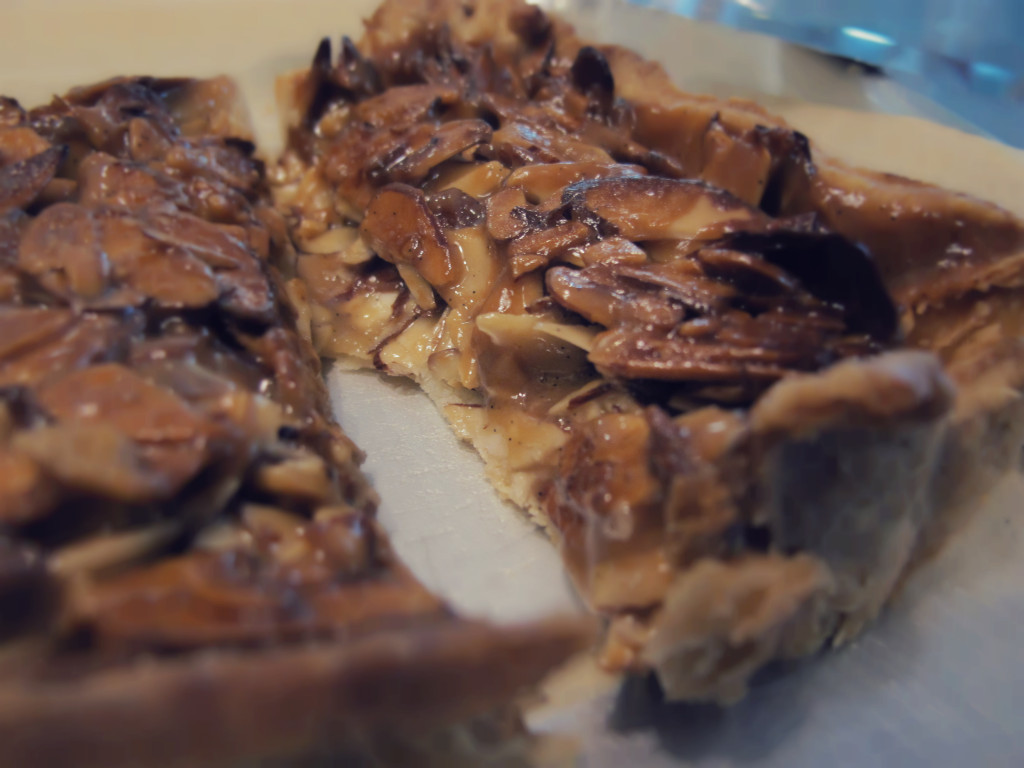 Blitz Puff Pastry
Place in a food processor or large bowl if making by hand:

3 cups all purpose flour
3 tbsps sugar
2 tsps salt

Cut 1lb. cold butter into small cubes and keep in the fridge or freeze until ready.
Set aside 2/3 cup ice water, plus 2-4 more tbsps, if needed.
Pulse the dry ingredients twice.  Add butter and pulse 3-4 times, or until pieces are thumbnail sized.
Pulse in the cold water, just until a loose and shaggy dough begins to form.
Press the dough with a light touch into a rectangle and wrap in plastic.  Chill for 15 minutes in the freezer.
Remove from freezer and roll out into a rectangle about 12"x4".  Fold as you would a business letter.  Chill for another 15 minutes in the freezer.  Repeat two more times.
Roll the dough out thinly, and bake on a parchment-paper lined cookie sheets with apples (see below), or store in thin sheets in your freezer in place of puff pastry sheets.
Nut Filling for Hazelnut Tart
Place in a medium saucepot:

1/2 cup sugar
1/4 cup brown sugar
1/4 cup honey
2 tbsps water

Set aside:

1 cup heavy cream
3 cups toasted nuts (almonds, hazelnuts or otherwise)

Cook the sugars until dark over medium heat (5-7 minutes).
Add the cream and cook for 8-10 minutes.  Turn the heat off and add in the nuts.  Stir a few times and set aside until your crust is ready to be filled.
Assembly
Roll your dough out about 1/4" thick.  Place carefully into a tart pan.  Any size will do; and this recipe will yield at least 3 8" crusts.  Once rolled out, you can store the puff pastry in the freezer in sheets between parchment paper to use at a later time.
Trim the edges of your dough, scissors work wonders, and chill in the freezer for 10 minutes.  Once cold, line the bottom of the crust with parchment or foil.  Fill with weights; anything from pennies to ceramic pie weights to rice and dried beans.  Bake at 375°C until just golden brown on the edges.
Remove the weights and paper and fill the crust with your nut filling.  Return to oven, turned down to 350°C, and bake 35 minutes for a large tart and 12 minutes for smaller ones.
Banana Pecan Bread Recipe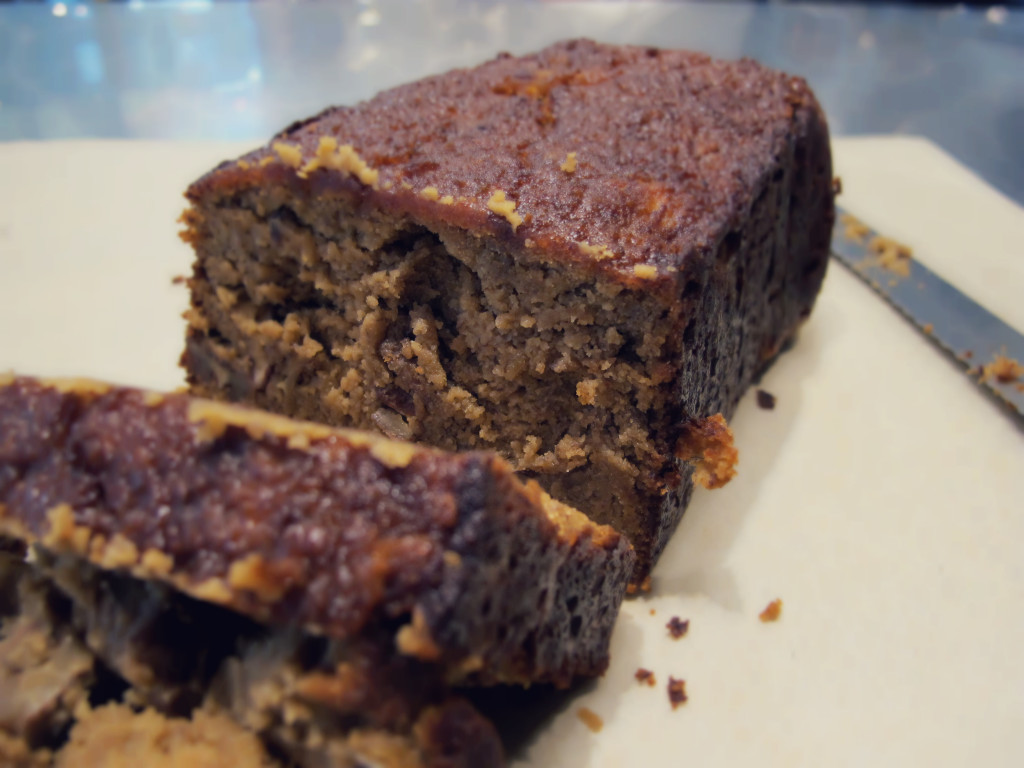 In a large bowl whisk:
1 1/2 cups almond flour
1/4 cup coconut flour
1 1/2 tsp baking powder
1/2 tsp salt
In the bowl of a stand mixer, beat:
2 tbsps Coconut oil
2/3 cup coconut sugar
3 medium bananas, mashed
Then add:
2 eggs
1 tsps vanilla extract or 1/2 vanilla bean
Set aside:
1⁄4 cup almond milk
2/3 cup toasted pecans. chopped
1) In a large bowl, mix almond flour, coconut flour, baking powder and salt. Set aside.
2) In the bowl of a mixer, beat oil, brown sugar, until smooth. Add bananas.
3) Add eggs, one at a time, beating thoroughly after each addition. Add vanilla.
4) Add milk and pecans to the mixture.
5) Pour into a 9×5 pan and bake at 350°C oven for 1 hour and 15 minutes.
Vegan: Replace the eggs with 2 tbsps chia seeds plus 6 tbsps water in warm water. Allow to thicken for 10
minutes before using.