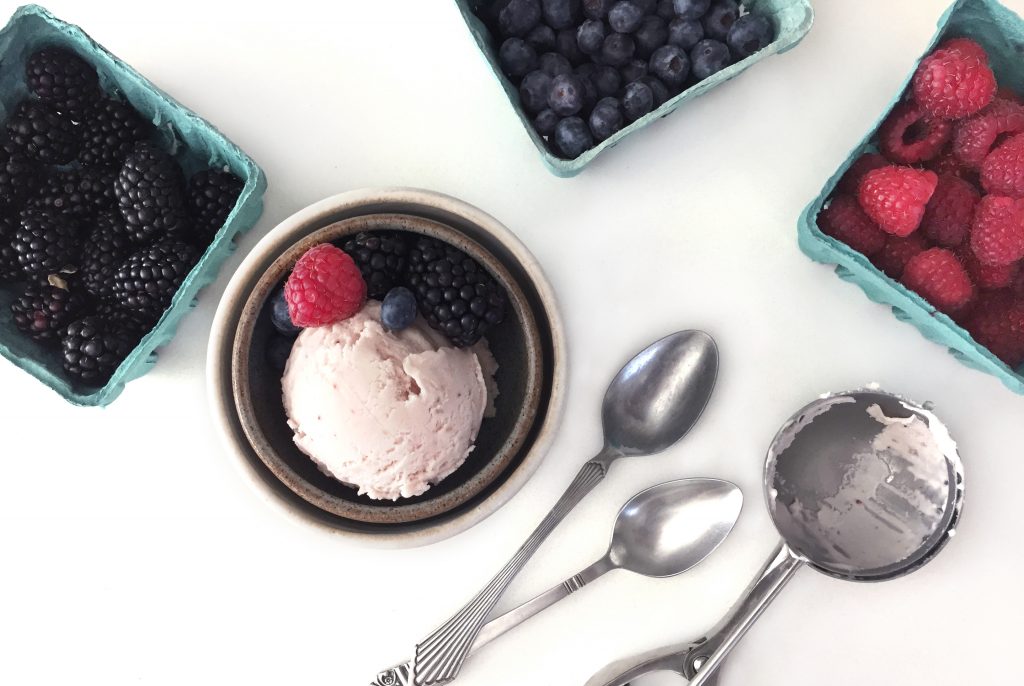 Jeni's Roasted Strawberry Buttermilk Ice Cream
An ice cream revolution has been happening all over America, with artisan creameries popping up everywhere, creating the most inventive and delicious flavors!  One of our favorite creameries is Jeni's Spendid ice creams, based out of Ohio.  With summer just around the corner, it is time to dust off the ice cream maker, and whip up a few batches of the good stuff.
Jeni's makes an awesome roasted strawberry buttermilk ice cream.  It's fruity and creamy, with a perfect balance between sweet and tart, rich and smooth.  The purpose of roasting the strawberries is to evaporate some of the water and create a more concentrated fruit flavor.  Rather than including whole strawberries, which freeze into icy, hard to chew chunks, this recipe uses strawberry puree.
While most ice creams are made with an egg custard base, Jeni believes that egg yolks interfere with other flavors, and tend to become brittle when frozen. Her recipes use a bit of cream cheese as an emulisfier, and to add body to the ice cream. We think it tastes great, and hope you try it out at home too!
Recipe is from Jeni's Splendid Ice Creams at Home by Jeni Britton Bauer.
Makes 1 quart
Ingredients for roasted strawberries
1 pint strawberries, hulled and sliced
1/3 cup sugar
3 tablespoons fresh lemon juice
Ingredients for ice cream
1 1/2 cups whole milk
2 tbsp cornstarch
2 oz (4 tbsp) cream cheese, softened
1/8 tsp fine sea salt
1 1/4 cups heavy cream
2/3 cup sugar
2 tbsp light corn syrup
1/4 cup buttermilk
Directions
Roast strawberries:
Preheat oven to 375 degrees F. Combine the strawberries with the sugar in an 8-inch square glass or ceramic baking dish, stirring gently to mix well. Roast for 8 minutes, or until just soft. Let cool slightly.
Puree the berries in a food processor with the lemon juice. Measure 1/2 cup of the pureed berries; refrigerate the rest of the puree for another use.
Ice cream base:
Mix 2 tablespoons of the milk with the cornstarch in a small bowl to make a smooth slurry. Whisk the cream cheese and salt in a medium bowl until smooth. Fill a large bowl with ice and water.
Combine the remaining milk, the cream, sugar, and corn syrup in a 4-quart saucepan, bring to a rolling boil over medium-high heat, and boil for 4 minutes. Remove from the heat and gradually whisk in the cornstarch slurry. Bring the mixture to a boil over medium-high heat and cook, stirring with a heatproof spatula, until slightly thickened, about 1 minute. Remove from the heat.
Gradually whisk the hot milk mixture into the cream cheese until smooth. Add the reserved 1/2 cup strawberry puree and the buttermilk and blend well. Pour the mixture into a 1-gallon Ziploc freezer bag and submerge the sealed bag in the ice bath. Let stand, adding more ice as necessary, until cold, about 30 minutes.
Freeze:
Pour the ice cream base into the frozen canister and spin until thick and creamy.
Pack the ice cream into a storage container, press a sheet of parchment directly against the surface, and seal with an airtight lid. Freeze in the coldest part of your freezer until firm, at least 4 hours.
Written and photographed by Tracy Chow & Jennifer Yu