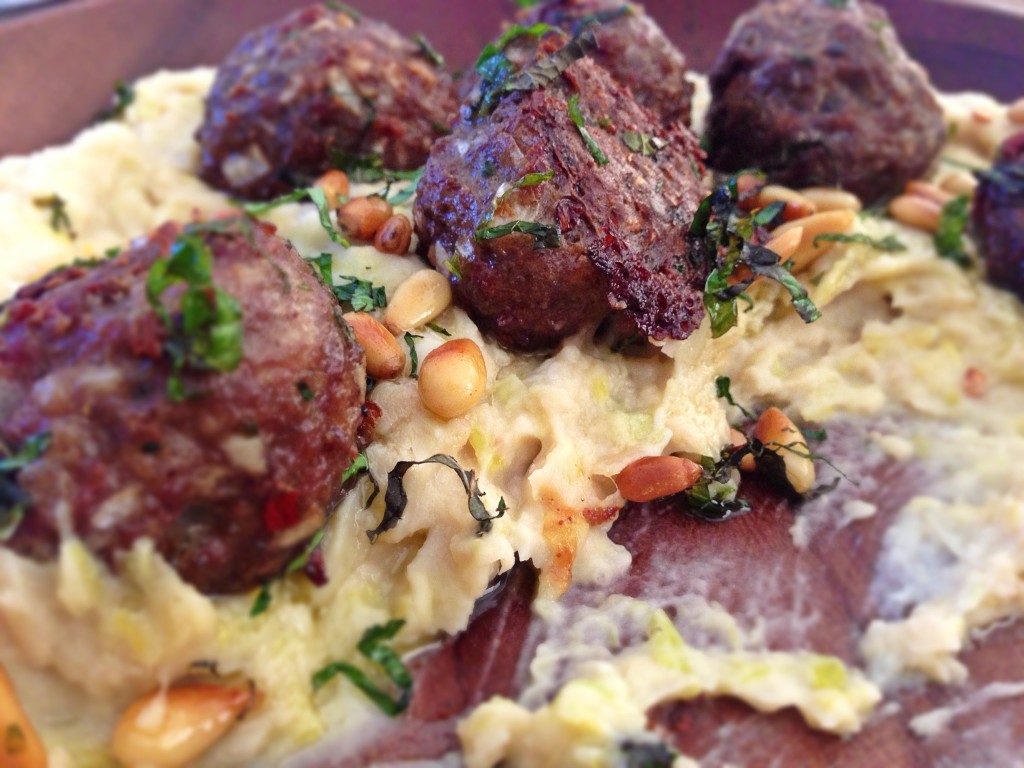 Lamb Kofta Meatballs with Bean Puree
There are few things more enticing than the smell of mouthwatering cooking wafting out a window on a lazy Sunday afternoon.  For some, it's freshly baked bread, gooey chocolate chip cookies, or a golden apple pie.  For me, it's the smell of chicken shawarma, marinated and layered tightly with strips of fat, roasting on a spit in the cobblestone streets of Montreal.
Having moved to Los Angeles from Montreal a few years ago, the thing I miss most is the ubiquitous Lebanese fast food joint on every corner, beckoning me with its irresistible aromas.  Windows thrown wide open to reveal glorious spits of chicken and beef, spinning in perpetuity, without a care in the world.  Kofta kebabs sizzling away on a hot grill; fried potatoes swimming with garlic and parsley; dollops of hummus and garlic sauce flying into sandwiches; and of course, pickled pink turnips to top any meal off.  Give me a pita, and my life is complete.
Sure, it's called fast food, but there's nothing fast about it.
Our latest dinner party is inspired by our favorite Middle Eastern fares.  What better way to celebrate the birthdays of loved ones than to bring everyone together for a family style feast, with chilled cocktails flowing endlessly, and laughter ringing through the kitchen?
The Menu:
Herb roasted leg of lamb
Kofta meatballs with pureed cannellini beans and pine nuts (recipe below)
Persian jeweled rice
Crispy roast potato with aioli
Lebanese salad
Pita, hummus and cucumber yogurt dip
Pickled pink turnips & pickled marinated red cabbage
For dessert, we tried our hand at a French Vacherin, a stunning cake made of meringue disks layered with ice cream.  We concocted a delicate three layer Vacherin, with pistachio honey ice cream, topped with fresh whipped cream, sweet pistachios, plump raspberries and a drizzle of honey.  It's impressive, delicious, and the perfect canvas for any combination of ice cream, sorbet and toppings you can dream of.
The keys to a successful dinner party are planning ahead, and having a trusted partner in crime, so you can throw a fabulous party and enjoy yourself!
For this meal, we pickled the turnips and cabbage a week in advance, though a couple of days should do.  We picked up a deboned leg of lamb from the butcher a day in advance, and marinated it overnight with plenty of herbs, garlic, lemon and olive oil.  The morning of, we baked the meringue discs, layered it with softened ice cream, refroze it, and finished it off just before serving.  Everything else was made the day of.  Yes, it takes a little preparation; but believe me when I say that no one has more fun at our dinner parties than yours truly!
Ingredients:
Lamb Meatballs
1lb of groud lamb
1 small egg
1 1/2 tbsp of corn starch
2 tbsp of water
1 tbsp of olive oil
3 cloves of garlic finely minced
1 shallot finely minced
2 tsp of freshly grated ginger
1/2 tsp of ground allspice
1/2 tsp of ground cinnamon
1/2 tsp of ground cumin
1/4 tsp of ground coriander
1/2 tsp of salt
1/8 tsp of ground black pepper
Cannellini bean puree with caramelized leeks:
2 cans of cannellini beans
1/2 cup of thick Greek yogurt
2 clove of garlic
1 1/2 tbsp of tahini
1/2 tsp of ground cumin
1/4~1/2 tsp of salt
1/4 tsp of ground black pepper
1 leek cut into rounds
To finish meatballs: 
2 tbsp of olive oil, plus more to drizzle
2 – 3 tbsp of toasted pine nuts
1 clove of garlic
1 bunch of fresh julienned mint
1 – 2 tsp of crushed red pepper
Directions:
Preheat your oven to 420 degrees. In a large pan, heat oil, add 1 clove of minced garlic, leeks cut into rounds and season with salt. Saute until soft and caramelized. In a food processor combine all bean puree ingredients along with caramelized leeks and blend until smooth. Set aside.
Using a food process or your Kitchen Aid mixer, combine all ingredients for lamb meatballs. You want to pulse or mix the ingredients until it becomes paste like.
Roll your meatballs into 1 inch sized balls and set on a baking pan lined with parchment paper. Pop the lamb meatballs into the oven and bake until the meatballs are nice and brown. Heat a large saute pan with a drizzle of oil and add lamb meatballs. Finish them off in the pan and garnish with toasted pine nuts, julienne mint, crushed red pepper and minced garlic.
Assemble your dish by pouring cannellini bean mixture onto a large plate topped with meatballs and a quick drizzle of olive oil.
Written and photographed by Tracy Chow & Jennifer Yu
With the development of software to recognise handwriting, typed prose short answer questions saqs and indeed essays/projects may be computer marked