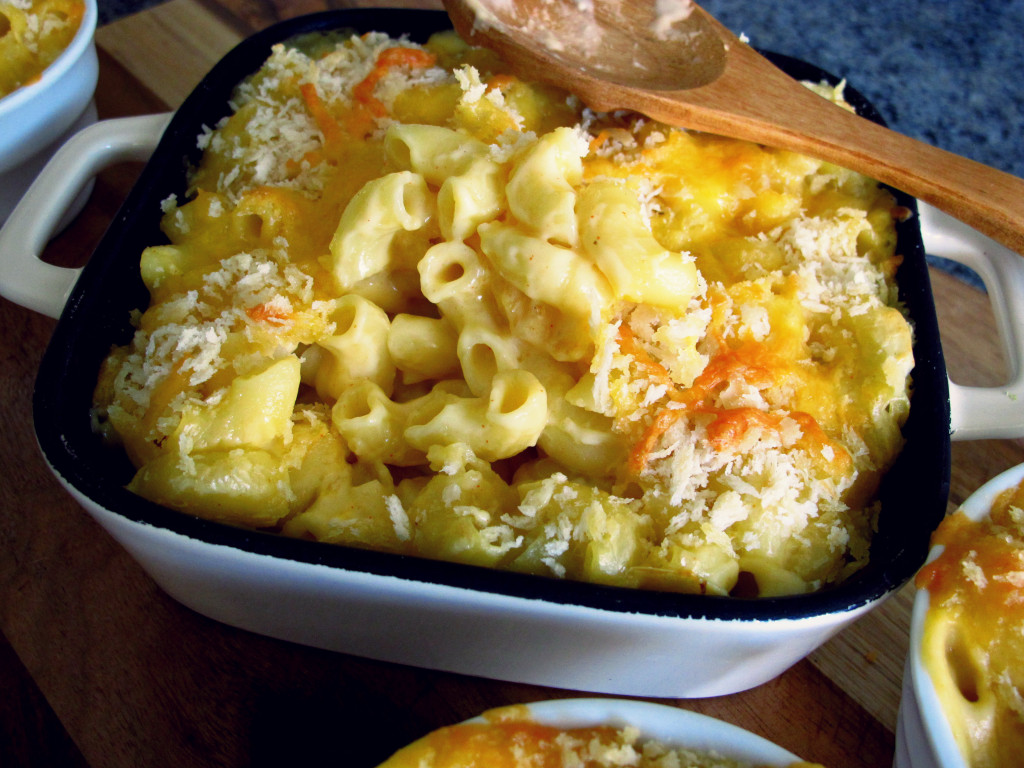 Mac N Cheese
I've been taking cooking classes at The New School of Cooking in Culver City and this week's homework is to make baked mac n cheese!!! We've been starting from the basics and last week was all about stocks, broths and sauces and what's the foundation to every mac n cheese? Béchamel sauce – a simple sauce consisting of butter, flour and milk.
While we were given the assignment to make mac n cheese, it was really only a fun and delicious reason to practice making our own béchamel sauce at home. The point of the assignment wasn't to master the craft of mac n cheese. To be completely honest, I've never made a good mac n cheese. Tried once, failed miserably, and haven't tried again since. This was about 6 years ago. It turned out dry and grainy and I never had any desire to give it another shot. This time I decided to do some in depth research.
Turns out there are three very simple rules to follow to ensure a creamy and smooth baked mac n cheese. The graininess in mac n cheese is caused by the curdling of cheese, which happens when you use too much heat and your ingredients aren't stabilizing. Three simple things can solve this; do not overheat your cheese, use a couple slices of American cheese and use full fat milk and some cream.  With these rules in mind, I adapted the recipe we were given in class and the results were perfect.
Serves 4 | Cook and bake time: 45 minutes
Ingredients:
2 ounces of butter
¼ cup of flour
¼ tsp of cayenne pepper
2 cups of milk
¼ cup of heavy cream
½ lb of mild cheddar cheese, grated
4 slices of American cheese
½ lb of macaroni, cooked
½ cup of breadcrumbs or panko
Directions:
Preheat oven to 350 degrees. Melt butter in heavy saucepan over low heat. Add flour and cook, stirring constantly until light light brown, about 2 to 3 minutes. Whisk in milk and cream, ¼ cup at a time and continue to whisk until sauce thickens. Stir in cayenne and season with salt and pepper. Turn off heat – taking the sauce off the heat will mean that the cheese won't overheat. Add cheddar cheese and American cheese one cup at a time and continue to whisk to incorporate into sauce. Taste and season with more salt depending on your preferences. Combine the cooked macaroni with the sauce. Pour macaroni and sauce into a baking dish or individual ramekins and sprinkle any remaining cheese you have over it with some breadcrumbs or panko. Bake for about 20 minutes. You don't want it to bake for too long or it may come out grainy and dry.