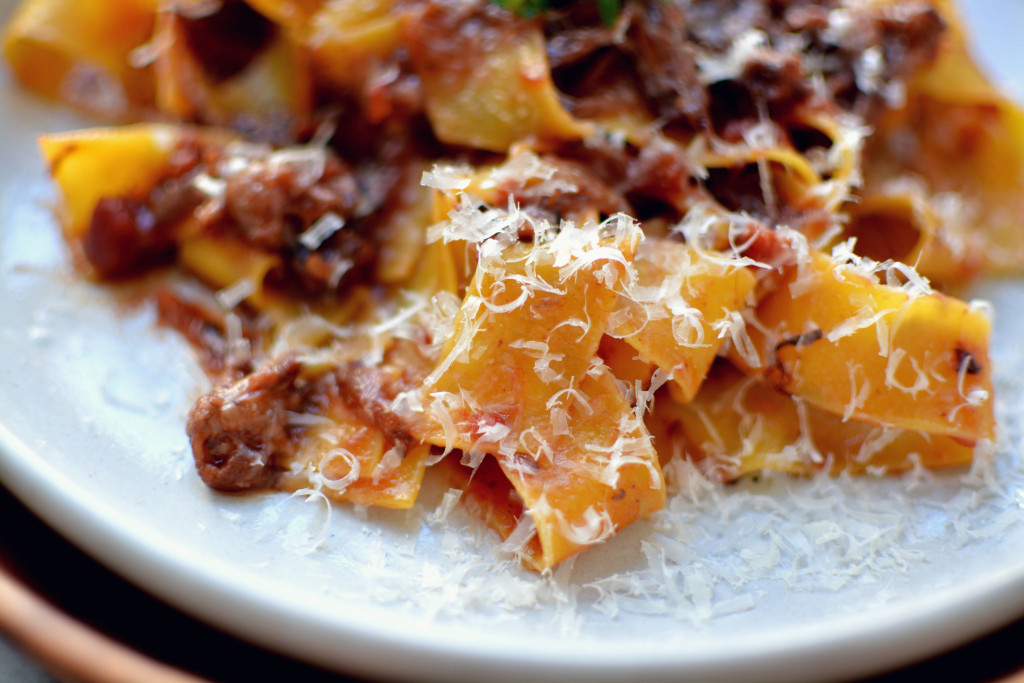 Oxtail Ragu
It's amazing how things have change from just a few years ago, when most people would grimace in disgust at the thought of eating offals (that's  organ meats), fish served with the head on (AAAHHHH THE HORROR), and god forbid, having a little fat and gristle attached to their steak.
If you're one of those people, you might want to stop reading now.  Also, I am judging you.  Yes, YOU.  Here's a link you might find helpful instead (ha!).
To me, the nasty bits have always been the best parts of any meat dish.  I like my pho loaded with tendon and tripe.  I love eating the charred fat ring around the outside of a juicy ribeye, with each bite of medium rare meat.  Nothing satisfies me more than munching on the cartilage in chicken wings and ribs.  Which taco?  Lengua of course!
Today, eating the whole animal has become the hottest trend on the culinary scene.  Who would have thought?!
British Michelin-starred chef Fergus Henderson has a great book called The Whole Beast: Nose to Tail Eating, on just that.   SF-based celeb chef Chris Cosentino has a website devoted to the celebration, education, and preparation of offals!
REDEMPTION, IT TASTES SO SWEET!
To celebrate a food movement after my own heart, I present you with… oxtail ragu!   It's exactly what it sounds like, the tail of a cow.  More bone and gelatinous tendon stuff than silky meat, with a little bone marrow cherry on top.  Oxtail is best stewed, braised, or cooked in soup, until the meat is falling off the bone, and the flavor of the bone disappears into the cooking liquid.
All the great food cultures have some version of this.   Try this Taiwanese tomato and soy sauce flavored stew, or this Scotch bonnet pepper spiced Jamaican stew.   I also found an interesting peanut based Filipino oxtail stew called Kare-Kare.  Ours is based on the Italian version, Coda alla Vaccinara, braised with San Marzano tomatoes and wine.  We started with Mario Batali's recipe from his Babbo Cookbook, and made a few tweaks.
After a long, slow, sensual braise, the meat is pulled off the bone and placed lovingly back in the sauce.  We made a big batch and served it over multiple meals, on pappardelle and on gnocchi.  It's finished with a shaving of fresh parmigiano-reggiano, a cracking of black pepper, and a drizzle of good finishing olive oil.
Recipe adapted from Mario Batali's "The Babbo Cookbook".
Servings: 6-8 | Cook & prep time: 4 hours
Ingredients
5 lbs oxtail (it should come already cut, but if not, cut into 2 inch pieces)
Kosher salt and ground pepper
Flour, for dredging
6 tbsp olive oil
2 medium onions, diced
4 cups hearty red wine
2 cups chicken stock
2 cups of San Marzano crushed tomatoes
2 tbsp fresh thyme leaves
2 bay leaves
Pecorino Romano, for shaving
Chopped Italian parsley
Directions
Preheat oven to 375 degrees (F).
Sprinkle the oxtails with salt and pepper, and dredge in flour.  Shake off excess flour.  Heat a dutch oven until it is very hot.  Add olive oil to coat the bottom of the pan, and sear the oxtails in batches until well-browned on all sides.  Remove oxtails and set aside.
Add diced onion and cook until lightly browned.  Add red wine, making sure to scrape up the browned bits with a wooden spoon.  Add chicken stock, crushed tomatoes and fresh thyme, and bring to a boil.
Add oxtails and their juices back to the pan.  Cover with a lid and braised in the oven for 3 hours.  While the recipes calls for a shorter braise, I found the meat wasn't tender enough, but was perfect after 3 hours
Once oxtails are tender and falling off the bone, remove from sauce and let cool. Strain the sauce or blend all ingredients to achieve a smooth consistency.
Once the meat has cooled, pull the meat off the bones and shred into small pieces. Add back into sauce.
Cook pasta according to directions. In a saucepan, add meat and sauce to warm. Once pasta is a couple of minutes away from being done, drain and place pasta in saucepan with enough pasta water to maintain desired sauce consistency. Cook sauce and pasta together until well-incorporated and pasta is al dente.
Finish with grated cheese, finely chopped parsley, a crack of fresh black pepper, and a drizzle of good quality olive oil.
Written and photographed by Tracy Chow & Jennifer Yu