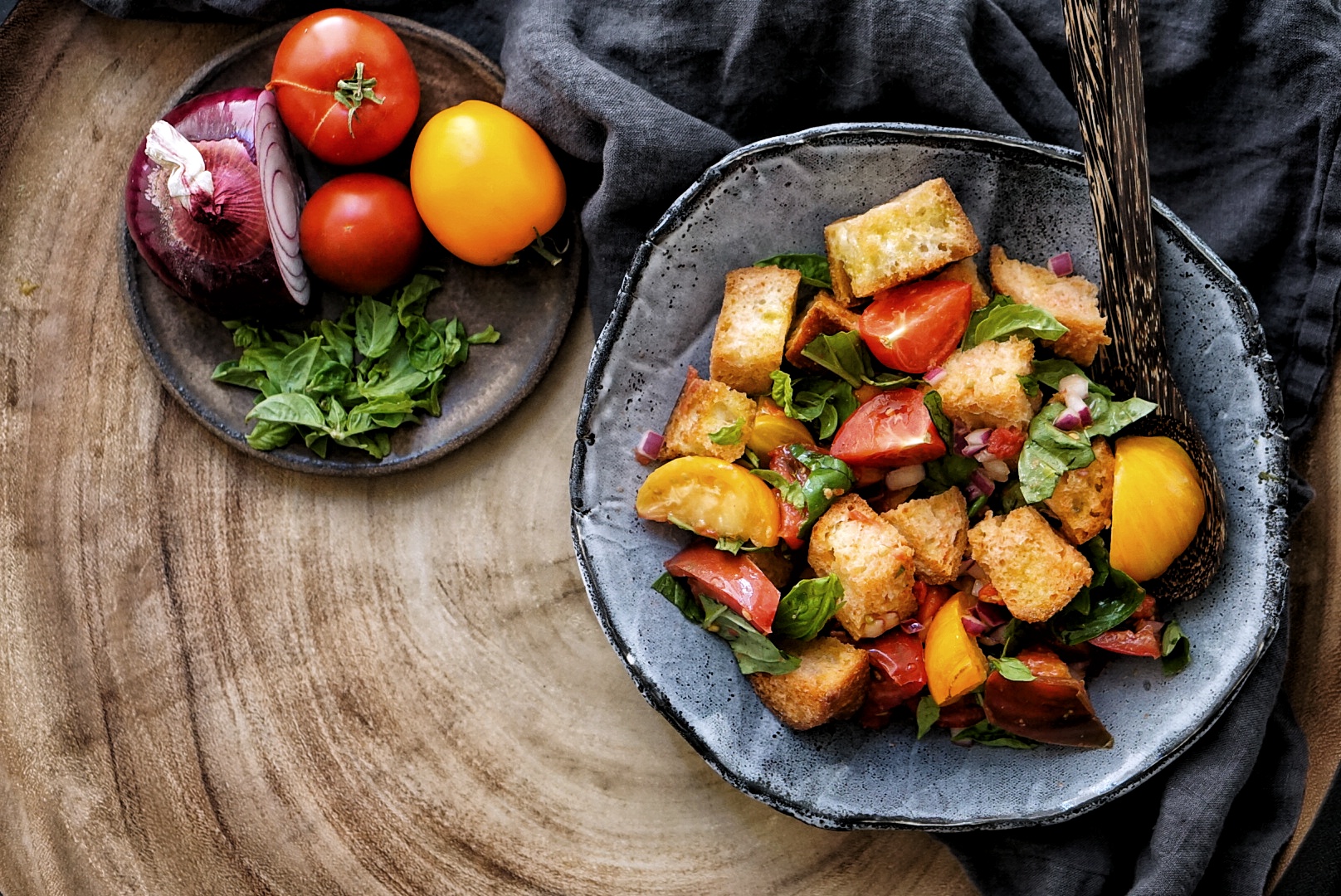 The Best Panzanella
Last September, I went on a glorious sun (and wine) drenched honeymoon in Italy. We traveled through Rome, Capri, Amalfi Coast, Tuscany, and Florence, catching the last of the summer season produce, which in Italy means tomatoes! Flavorful little plum shaped tomatoes were served cut in half, totally naked, at breakfast. Tomatoes and onions on olive oil drenched canned tuna… OMG how can tuna be so good?? Tomatoes in pastas, on pizzas, and tossed with bread in the best panzanella salad.
We fell head over heels in love with Italian olive oils, which are as varied, nuanced, and regional as red wine. There's no greater gift from nature than a flavorful olive oil with a juicy, sun-ripened tomato, and a little salt to draw out the tomato juices. There's also no bigger tragedy than a winter grocery store tomato, that 2 liter bottle of flavorless olive oil you've been keeping in your cupboard for 2 years, and iodized table salt. If you want to offend me, have these things at your house. With tomatoes, it's absolutely critical to use the best tomatoes grown and harvested at its seasonal peak. I'm super excited for summer to arrive so I can drag my husband to the farmer's market and make him smell every tomato "in the butt", and pick the most flavorful, "tomatoey" smelling ones. If it smells like nothing, it will taste like nothing.
Every Saturday in the summer, we bring home bags of tomatoes in all shapes, colors and sizes, and I use it for two dishes all summer long. One is a simple tomato burrata salad. Slice tomatoes, top with burrata, drizzle with flavorful olive oil, and season with a bit of crunchy sea salt. The second is the best panzanella salad, a Tuscan concoction of stale bread, tomatoes, onions and basil, tossed with olive oil and vinegar. No dish is more symbolic of Italy's cucina povera, or peasant cooking, than this dish. Evolving through necessity, these humble dishes use past-their-prime ingredients, with whatever other ingredients are available on hand.
Many recipes online add cucumbers and other vegetables, but to me, the best panzanella salad just has tomatoes with a bit of red onion, and fresh basil. With amazing ingredients, you really don't need too many things.
For the best panzanella, use slightly overripe soft tomatoes (you can sometimes find these on discount at farmer's markets), which release the most tomato flavor and juice. Use a mix of heirloom tomatoes for juiciness and mixed cherry tomatoes for sweetness. Avoid grocery store tomatoes at all costs, because the resulting dish will taste like garbage.
Some panzanella recipes use stale bread soaked in water, which I find appalling, even if it's authentic. Instead, choose a fresh loaf of rustic, crusty, "real" bread with a nice chew. For the best panzanella, I like bread that's substantial but not overly dense or flavorful (i.e. not a sourdough or focaccia). Stay AWAY from subway style bread!!! It will get soggy and fall apart.
The hard part about making the best panzanella is picking out the best quality ingredients. The rest couldn't be easier! This is a very forgiving recipe, so there's no need to measure ingredients exactly. It's perfect on its own, or served with a simple grilled meat or fish. I promise once you try this panzanella recipe, you will be raving about tomatoes and olive oil like a lunatic too!
Serves 2-3 | 30 minutes
Ingredients
2 large handfuls of very ripe mixed tomatoes, cut into large, bite-sized pieces (~1 pound)
2 1″ slices of rustic Italian bread, cut into 1 inch cubes (~3-4 cups)
2 tablespoons finely chopped red onion
Small handful of basil leaves, torn
Extra-virgin olive oil
Red wine vinegar
Kosher salt & freshly ground black pepper
Ingredient tips:
For the best panzanella, use a mix of heirloom tomatoes (for juiciness) & mixed cherry tomatoes (for sweetness). Pick slightly overripe tomatoes, because you need the juice to come out of the tomatoes. Avoid grocery store tomatoes at all costs.
Choose a rustic, crusty, "real" bread with a nice chew (stay AWAY from subway style bread!!! It will get soggy and fall apart). I like bread that's not overly dense or flavorful for this purpose (e.g. not a sourdough or focaccia). In the Bay Area, I use the Italian bread from Acme bakeries, which you can pick up at Whole Foods.
Since this recipe is so simple, a flavorful olive oil will really enhance the flavor of the tomatoes. Grocery stores now offer olive oils labelled as "pungent" or "spicy", pick one and try it out!
Directions
Preheat oven to 350°F.
Cut tomatoes, add to a medium sized bowl, and season liberally with kosher salt, tossing to coat. The mixture should tasty just a bit too salty, and this is fine because you will add the bread later. Set aside at room temperature for 20-30 minutes, to let the salt draw the juices out of the tomatoes. There should be quite a lot of juice in the bowl. After 15 minutes, add the chopped onion and a splash of red wine vinegar (start with a teaspoon and add more until you're happy with the acidity).
While tomatoes are marinating, toss bread cubes with roughly 2 tablespoons olive oil, just enough to lightly coat the bread. Bake bread until crisp and firm but not browned, about 15 minutes. Remove from oven and let cool.
Add toasted bread and basil to the tomatoes. Toss everything to coat, and season with salt and pepper to taste. Let rest for 10 minutes before serving, tossing occasionally until dressing is absorbed by the bread. Don't let it sit too long before serving, because the bread will get soggy. The perfect texture is when the bread is still crunchy in places but has also absorbed all the intense tomato juice flavor. Drizzle generously with good olive oil to serve.