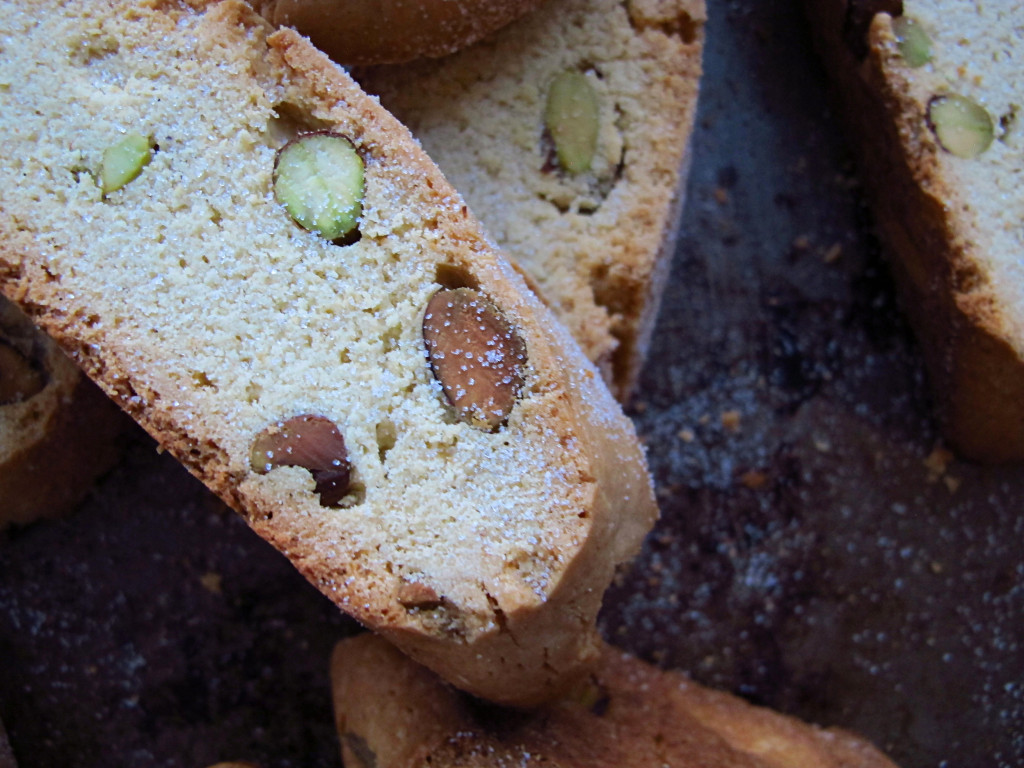 Pistachio Biscotti with Lavender Sugar
Italian culture, language and most importantly food are very close to my heart. They remind me of the days when I would stroll around the cities of Florence, Rome, and Venice sampling food, watching people interact, and breathing in the history. Time seems to move much slower in Italy and I wanted to bring a touch of that to LA.
Biscotti or Cantucci are a twice baked italian cookies that came from the city of Prato in the Tuscan region of Italy. They are a staple for breakfast and also a dunkable treat with an afternoon espresso or coffee. By twice baking these little gems you get the perfect combination of crunchy on the outside and soft on the inside. Traditional biscotti are made with almonds but I wanted my version to be a little more sophisticated. I present to you pistachio biscotti with lavender sugar.
Making scented sugar is the easiest and yet most rewarding thing to do! You feel like you have put in almost no time and created an amazing product. You can find edible lavender at specialty food stores. I bought mine at William Sonoma for $7.95 (pricey but well worth it).
Ingredients 
2 3/4 cups all-purpose flour, spooned and leveled
1 1/2 teaspoons baking powder
1/2 teaspoon kosher salt
1 cup granulated sugar
¼ cup lavender sugar
1 stick unsalted butter (room temp)
1 tsp pistachio extract (optional)
3 large eggs (room temp)
1 1/2 cups roasted pistachios
Lavender Sugar
Combine 1 cup of granulated sugar and 1 tbsp of lavender into the food processor and pulse until combined. Pour into a bowl and mix in 1 cup of granulated sugar. This will allow you to have fine and coarse sugar in your mixture. Store in an airtight container.
Directions: 
In a large bowl (or a stand mixer if you have one), mix together the granulated sugar, lavender sugar, butter, and pistachio extract until smooth. One at a time, beat in the eggs (it is very important that both your eggs and butter are at room temperature. If the eggs are too cold when you add them in the butter will break creating a curdled mixture). Add the flour mixture and mix until just incorporated. Using a spatula fold in the pistachios (make sure you don't over mix or you will end up with hard biscotti). Refrigerate the dough for about 30 minutes.
Heat oven to 350° F. Divide the dough in half and shape it into two 12-by-2-inch logs (about ¾ inch thick). Place on a parchment-lined baking sheet. Bake until just golden around the edges and firm to the touch, 25 to 30 minutes. Transfer the loaves to a rack and cool for 15 minutes.
Using a serrated knife, cut the logs into ½ inch thick slices. Arrange in a single layer on the baking sheet. Bake until dry and crisp, 18 to 22 minutes. Remove from the oven and immediately sprinkle some lavender sugar on top of the cookies and then allow them to cool on the baking sheet. You can store these in a air tight container and they will last about 2 weeks!
Tip of the day (meaning do what we say!)
Grab at least 2 biscotti and a hot beverage of your choice. Sit in a comfortable place in your home or office, disconnect from technology and just enjoy. The world will still be there when you are done.
Written and Photographed by Pamela Pimiento and Tracy Chow