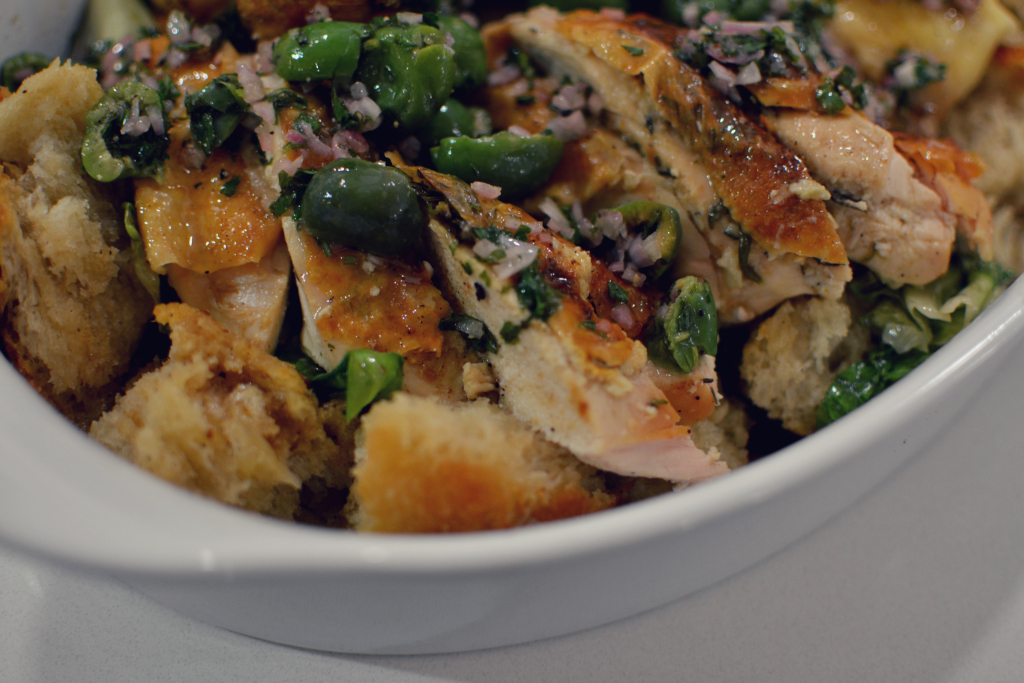 A.O.C. Roast Chicken with Panzanella
A.O.C. is one of my favorite restaurants in Los Angeles, a beautiful open roof garden hidden behind vine-covered Tuscan yellow walls in the heart of Beverly Hills.  We wrote a review on it last year, but with every visit, I grow to love it more and more.  One of my favorite dishes is chef Suzanne Goin's "Ode to Zuni" Roast Chicken with Fennel Panzanella, a glorious rustic platter of juicy chicken, savory bread salad with fennel, Castelvetrano olives, and the flavors of the Mediterranean.
Last week, we threw a dinner party for 10 of our rowdy, cocktail-loving friends, and brought the flavors of A.O.C. home to us!  Lately we've been into throwing restaurant themed dinner parties.  It's fun and casual, lets you nosh on amazing dishes without leaving the comfort of your home, and enjoy great quality wine without breaking the bank.  Winner winner chicken dinner!!
This roast chicken dish takes some advanced preparation, but is simply delicious and guaranteed to impress.  It's good enough to serve as is with the savory panzanella salad, sautéed escarole and lemony olive dressing, but we also added a superb curry roast cauliflower as a side (recipe to come).
A.O.C Dinner Party Menu:
Clams with Sherry & White Beans
Grilled Artichokes with Garlic Aioli
O.C. Roast Chicken with Panzanella
Curry Roast Cauliflower
Berry Panna Cotta
Chocolate Bread Pudding
A.O.C Roast Chicken with Panzanella Recipe:
Servings: 4-6 | Cook & prep time: 2 hours (1-2 days to salt the chicken)
Ingredients
Chicken
One 4-pound chicken
1 rosemary sprig
2 sprigs fresh thyme
4 cloves garlic
1 1/2 tbsp Kosher salt
Panzanella
1 loaf rustic white bread, torn roughly into 1 1/2-inch pieces
1 rosemary sprig
1 tbsp thyme
2 árbol chiles, crumbled
1 large fennel bulb, cored and cut into 1/2-inch dice
1 small red onion, cut into 1/2-inch dice
1/4 cup chopped garlic
1 tablespoon white wine vinegar
1/4 cup chicken broth
1 small head of escarole, leaves roughly torn
Olive oil
Salt & freshly ground black pepper
Lemon Olive Dressing
6 tablespoons olive oil
2 tablespoons minced shallot
Zest of 1 lemon
3 tablespoons fresh lemon juice
1/2 cup pitted and coarsely chopped Castelvetrano olives (3 ounces)
3 tablespoons chopped flat-leaf parsley
Directions
Chicken
Do 1-2 days in advance: Strip rosemary and thyme from the branches, and chop garlic.  Using your fingers, gently loosen the skin from the chicken breasts and thigh area. Stuff the rosemary, thyme and garlic under the skin and spread in an even layer.  Sprinkle salt all over the chicken and season with black pepper. Cover and refrigerate for 1-2 days.  Remove chicken from the refrigerator an hour and pat dry with a paper towel before roasting, for maximum crispiness.
Day of: Heat oven temperature to 450°F.  Drizzle olive oil over the chicken.  Roast for about 50 minutes until an instant-read thermometer inserted in the thickest part of the thigh registers 165°. Let the chicken rest for at least 15 minutes, then carve.  Click for video on how to carve a chicken.
Panzanella
Preheat the oven to 375°F. Toss the bread with ¼ cup of olive oil and spread it out in a single layer. Toast for 12 to 15 minutes, until lightly golden. Transfer to a large bowl and let cool.
In a large skillet, heat 1/2 cup of olive oil over medium heat. Add the rosemary sprig and crumbled chiles and stir until fragrant, about 1 minute.  Add the chopped fennel, red onion, garlic, thyme and 1 teaspoon salt.  Cook for 5 minutes, stirring occasionally, until the vegetables are softened.  Add white wine vinegar and chicken broth, and bring to a boil. Pour the mixture over the croutons and toss.
Just before serving, sauté the escarole.  Heat 2 tablespoons of olive oil over medium heat, add the escarole and cook until wilted, about 2 minutes.  Season lightly with salt & pepper.  Combine with panzanella.
Lemon Olive Dressing
In a medium bowl, combine shallot with lemon juice and a pinch of salt.   Stir in the chopped olives, flat-leaf parsley and 6 tablespoons of the olive oil. Season to taste with salt and pepper.
Serving:  Spread the panzanella and escaraole on a large serving platter. Arrange the chicken on top, and drizzle the lemon olive salad to finish.
Recipe adapted from Food & Wine.
Written and photographed by Tracy Chow & Jennifer Yu