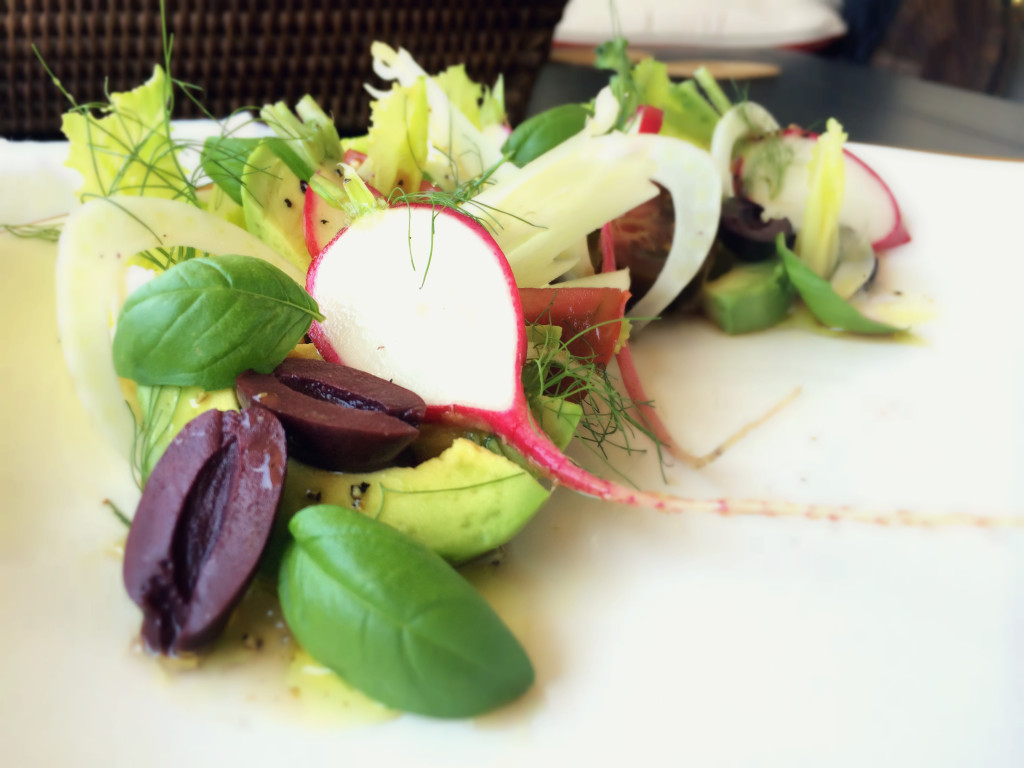 Favorite Salad with Ponzu Lemon Dressing
I love salad.  A fresh, crisp salad with a rainbow of fresh produce, fresh mozzarella, herbs, and a simple homemade dressing.  For most people, salad still rings of a lurking chore that one eats as medicine rather than for enjoyment.  But it certainly doesn't have to be that way!  Thankfully, the movement towards heirloom and local produce has elevated the humble salad far beyond its days as iceberg lettuce and shredded yellow cheese (blech!).
A few tips on how to love your salad:
Bagged "spring mix" – don't do it!  It's limp, tasteless and texture-less.  Take the extra few minutes to wash & chop fresh, crisp lettuce, and save yourself a few bucks.
Make your own dressing.  I usually just squeeze a bit of lemon, drizzle olive oil, and sprinkle S&P on a salad, and toss.  Store-bought dressing has so many calories that there's no point to even eating a salad, and it doesn't even taste good!
Don't overkill on the dressing.  Use enough just to coat the salad and give every bite some flavor.
Use in-season veggies for the best flavor (think tomatoes in summer, root veggies in the fall).
Use veggies that you like.  My favs are thinly shaved fennel and radish!
Add a good source of protein or fat.  Fresh mozzarella is my favorite protein/fat ingredient because it balances the texture & flavor of the veggies, but you can use whatever you want.  A salad without protein or fat = hungry in an hour.
I'm sharing a recipe for my favorite summer salad because I eat this all the time.  What's your favorite salad?
Servings: 1 | Cook & prep time: 15 minutes
Ingredients
Salad:
A few pieces of lettuce
1/4 fennel bulb
2 radishes
1 small heirloom tomato
1 ball of fresh mozzarella (bocconcini)
1/2 avocado
A few Kalamata olives
Lemon Ponzu Dressing:
Juice from a small wedge of lemon
Splash of Ponzu Lime  (you can get this at most grocery stores)
A few drops of red wine vinegar
Olive oil (a couple of turns over the salad)
Salt & fresh cracked pepper
Directions
Thinly slice the hard veggies (fennel, radish), and roughly slice the softer ingredients (tomato, mozzarella, avocado, pitted olives).  Arrange all salad ingredients in a bowl or plate.  Drizzle lemon ponzu dressing ingredients on top of salad, and toss.  Adjust seasonings as needed, and enjoy!
Written and photographed by Jennifer Yu
Drivers make a conscious decision to take their eyes off the road for even a small amount of time and
http://celltrackingapps.com
find themselves with facing some heavy consequences