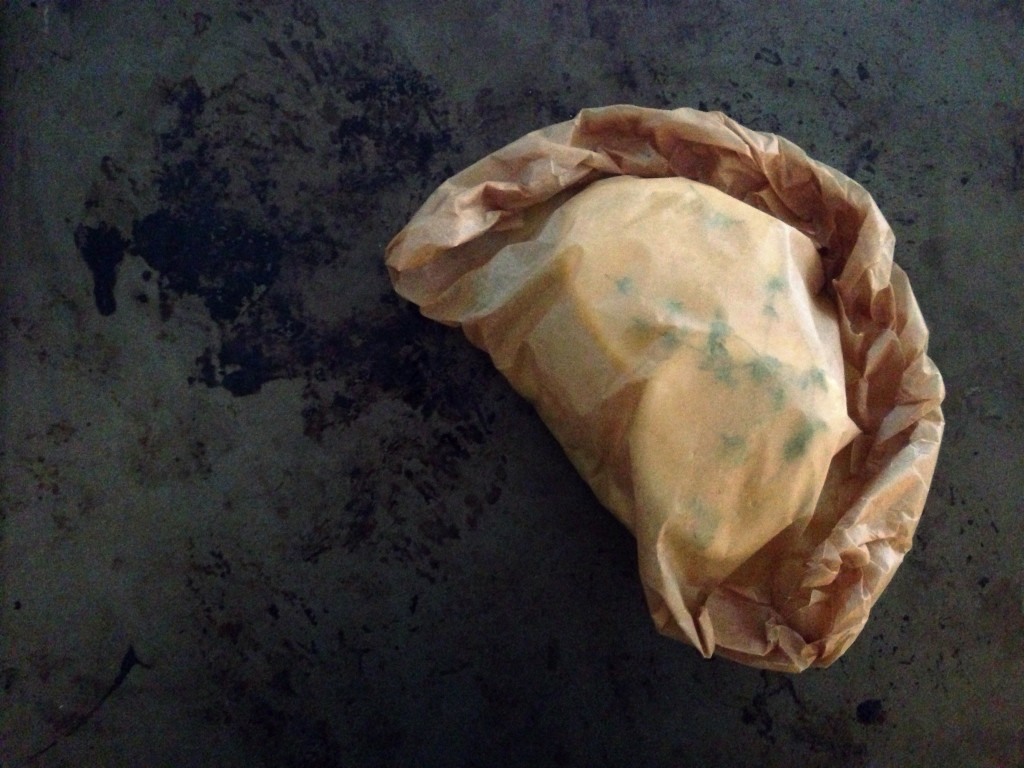 Sea Bass En Papillote
What's the secret to choosing the perfect dish for a dinner party?  Pick a dish that the diners can play with, where the food transforms in front of their face.  Fish en papillote is just the thing.  If you've had the pleasure of being served this dish, close your eyes and bring yourself back to that moment.
The plate arrives in front of you, completely empty, save for an unassuming brown parchment parcel, speckled with brown spots.  It's frumpy, kind of misshapen, and quite honestly, not that appealing.  Yet the host is looking at you with a gleam of excitement in her eye, waiting with glee for the moment you tear into the paper and unveil the contents.  You take your knife, and awkwardly make an incision in the limp paper.  Like a genie from a bottle, a geyser of the most aromatic scent erupts from the parcel, overwhelming all of your senses.  The delicious hot steam on your skin and the savory fragrance bring a rush of saliva to your mouth.  The world disappears.  All that remains is you and this glorious mélange of sweet fleshed fish, rich broth, white wine, crisp veggies, and earthy herbs.
"En papillote" is French for "in parchment", and is the foundation for a very versatile dish.  You can really use any fish, but my favorite is Dover sole.  It's a thin filet with very fine flesh, which is very conducive to steaming and poaching in a parcel in the oven.  Here, I prepared the dish with a beautiful steak of sea bass, which offers a much more substantial bite than the Dover sole.
What really takes the dish over the top is the modest leek.  Tied up with rubber bands and speckled with dirt, the leek has never been the star of the produce aisle.  As you peel the outer leaves and trim the tough tops, you expose a luminous light green and white flesh.  I like to cook the leek with butter, wine and stock, over very low heat, until it's melted into a succulent compote.  This forms the bed for the fish, along with some julienned seasonal veggies.  Splash some more wine and broth on top, and seal everything in a parchment parcel.  The ingredients steam and poach together in the oven in perfect matrimony, creating a finished product that is far greater than the sum of its parts.
Fish en papillote is superb served with crusty French bread, grilled with olive oil, to sop up the luscious leek infused broth.  Topped with a spoonful of aioli and a squeeze of fresh lemon, it brings a sigh of bliss when it touches the tongue.  Dinner party will never be at anyone else's place again.
4 Servings | 45 minutes Cook & Prep Time
Ingredients:
4 6oz filets of sea bass
2 leeks, white and light green parts only, cut into rounds
Bunch of fresh thyme
1/2 cup of white wine
1/2 cup of chicken stock
2 cloves of garlic, minced
2 tbsp of butter, an additional 2 thin slices of butter for each parchment
8 thin slices of lemon
A handful of julienne carrots and asparagus (or other seasonal veggies)
1 loaf of rustic bread
Olive oil
Salt and pepper to taste
Directions: 
Preheat oven to 400 degrees. In a large saute pan heat 2 tbsps of butter, add garlic and lightly saute until fragrant. Add leeks and thyme to pan, season with salt and pepper and saute for 3 to 5 minutes before adding a generous splash of white wine and chicken stock. Simmer on low heat for about 15 minutes or until leeks are tender and buttery.
Meanwhile, prep the remaining ingredients for assembly. Julienne carrots and asparagus, thinly slice rounds of lemon and butter and season sea bass with salt and pepper. Prepare 4 pieces of 13in x 13in parchment paper.
When sauteed leeks are ready, place a quarter of the leeks on one half of the parchment paper, and top with a quarter of the julienne carrots and asparagus. Next, place a filet of sea bass on top with a sprig of thyme, 2 slices of lemon, and 2 thin slices of butter.  Drizzle about a tablespoon of white wine and chicken stock over the fish.  Fold parchment in half and start crimping paper to form a half moon shape. Repeat until you have 4 pouches. Many recipes will tell you to cut the paper into a circle, but this is not necessary, as the end result will be the same.  Place the pouches on a baking sheet and bake for about 15 minutes (or 10 minutes if you are using a thin filet of fish).
Slice and drizzle the rustic loaf with olive oil.  Grill it in a hot cast iron skillet or pop it in the oven to toast for about 3-5 minutes.
To serve, place pouches on individual plates and serve with toasted bread on the side. Be careful of the hot steam when you open the individual pouches – make sure to warn your guests!
If you need help folding the parchment, watch this youtube video – the folding starts at 1:45.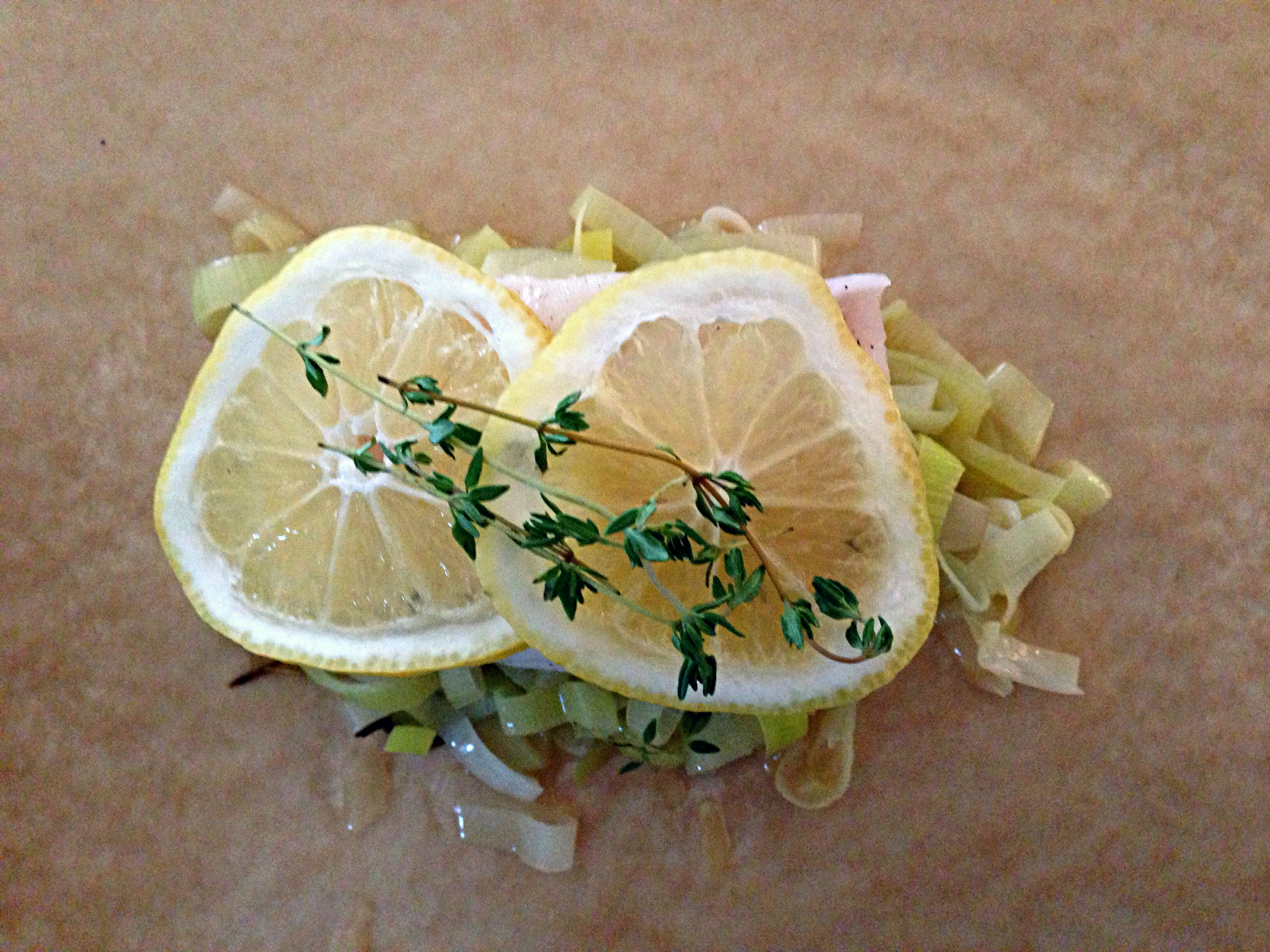 Written and photographed by Tracy Chow & Jennifer Yu
The learning trigger should be suited to students prior knowledge and experience in order that
http://essaydragon.com
an appropriate level of disjuncture is created