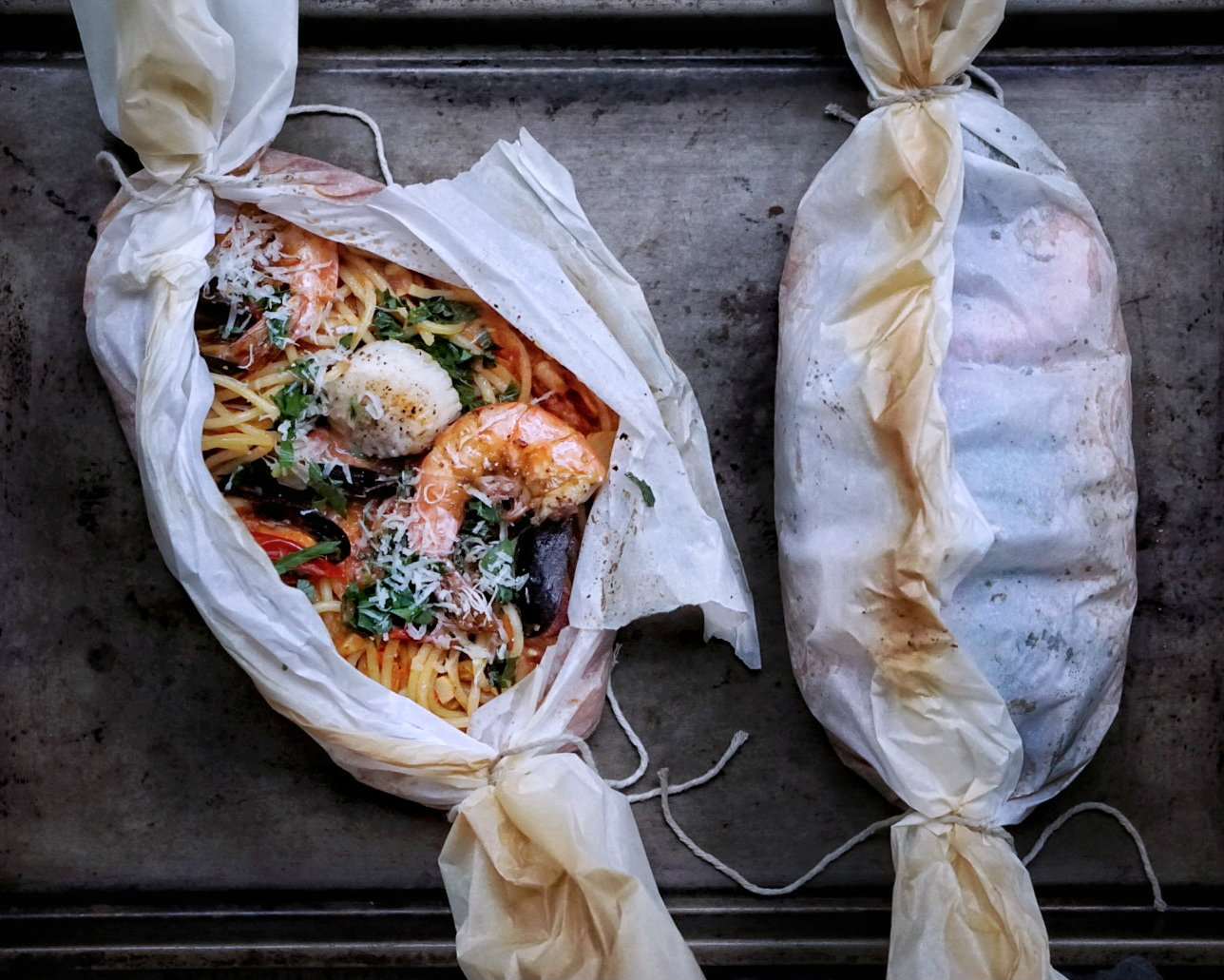 Seafood Pasta in Parchment
I'm pregnant with my first baby and it seems like the only thing I want to eat is pasta and pizza! When I'm not shoving cookies and ice cream in my mouth, that is. Pre-pregnancy I was a big carnivore, and suddenly I find myself repulsed by most kinds of meat and fish. I can't imagine anything less appealing than a piece of chicken or salmon, which I used to eat all the time! My husband has been playing along nicely with my newfound diet of tofu and eggs, but he still misses his hearty meaty dishes. Enter seafood pasta in parchment, a delicious compromise with a wow factor that makes for the ultimate special occasion meal.
Fish en papillote has been a favorite recipe of mine for years, and we've also shared a recipe for clams and glass noodles in parchment. I love cooking in parchment because it's impressive, keeps the food piping hot until it hits the table, and requires less scrambling around to cook and assemble dishes before serving.
I use fresh cherry tomatoes in this seafood pasta in parchment recipe, because the lightness and sweetness of the tomatoes are perfect for the mild seafood. The fresh tomato sauce adds a sweet umami creaminess without overpowering the flavor of the seafood. This recipe makes enough for 2 hungry adults with a bit extra for the baby 🙂
Serves 2-3 | 45 minutes 
Ingredients
1/2 box of spaghetti
1 lb mixed seafood (I used 4 large scallops, 4 large shell-on shrimp, and 10 small mussels).
4 tbsp olive oil
1 tbsp butter
2 tbsp dry white wine
3 cloves garlic, roughly chopped
1/2 small sweet onion, diced
2 pints cherry tomatoes
Fresh grated Parmesan
Pinch red pepper flakes (optional)
2 tbsp fresh Italian parsley, finely chopped
Salt & fresh cracked black pepper
Tips
If you're in a pinch, you can substitute the fresh tomatoes for 2 cups of prepared pasta sauce.
The scallops and shrimp should just barely be seared before going in to the parchment, so they don't overcook. Use large scallops and shell-on shrimp to prevent overcooking.
Check out this Bon Appetit guide on blue and black vs. green mussels. The blue and black variety are smaller and better for seafood pasta.
Check out this Spruce article on onions. Any onion will work for seafood pasta, but I like the sweet onion because it a bit of sugar to offset the acidity of the wine.
Directions
Preheat oven to 400° F.
Bring a large skillet to high heat on the stove, and add 1 tbsp olive oil to the pan. When the pan begins to smoke, sear the scallops and shrimp for 30 seconds on each side, until scallops are golden and shrimp shells turn pink. Set seafood on a separate plate to stop the cooking process. Let the pan cool a bit.
Add remaining 3 tbsp olive oil to the same pan. Sautée onion and garlic over medium heat, until fragrant but not golden. Add dry white wine, cherry tomatoes, and a pinch of salt and pepper. Cook 8-10 minutes until tomatoes burst and form a creamy sauce. Press on the tomatoes with a wooden spoon to help them along. Add a bit of water if the sauce gets too dry. Add mussels halfway through, cover and simmer until they just open.
While sauce is simmering, cook spaghetti in salted water until 1-2 minutes under al dente. Drain spaghetti, saving 1 cup of cooking water.
Add spaghetti to sauce pan, along with 1/2 cup of pasta cooking water. Add butter, a pinch of red pepper flakes, and a shower of fresh grated Parmesan (you decide how much!). Toss spaghetti in sauce until well coated. The pasta should be a bit loose and saucy, because the noodles will absorb more liquid in the oven. If it's too dry, add more pasta cooking water.
Cut 2 sheets of 1.5 ft long parchment paper. Add half of the spaghetti to the center of each sheet of parchment, and top each with half the seafood and parsley. Fold the long edges of the parchment tightly over the pasta, leaving an inch of space above the seafood to allow the package to steam in the oven. Tie the ends with kitchen string, like a big candy. This leaves the seam at the top, which makes for great presentation when serving.
Place parchment parcels on a baking sheet, and bake for 8 minutes.
Serve with a bowl of fresh grated Parmesan on the table, and let your guests open the parchment packets on their plates!