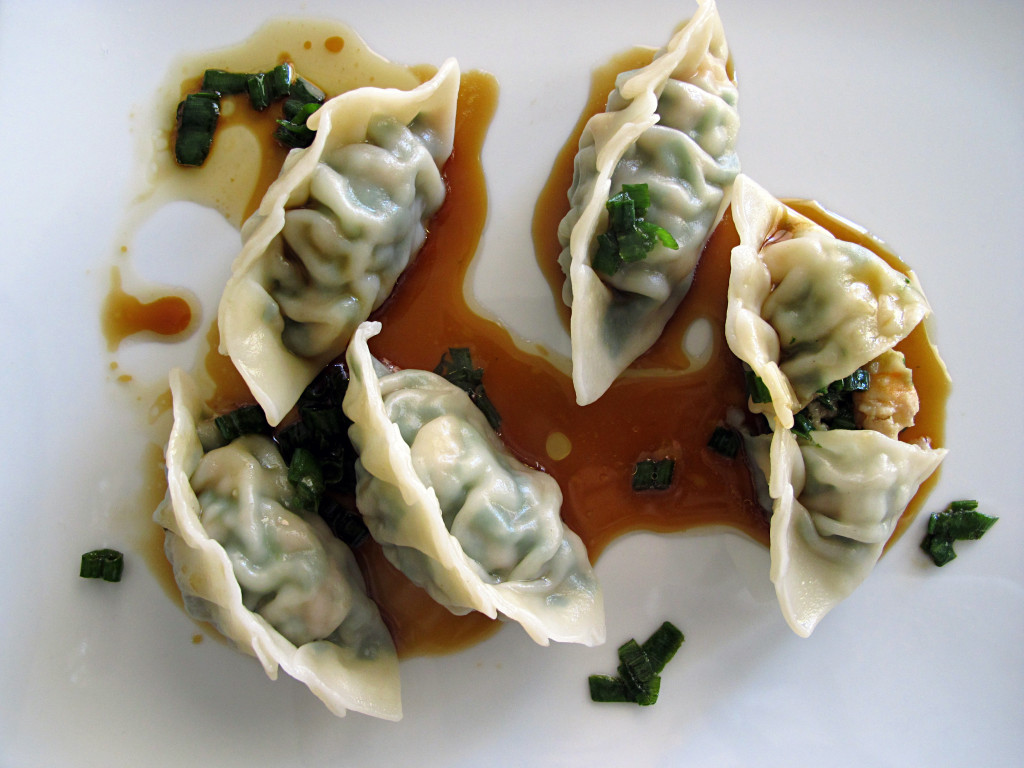 SHRIMP, PORK & CHINESE LEEK DUMPLINGS
Dumplings are a freezer staple for me. It's rare that you'll find my freezer void of frozen dumplings…they are usually sitting there waiting to be boiled and then devoured. This doesn't happen often but it's quite a confusing time for me when I've run out of dumplings, especially when it's the only thing I ALWAYS have. Like today for example – is the first time since moving to LA that I've found my fridge AND freezer completely empty. I'm starving right now as I'm writing today's post and a serving of dumplings would most definitely hit the spot. Looks like it's time to hit up the grocery store 🙂
Prep time: 45 minutes | Makes 50 dumplings 
Ingredients:
3 to 4 cups of chopped Chinese leeks*
1 lb of ground pork
1/2 lb of shrimp, shells and head removed, chopped into 8 pieces
1 egg yolk
1 tsp of corn starch
1 1/2 tbsp of soy sauce
1 tbsp of soy paste (this is optional, you don't have it add an additional tbsp of soy sauce)
1 tbsp of sugar
1 tsp of salt
2 package of dumpling skins (I usually use 1 1/2 packages of dumpling skin)
*Chinese leeks are usually sold at the grocery store in one large bunch, I usually buy one bunch and it produces about 3 to 4 cups
Directions:
Combine all ingredients in a large bowl and mix well. Prepare two large trays covered with sifted flour – this will hold all your dumplings as you are folding them. The flour is very important otherwise your dumplings will stick to the tray when you take them out of the freezer if you intend on freezing them. Make sure that as you are putting them down on the tray the dumplings are not touching each other.
Put a small spoon of meat mixture onto your dumpling skin. Dip your finger into a small bowl of water and run your finger along one side of the dumpling skin, fold in half and pleat the sides. Here are detailed pics of my dumpling folding technique. Tip: after folding your first dumpling, cook it and have a taste! Maybe you'd like to add a little more salt or soy sauce – it doesn't hurt to check.
Continue until all dumpling skins and filling has been used up.
To cook dumplings, prepare a pot of boiling water and throw in however many you want. After they start to float boil for another 2 to 3 minutes and serve with scallion and soy sauce mixed with a bit of Japanese rice vinegar and sesame oil. Here are instructions on how to pan fry them.
To freeze, put trays of dumpling into the freezer and again, double check to see that the dumplings are not touching each other. Once the dumplings are frozen you can dump them all into one Ziploc bag and you'll have them sitting in your freezer for a quick snack or easy lunch.
During the
http://www.essayprofs.com/
first few minutes the lecturer could go through the learning outcomes for the session, telling them what they should have learned by the end