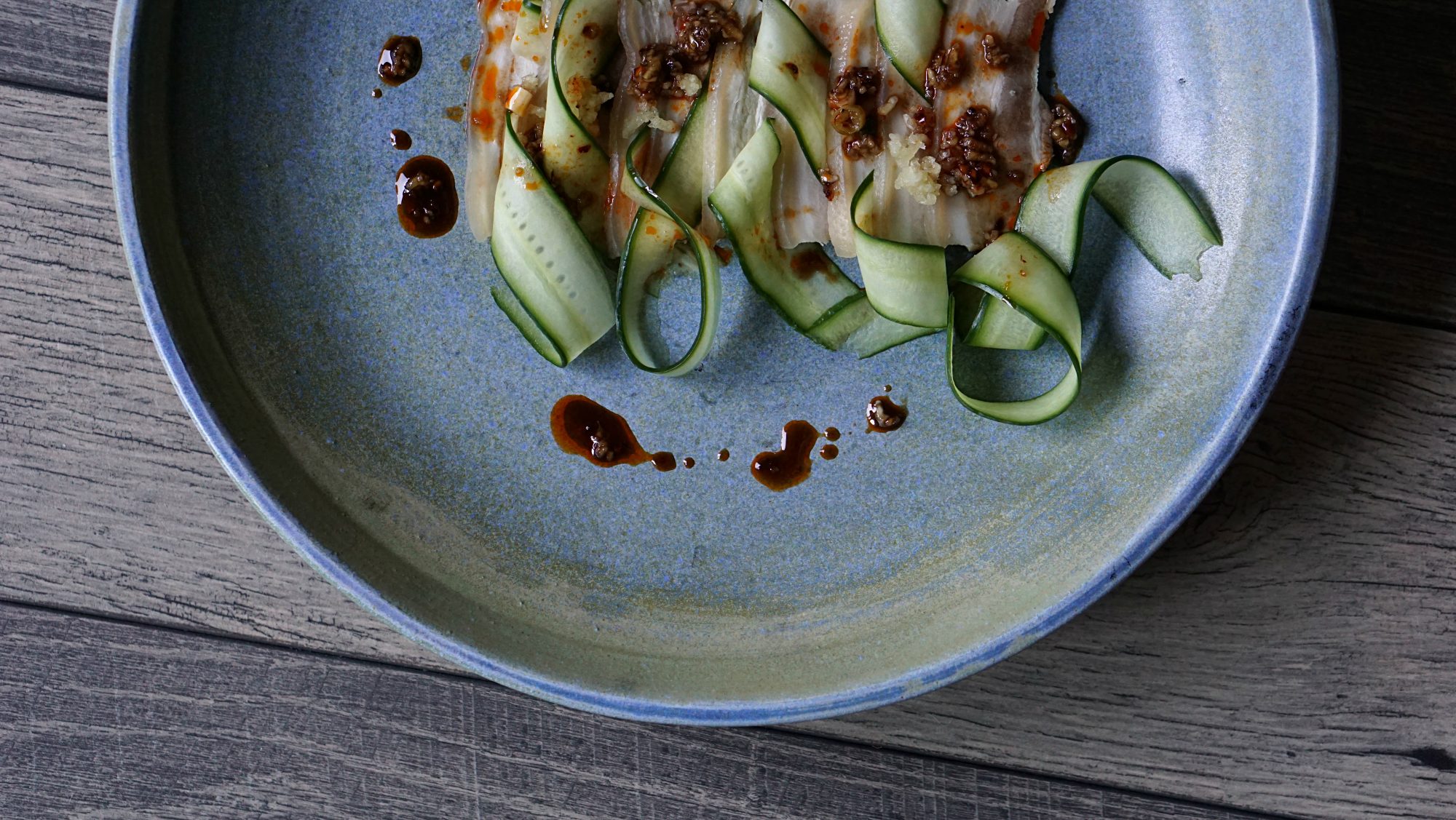 Sichuan Chilled Pork Belly with Garlic Sauce (蒜泥白肉)
I've often been asked "how did you get so into food"? I always pause and ponder this myself, and come to the conclusion that it's simply because I'm Chinese. This answer, inevitably, does not make sense to the person asking the question, because they're never Chinese. And a Chinese person would never ask the question, because all Chinese people are "into" food. And no, that is not a generalization, that is a fact.
Then follows the next logical question: why are Chinese people so into food? I've pondered this at length as well, and came to the conclusion that Chinese food is such a ingrained part of the our lifestyle that it is one of, if not the defining characteristic of Chinese culture. With thousands of years of rich culinary history, incredible geographic diversity, influence from bordering countries ranging from Russia to India, Chinese cuisine is the single most diverse, complex, and interesting one in the history of mankind.
Sadly, real Chinese food has for the large part, not made it out of the motherland. What we know as American Chinese food bears little or no resemblance to what we eat in China, and what is loved in China seems very foreign to visitors. If you're ordering fried wontons, orange chicken, and eating a fortune cookie after a meal, you're not eating Chinese food at all. Not that it's not delicious in its own junk-food way, but it's simply not Chinese food.
So what is a real Chinese meal?
First, it's not just what we eat, it's how we eat. There are many formal cultural customs to dining in groups, but the most fundamental difference between American and Chinese dining is that Chinese cuisine is always served family style. Having married an American, it took a while for my husband to be comfortable with sharing everything, but with many many months of cajoling, he now loves being able to try a little bit of everything on the table. I mean, why would anyone want to commit to eating only one thing? What if it's bad??
And then of course, there's the food. Dinners usually start with small plates of cold appetizers. These savory, flavorful little bites are meant to whet the appetite before the large meat and vegetable dishes come out. Often a brothy soup (my fav!) is also served before the main dishes. Then, steaming platters of fish, seafood, pork, tofu, and vegetable dishes arrive. Braised, steamed, sauteed, deep fried – you name it, it's there. Finally, the meal concludes with a noodle or rice dish, followed by fresh fruit. There's never a moment when the table is empty (ahem, like in Western restaurants where you have to wait in bored anticipation between dishes), while hosts and guests alike rush to jovially top up each others' drinks.
Why am I telling you all this?
One of my favorite cold appetizer dishes is 蒜泥白肉, a Sichuan dish that literally translates to garlic paste white pork. Boiled pork belly, chilled and sliced, and served with raw garlic… it sounds pretty unappetizing huh? Well, you have to understand the context of Chinese cuisine to appreciate this dish, and imagine how amazing it really is.
Imagine you've just arrived at a restaurant, hungry and exhausted from a long day. All you need is cold beer, delicious food, and great company. You get a cold beer, and a small plate of thinly sliced pork belly is placed on the table. Unlike the more common hot braised pork belly dishes, this one chilled, thinly sliced, and drizzled with a spicy, garlicky, vinegary, savory, umami-packed dressing.
You lift your chopsticks, and slide a piece of the pork belly in your mouth. The flavor explosion instantly kicks your salivary glands into action. Your cheeks pucker, your mouth waters, you chew eagerly (omnomnom!), and wash down the delicious bite with a gulp of cold beer. In fact, it goes so perfectly with the cold beer that before you know it, you've licked the plate clean, and your beer is empty.
You won't find this dish in most Chinese restaurants in America, but luckily, this Sichuan pork belly recipe is easy to make at home! It can be made ahead of time to allow the boiled pork belly to chill. Sichuan peppercorns are the base of the chili paste or chili oil, and add a lip numbing heat that's crucial for the dish. Lots of raw garlic, Chinese black vinegar, and soy sauce add zing, tanginess, and umami to the mix. I like to layer the pork belly with thin slices of cucumber, for some crunch.
Even if this dish sounds totally outrageous to you, give it a try, and I promise you will never be looking for a bread basket before the main course again.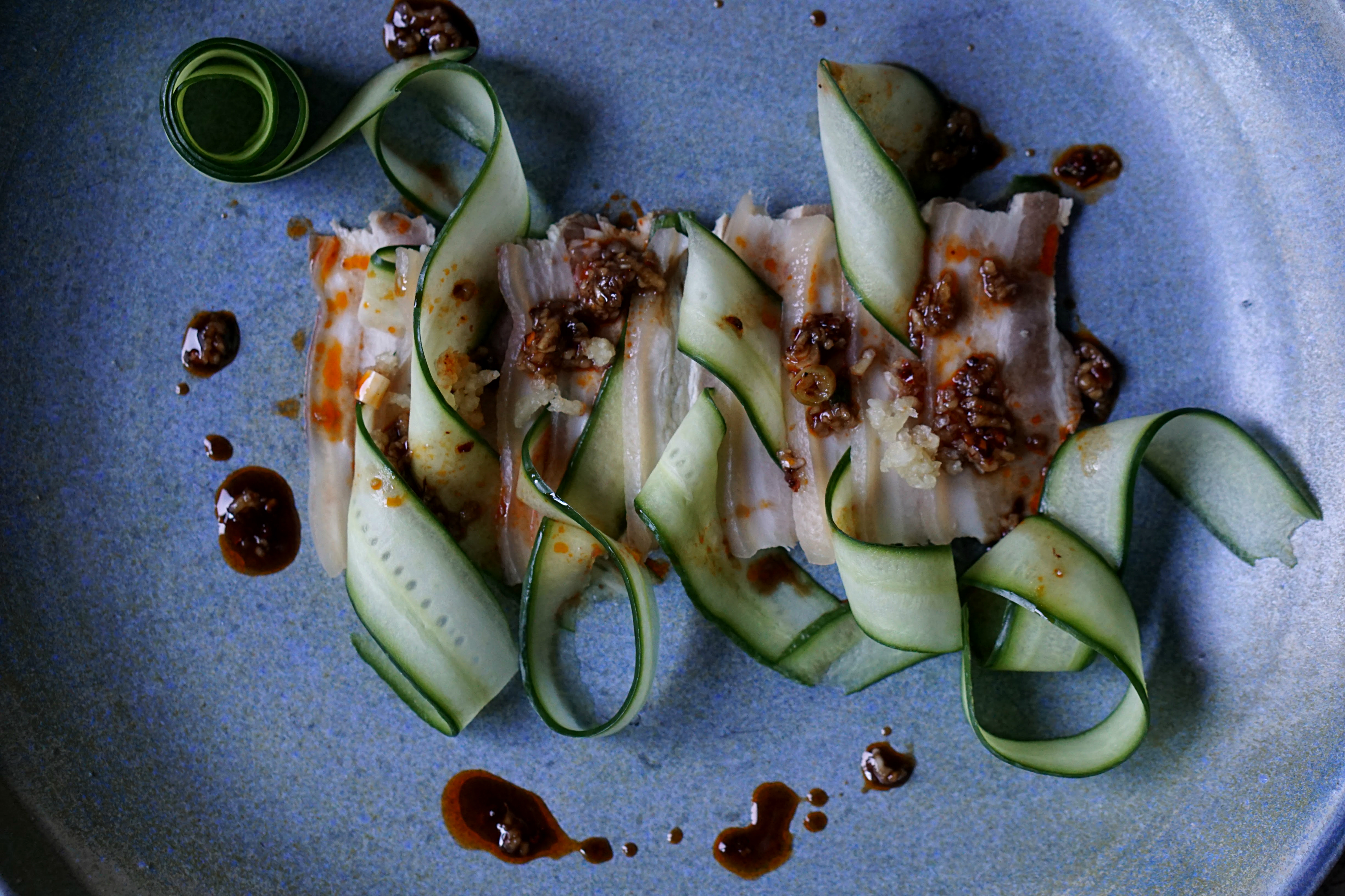 Serves 4 appetizer portions | 1 hour prep & cooking time
Ingredients
Pork Belly
1 lb piece of pork belly
2 coins ginger
1 green onion, cut into 2 inch pieces
1/2 cup Shaoxing rice wine
Chili Garlic Sauce
1 tbsp light soy sauce
1/2 tbsp Sichuan chili sauce or chili oil (I used my favorite Chinese chili sauce, which is loaded with Sichuan peppercorn flavor)
1/2 tbsp black Chinese vinegar
1 pinch sugar
1 tsp sesame oil
3-4 cloves minced garlic
Garnish
1 Persian cucumber
A few springs cilantro (optional)
Directions
If the pork belly came in a large, wide piece, cut the pork belly into 3 inch wide pieces. This will allow the pork belly fit better in a pot.
Put pork belly in a medium sized pot, cover with water, and add Shaoxing rice wine, ginger, and green onion. Bring to a boil, then lower to a simmer. Simmer the pork belly for 30 minutes. At this point, check for doneness by poking a chopstick all the way through the meat. The meat should have some resistance, but the chopstick should go all the way through. You don't want the meat to be falling apart tender. If it's too hard to push the chopstick through, simmer for another 10 minutes. Drain pork belly, and let it cool.
While pork belly simmers, combine all ingredients for chili garlic sauce.
Shave cucumber lengthwise, into long strips, using a vegetable peeler.
When ready to serve, slice pork belly across the grain into thin slices. Arrange pork belly and cucumber strips in alternating layers across a plate. Drizzle chili garlic sauce over the pork belly. Garnish with cilantro, and enjoy!