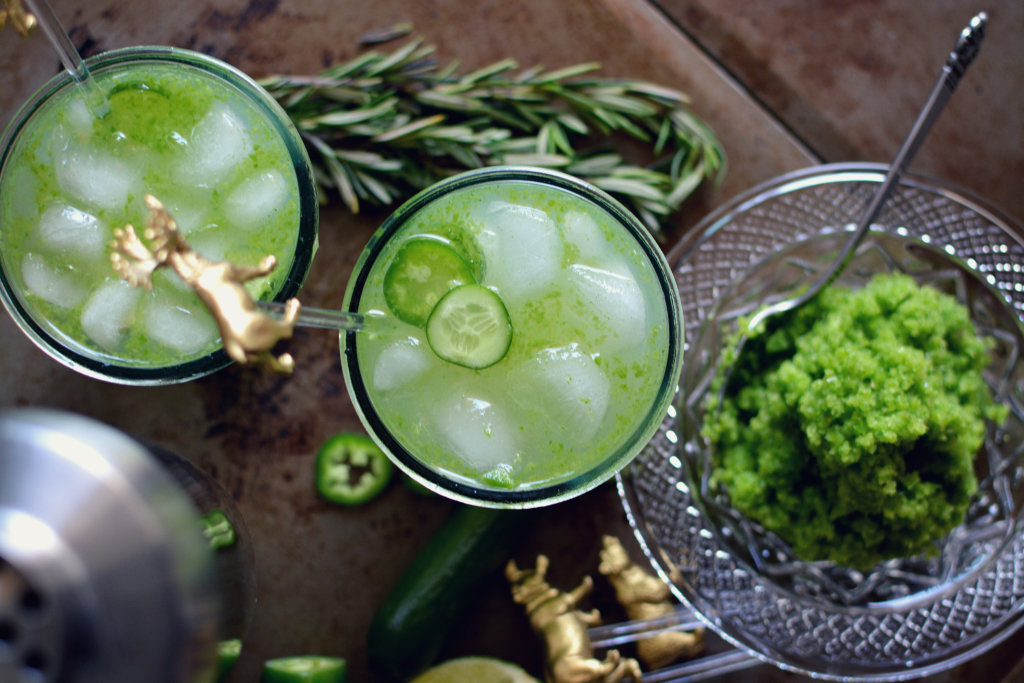 Signature Wedding Cocktail
Our Founder Tracy recently tied the knot to her long time love, Eugene.  To celebrate the occasion, we did what every other bridal party would do, and spent the Friday before the wedding juicing a bajillion jalapenos for their signature wedding cocktail!  Signature wedding cocktails are all the rage these days, especially in the late September heat wave we were blessed with in LA.  For inspiration on your big day, check out these signature wedding cocktail ideas from Martha Stewart, Buzzfeed and Wedding Chicks on Pinterest.
For Tracy and Eugene, rather than making his & hers cocktails, we settled on one that represents both of them. She's sweet, he's spice, and together they make life twice as nice.  With spicy jalapenos, refreshing cucumber, tart lemon and lime, and sweet rosemary simple syrup, this signature cocktail is the perfect summer wedding cocktail.
Directions:
Making the Cocktail:
Mix in a shaker:
1.5 oz of vodka
1 tsp of muddled 

jalapeno or jalapeno pulp

1 wedge of lime juice
1.5 tbsp of rosemary simple syrup
1 tsp of

jalapeno and cucumber

juice
Squirt of lemon juice
Pour mix into a glass filled with ice cubes, and top with club soda.  Garnish with 2 slices of cucumber, a slice of jalapeno and a lime wedge.
Rosemary Simple Syrup:
In a medium saucepan combine 1 cup sugar, 1 cup water and 2 sprigs of rosemary. Bring to a boil, and stir until sugar has dissolved.  This makes 1 1/3 cups of simple syrup.
Jalapeno & Cucumber Juice:
To make jalapeno and cucumber juice, we juiced the cucumbers and used a food processor for the jalapenos, because we didn't want the jalapeno flavor to stain the juicer.  Use 1 English cucumber for every 10 large jalapenos.
Juice cucumbers in a juicer and set aside.  Remove seeds and pith from jalapenos, and pulse in a food processor until finely minced.  Strain jalapenos in a cheesecloth over a bowl.  Save the jalapeno pulp for the cocktail. Combine the juices and set aside.