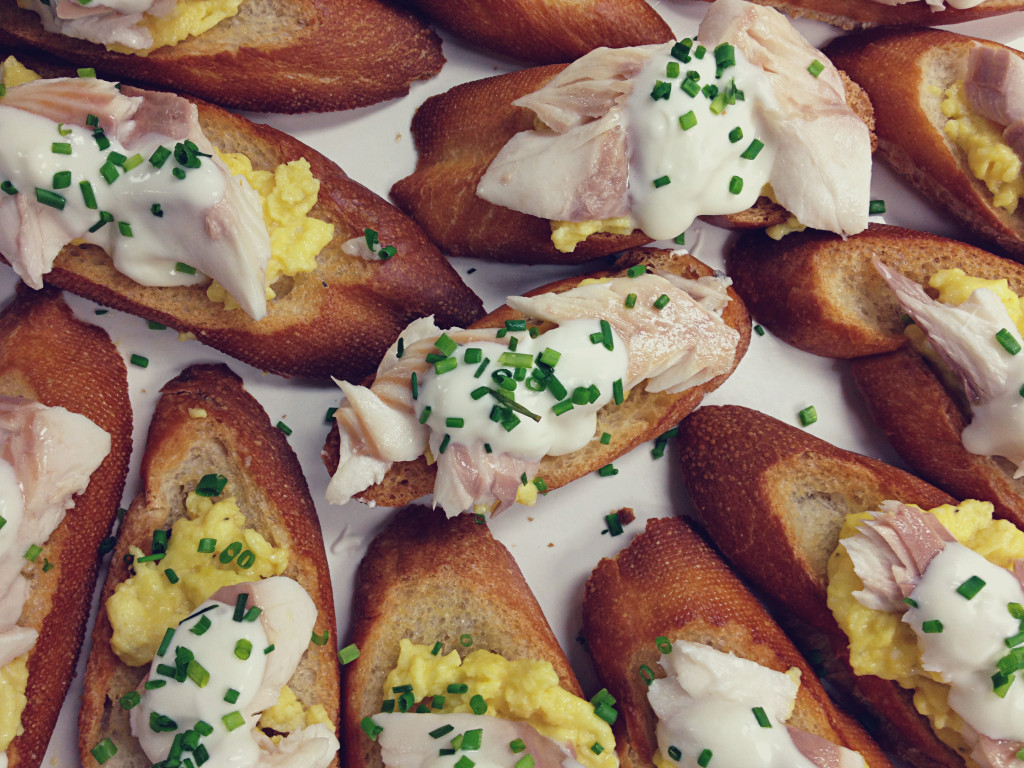 Smoked Trout with Soft Scrambled Eggs & Toast
Smoking your own fish sounds like a real production. It sounds daunting and difficult…which exactly why we wanted to do it. We was up for the challenge! But to our disappointment it wasn't difficult at all and required very little effort…which we shouldn't make it sound like such a bad thing. All you need is a STOVETOP SMOKER and some wood chips…and obviously your ingredients. This smoked trout is served with soft scrambled eggs and a dollop of creme fraiche. Next up? I think we'll try smoked fish tacos!
Ingredients:
Smoked Trout:
2 whole trout – gutted and scaled
8 cups of cold water
1/2 cup of salt per pound of fish
3 tbsps of Wood chips
Scrambled Eggs and Toast:
1 smoked trout
4 large eggs (adjust the number of eggs according to your serving size, 4 eggs would probably be enough for 2 breakfast sized portions and 8 to 10 hors d'oeuvres sized portions)
2 tbsp of whole milk
Salt and pepper
2 tbsps of chopped chives
1 cup of creme fraiche
1 french baguette
Directions:
Rinse the trout. Combine 8 cups of water and the salt. Stir to dissolve and immerse the trout in the brine for about 2 hours. Remove from brine and place on a rack and allow to dry for about 20 minutes.
Meanwhile prepare the smoker. Place wood chips on the bottom of your smoker and place rack on top. Position trout on the rack, slide on the top and turn on the stove. The temperature should be approximately 180 degrees. Smoke the trout for about 30 minutes and cool before serving. The fish will keep for 4 days stored in the refrigerator.
While you're waiting for your fish to cool start prepping your toast and scrambled eggs. Slice toast into long points, lightly butter and toast in oven at 400 degrees for a couple minutes. The amount of time will depend on the consistency of the toast that you prefer. I like my toast crunchy on the outside and soft on the inside. You can serve these as larger breakfast sized portions or smaller hors d'oeuvres sizes. Depending on what you're going for cut the toast accordingly.
Scramble eggs in a bowl with the milk and season with salt and pepper. Heat skillet with a tbsp of oil. When the skillet is hot turn the heat to low and pour egg mixture in. The minute the bottom part of the eggs start to cook run your spatula from the edge to the middle and continue to do this until your eggs are still a little tiny bit runny. You don't want to dry out your eggs and they will continue to cook after you've taken them off the stove.
Now that your fish has cooled you can easily remove the skin and start flaking the fish off in large chunks with a fork. Make sure there are no bones in the fish before you start plating. Serve each piece of toast with scrambled eggs, a generous serving of smoked trout and garnish with creme fraiche and chives.
The Eveleigh on Sunset makes the same dish with hollandaise sauce! You can try making eggs benedict with soft poached eggs and smoked trout as well! Or try fish tacos!
Written and photographed by Tracy Chow