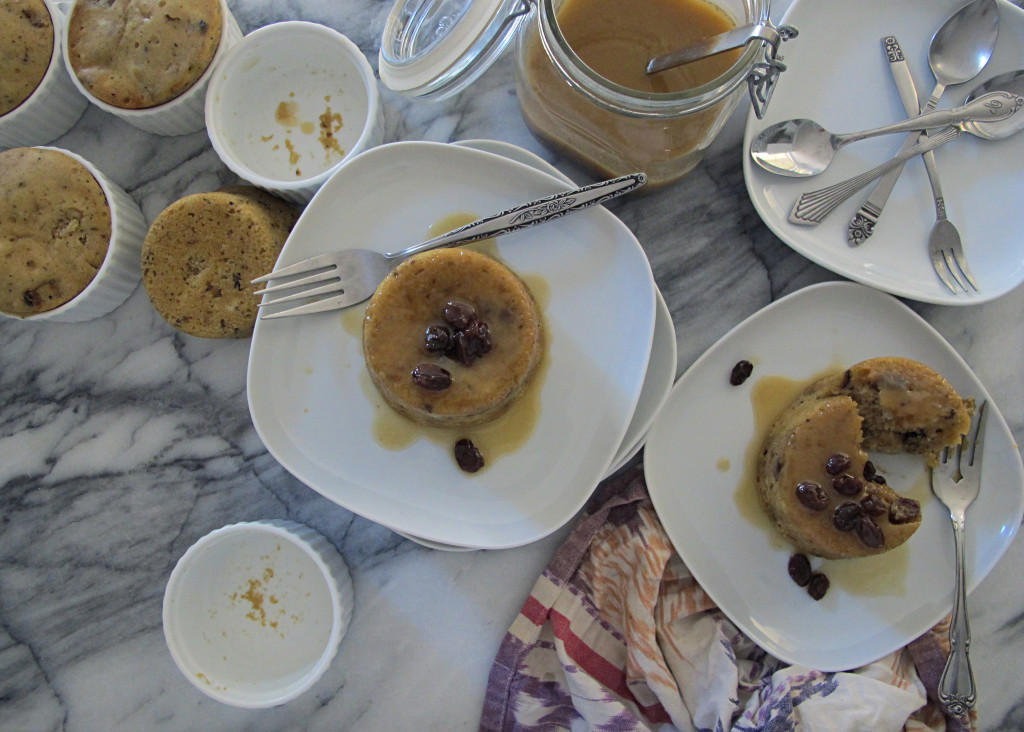 Sticky Toffee Pudding
Though the holidays are over, we are still dreaming about indulgent holiday desserts!  None more so than sticky toffee pudding, a classic British dessert made of moist sponge cake drowned in sticky sweet toffee sauce.
Like many well-known dishes, its origin is mysterious, with many British hotels and restaurants claiming its creation.  What's undebatable is its sweet, gooey deliciousness.  Kate Middleton is a fan, and loves the one at the Old Boot Inn in a village in Berkshire, England. In fact, owner John Haley was invited to the Royal wedding!
Sticky toffee pudding is sweet comfort food in its purest form, and we can't wait to make it again and again all year round.
Makes 12 ramekin sized cakes | Prep & bake time: 60 minutes 
English Sticky Toffee Pudding Ingredients
1 cup loosely packed pitted and chopped dates
¾ cup hot Earl Grey tea
½ teaspoon vanilla extract
¾ teaspoon baking soda
6 tablespoons unsalted butter, at room temperature
¾ cup sugar
2 large eggs, at room temperature
1 ⅓ cups all-purpose flour
1 teaspoon baking powder
Toffee Sauce Ingredients
¼ cup unsalted butter
½ cup packed dark brown sugar
¼ cup whipping cream
½ cup raisins
2 tablespoons rum
Directions
For the sticky pudding:  Preheat the oven to 350 degrees F. Grease 12 5 ounce ramekins with butter or non-stick cooking spray, and set aside in a roasting pan with sides higher than the ramekins.
In a medium sized bowl, combine chopped dates and hot tea.  Let steep for a couple minutes and then add vanilla extract and baking soda.  Mix well and set aside.
In a large mixing bowl, whisk room temperature butter and eggs until blended, adding eggs one at a time. Sift flour and baking powder until combined.  Add dates and tea mixture, and stir until well combined.
Divide the batter into 12 individual ramekins. Place ramekins in a roasting pan and carefully fill the pan with hot water half way up the ramekins. Cover the pan with aluminum foil and bake for 10 minutes.  Cool the pudding before removing from the ramekins.
For the toffee sauce:  Melt the butter and brown sugar in a sauté pan over medium high heat until the mixture bubbles.  Remove the pan from the heat and stir in the whipping cream and raisins.  Bring the mix back to a simmer. Add rum (taking care in case it ignites).
Spoon this over the steamed puddings and serve warm.
Written and photographed by Tracy Chow & Jennifer Yu