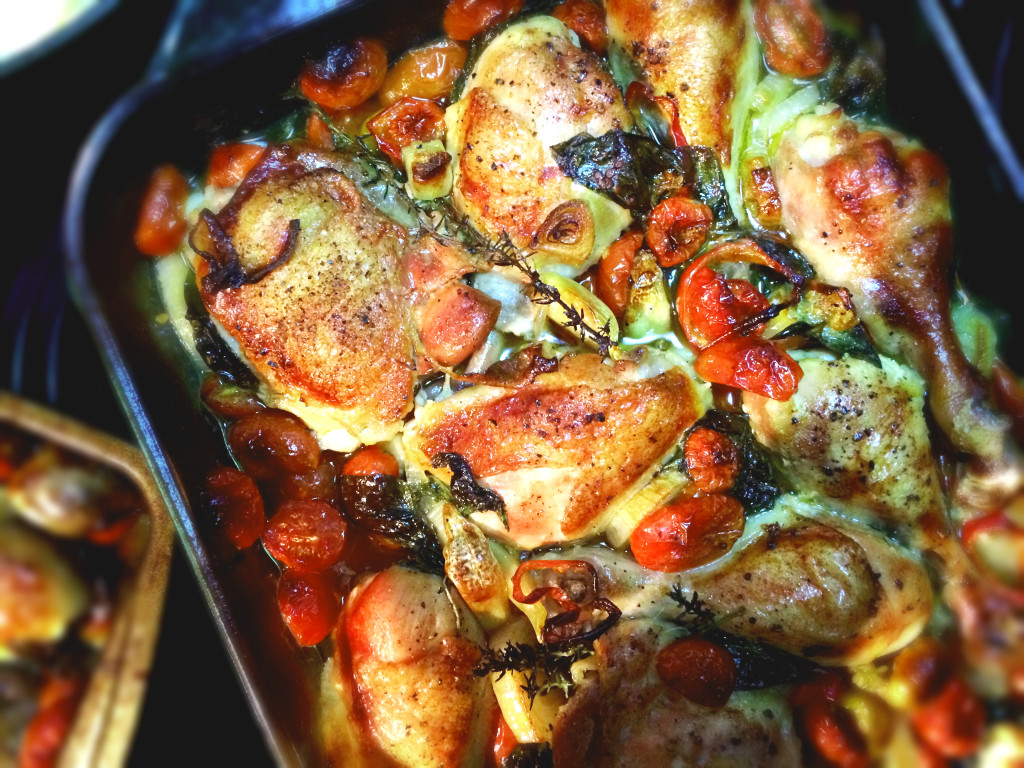 Crispy Tomato Basil Chicken
In the languid, hazy days of a parched August summer in LA, I feel inspired to do little more than sit on my patio while the heat slowly dissipates over a vibrant breezy sunset.  I suppose that's the reason we've been reluctant to whip up any heavy or labor intensive dishes lately.  Even my little rescue dog, Wally, usually a hyper maniac of a white terrier mix, just lays bored by my feet all day.
Summer is also the time of abundance, with heaps of ripe, sweet produce that droops on vines, heavy with the warmth of sun ripened flesh.  It's all too lovely to let go to waste.  So last weekend, I decided to finally kick summer lethargy to the curb and host a dinner party!
It's been a while since we last posted a recipe, and I wanted to ease into it with something refreshing, effortless and still impressive enough to serve at a dinner party.  Taking advantage of the bursting cherry tomatoes and sweet basil growing by the bushel on my patio, I settled on an oven-roast chicken dish, semi-braised with white wine and stock, loads of garlic, shallots and red Fresno chilies, and finished with high heat until the chicken skins crisps to a perfect golden brown.  That pretty much sums up the recipe in one sentence.  The best part about this dish is that it's very forgiving, and lets you entertain your guests while it finishes up in the oven.
I like to serve the chicken with a ladle full of the delicious, collagen rich broth, a dollop of garlic aioli, a flurry of chopped herbs, and some thick rustic grilled bread to soak up the liquid.  I also like to serve a simple veggie side dish, like Thomas Keller's creamed summer corn.
Servings: 6-8 | Cook & prep time: 2 hours
Ingredients
2 pints of cherry tomatoes
1 large bunch of fresh basil
2 bulbs of garlic
2 shallots
2 fresh red Fresno chilies (optional, or substitute with another fresh chili)
4 sprigs of thyme
8 chicken thighs & 8 drumsticks (bone in & skin on)
1/2 bottle dry white wine (Sauvignon Blanc or Pinot Grigio work well)
1 ½ cups chicken stock
Salt & pepper
Olive oil
Fresh herbs for garnish (basil, Italian parsley, tarragon work well)
Directions
Pre-heat the oven to 180ºC/350ºF/gas 4.
Halve the cherry tomatoes and place in the bottom of a large rectangular baking dish.  I used a second square baking dish since I had more chicken.
Peel & slice the shallots.  This is a rustic dish so it doesn't need to be perfectly chopped.  Break the garlic into cloves, leaving the skin on, for more rustic charm.  This may seem like a lot of garlic, but the garlic cooks down to sweet, melt in your mouth morsels that squeeze easily out of the skin.
Remove the seeds from the red Fresno chilies, and slice into rings. Remove the leaves from the basil and discard the stems.
Place the chicken on top of the tomatoes in a single layer (to allow chicken to crisp up at the end), and season with salt (preferably Kosher) and freshly cracked pepper. Tuck the basil, shallots, garlic, thyme, chilies and some tomatoes around the pieces of chicken.
Fill the dish about ¾ of the way with equal parts wine and stock.  Drizzle with a generous splash of olive oil.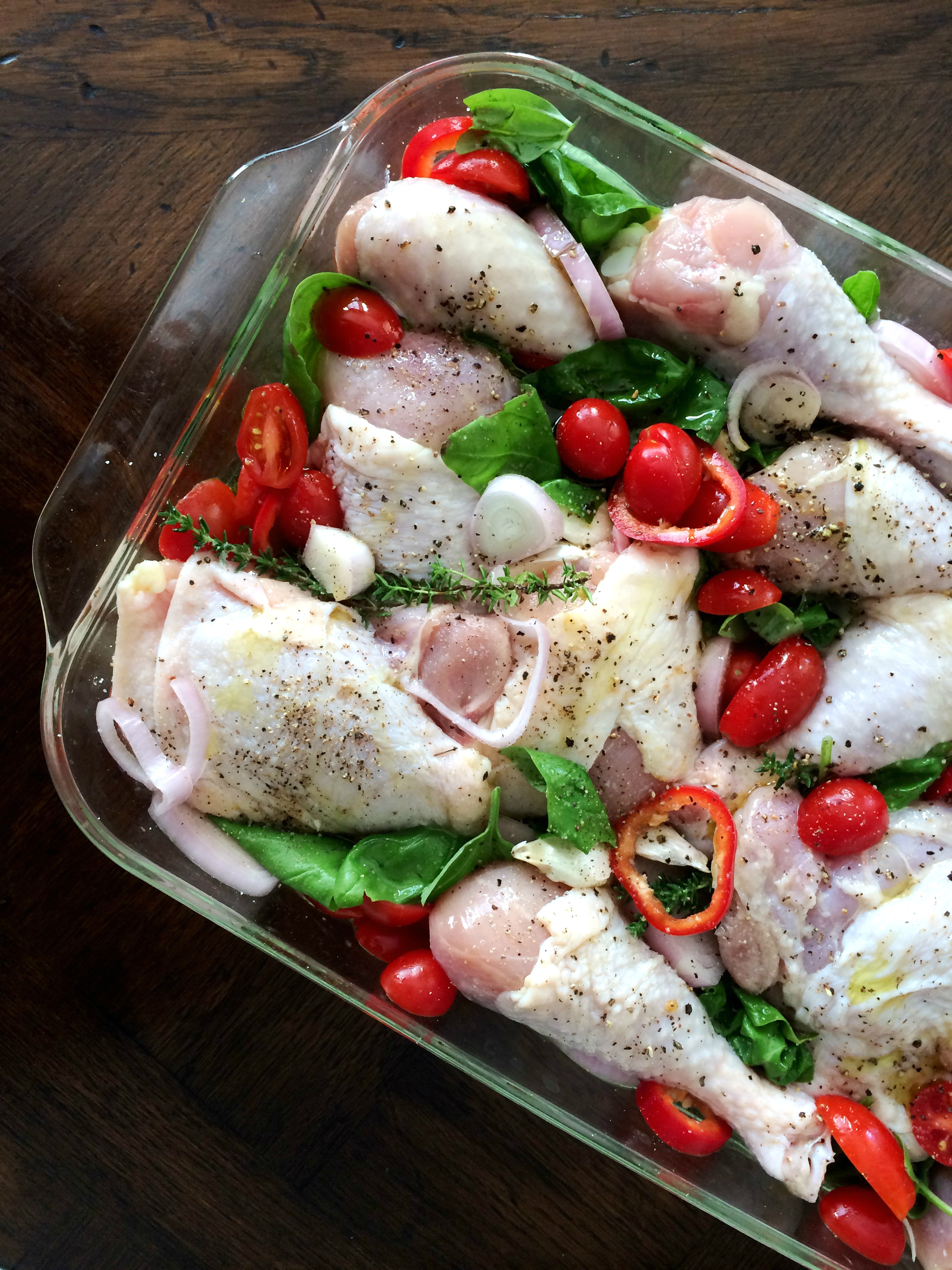 Place the dish in the oven, without a cover, and it cook for 45 minutes.  After 45 minutes, bring the heat up to 400 for another 45 minutes.  This will reduce the liquid and allow the skin to crisp up.  The chicken will be completely cooked and falling off the bone at this point.  If you want to crisp up the skin even more, crank the heat up to 450 for another 10 minutes.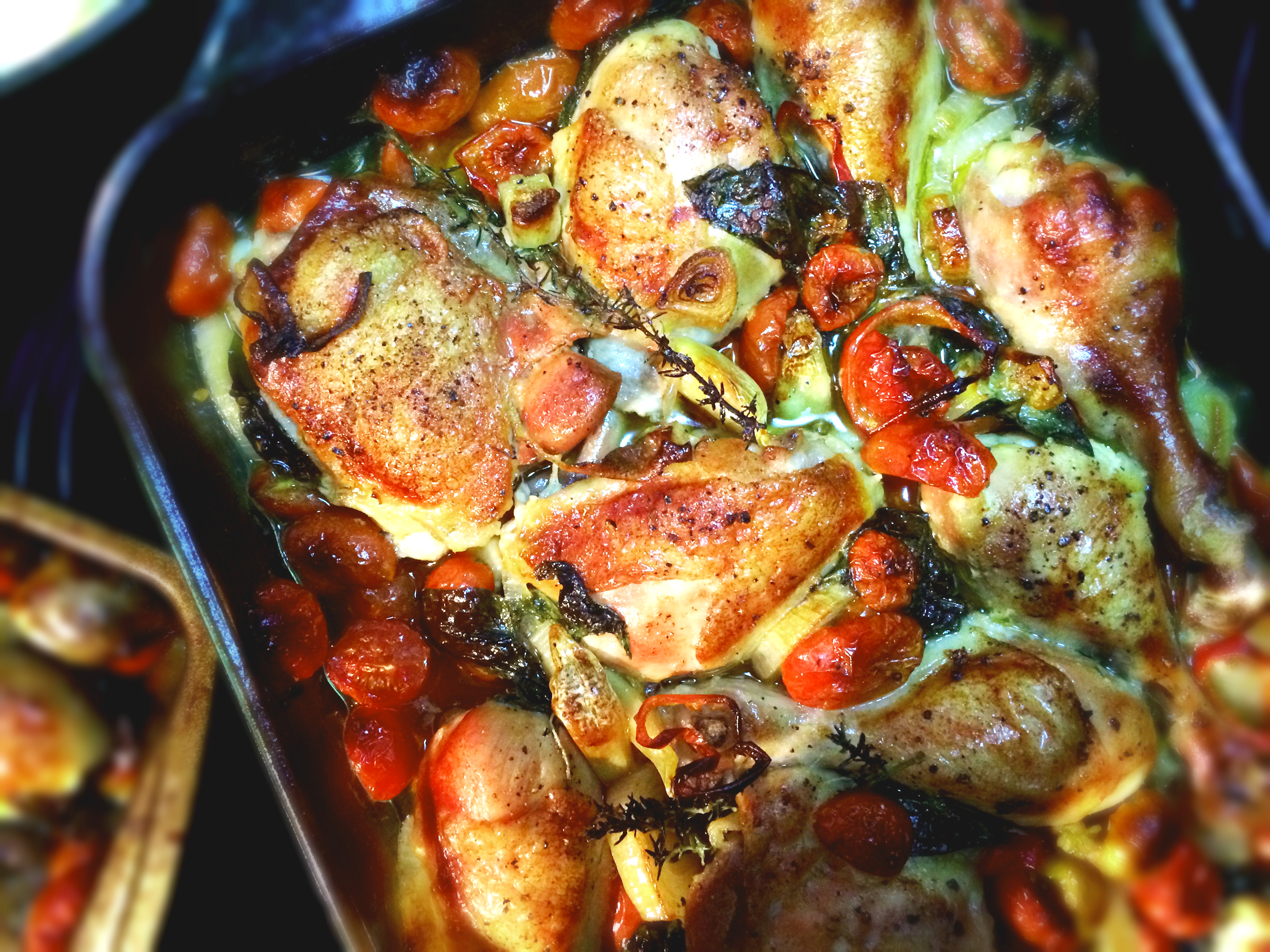 The timing and measurements are flexible with this dish, so modify the dish as you wish and it will turn still out fabulously!
I like to serve the dish with one drumstick and one thigh per plate, stacked so it looks pretty.  I ladle the roasting liquid with the veggies on top of the chicken, and garnish with a good dollop of garlic aioli and some fresh herbs from my garden.  Finally, I serve the dish with thick, rustic, butter and olive oil grilled bread to soak up the liquid and aioli.
Written and photographed by Jennifer Yu
When you
http://essaysheaven.com/
use a foreign word not yet assimilated into english, 43 2 punctuation reproduce the diacritics that the word has