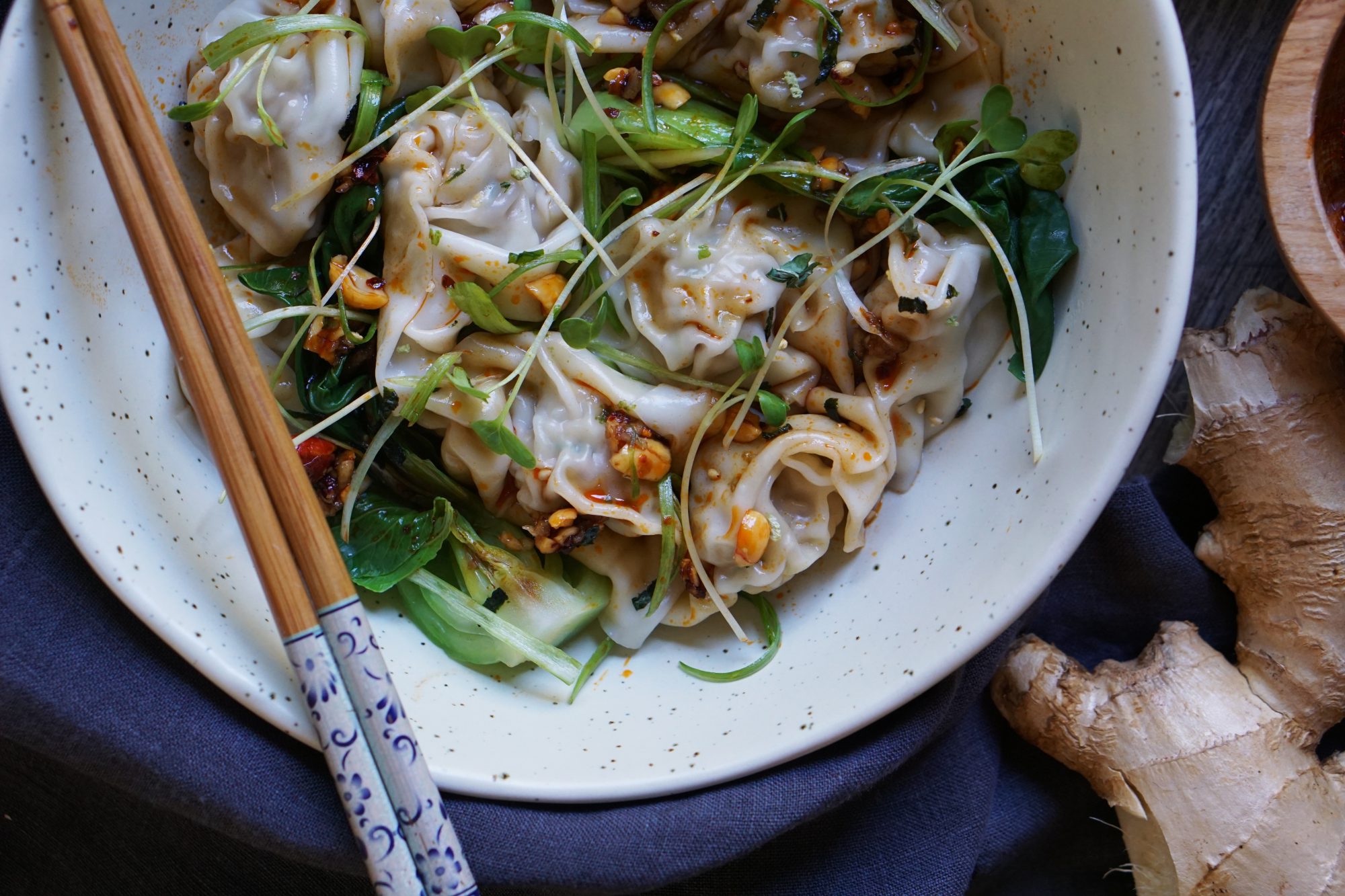 Wontons in Sichuan Chili Oil
You know what really grinds my gears?
When I google 'wontons recipe', 9 out of 10 search results are for some bastardized fried pretender, filled with cream cheese or some similar nonsense. There are things that are meant to be fried, like the crispy, paper thin skin of a spring roll, or a feathery coating of batter on tempura. Wontons are not one of those things. Just don't do it.
I'm not saying don't eat wontons at all, quite the opposite, in fact.
Wontons can be made equally gentle and assertive, depending on how you dress them. When I'm feeling sick, I like to float these delicate little pillows of silky perfection in a light chicken broth. When I'm cracking open a cold beer on a Friday night, I like to dip them in a Sichuan Chili Oil sauce that's spicy, vinegary, savory, and garlicky.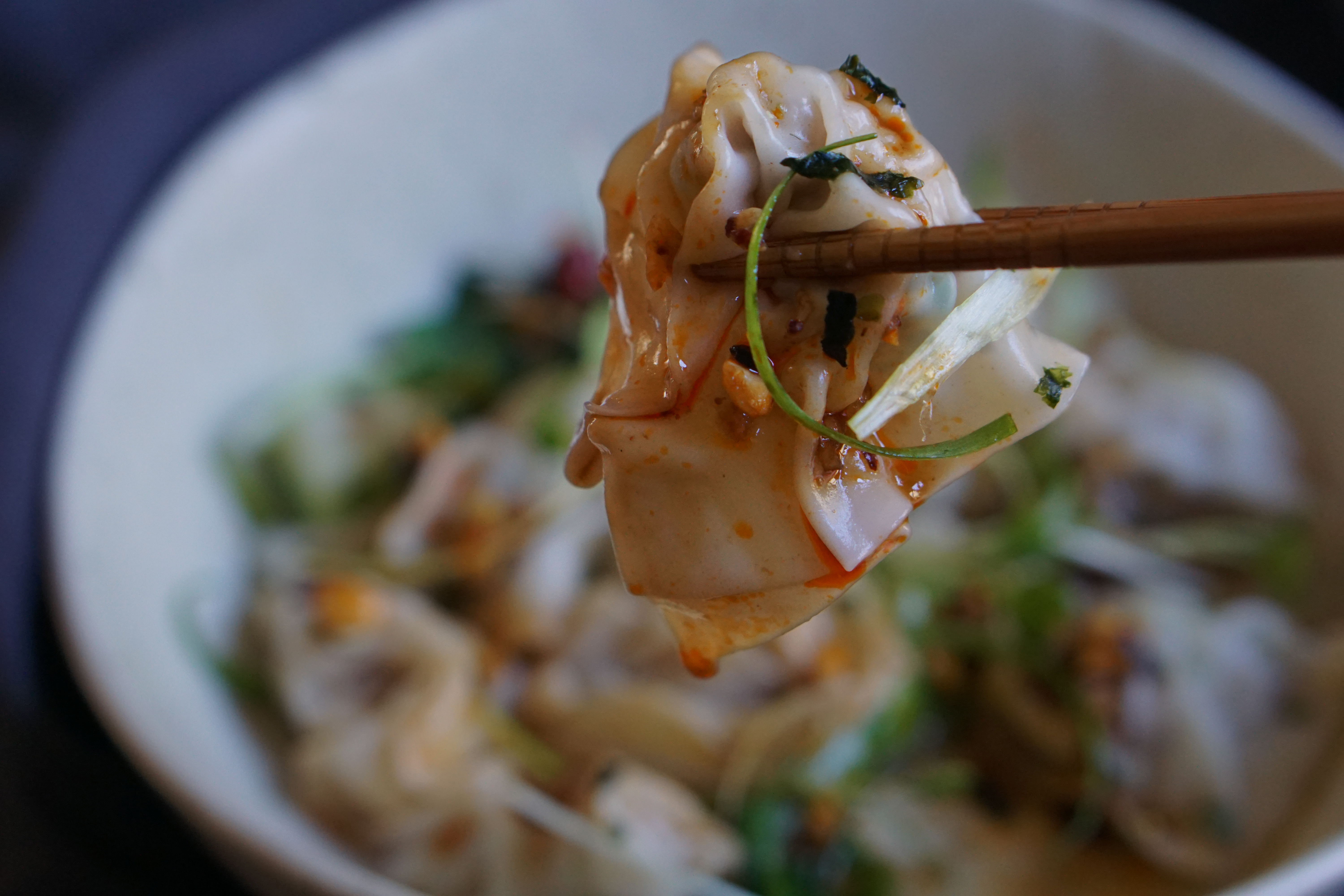 When my mom visits, she always whips up a huge batch of these, and freezes portions for me to enjoy once she leaves. Her favorite way to cook these is to boil the wontons, and then serve them in a bowl of piping hot chicken broth with a few leafy greens, roasted seaweed, and a drizzle of sesame oil. Having grown up in Sichuan province, the birthplace of wonderfully numbing Sichuan cuisine, she also makes a mean chili oil sauce. This is her recipe for wontons in Sichuan chili oil, and it's just perfect to me.
Makes ~50 wontons | 1 hour prep, 15 minutes cooking time
Ingredients
Wontons
1 lb ground pork (regular fat content, not super lean)
1/2 tsp salt
Pinch white pepper
1 tsp soy sauce
1 tbsp shaoxing rice wine
1/4 cup water
1 tbsp finely minced ginger
2 finely sliced green onions (save one green half for garnish)
1 tsp sesame oil
1/2 tsp cornstarch
1lb package of prepared wonton wrappers (available at Asian supermarkets)
Chili Oil Sauce (serves 2-3)
1 tbsp soy sauce
1/2 tbsp chili oil (I used my favorite Chinese chili sauce which is loaded with Sichuan peppercorn flavor)
1 tbsp black Chinese vinegar
1 tbsp toasted peanuts, roughly chopped
1 clove minced garlic
Directions
Prep:
Add all ingredients for wontons, except wonton wrappers, in a medium sized mixing bowl. Using a spoon, mix the wonton filling well for one minute. The filling should look quite wet and well blended. Set aside.
Make Chili Oil sauce by blending all ingredients together in a small bowl, and set aside. The Chili Oil sauce serves 2-3 people, so double the recipe if serving more people.
To assemble the wontons, first lay out a baking sheet to rest the finished wontons. Fill a small bowl with water, which will be used to seal the wontons.
Fold wontons (watch this Wonton Folding tutorial starting at 1:45):

Add a teaspoon of filling to the middle each wrapper
Dip your finger in the water bowl, and draw a wet line along 2 adjacent edges of the wrapper
Fold the wonton in half into a triangular shape, sealing the dry edges over the wet edges
Twist the triangle corners toward each other, pressing them to seal tightly using another dab of water

Set aside 8-10 wontons per person to eat. Place the remainder in the freezer on the baking sheet for 1 hour to preserve their shape. Once wontons are frozen, they can be put in freezer bags to store.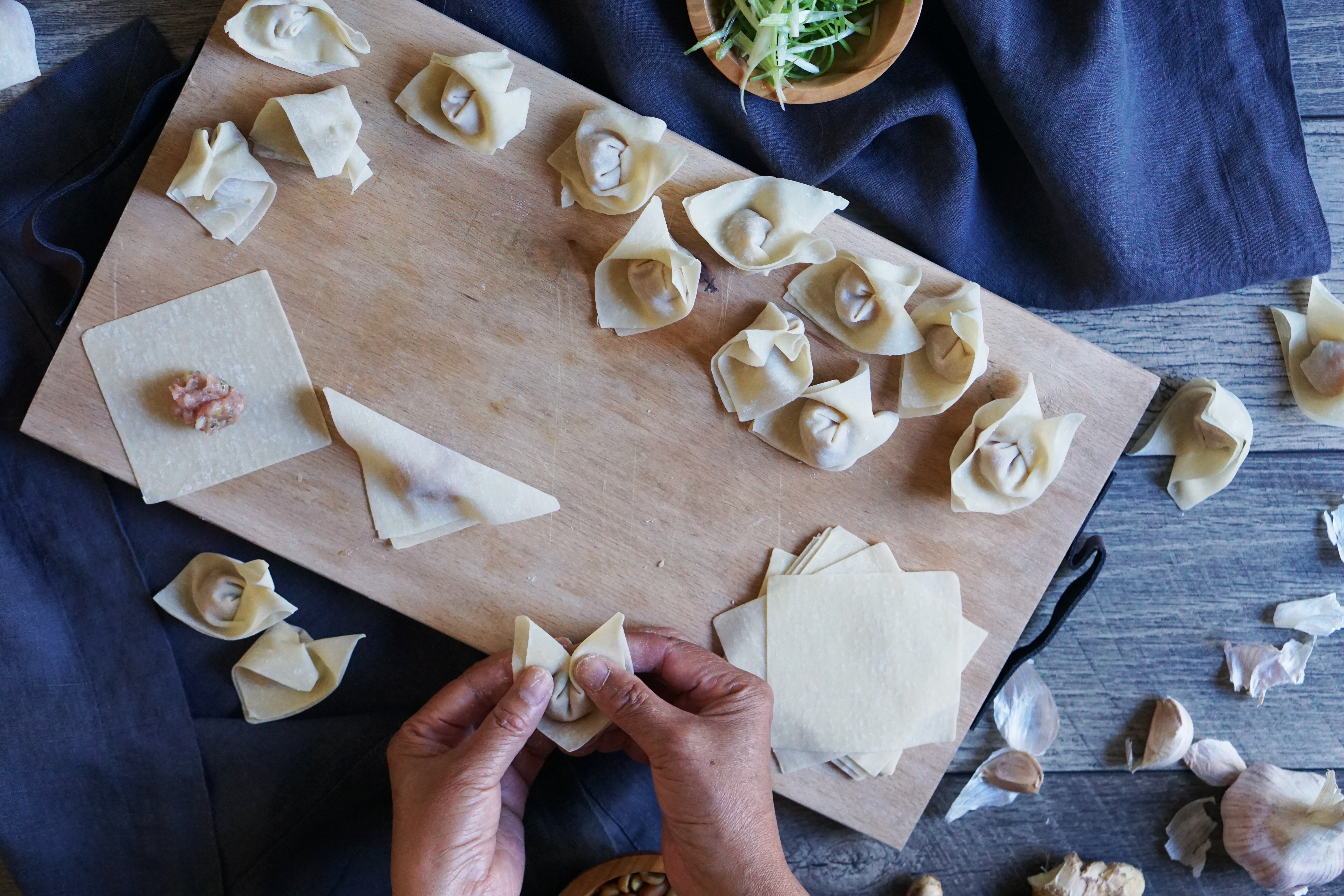 Cooking:
Bring a medium size pot of water to boil.
Drop wontons in, a couple at a time, gently stirring the water occasionally to prevent sticking. Only fill the pot ~1/3 full of wontons at a time to maintain boil.
Fresh wontons only take a couple of minutes to cook. Once wontons float to surface, give them one more minute, then remove from pot with a skimmer.
Drizzle with Chili Oil sauce, garnish with a little green onion, and enjoy!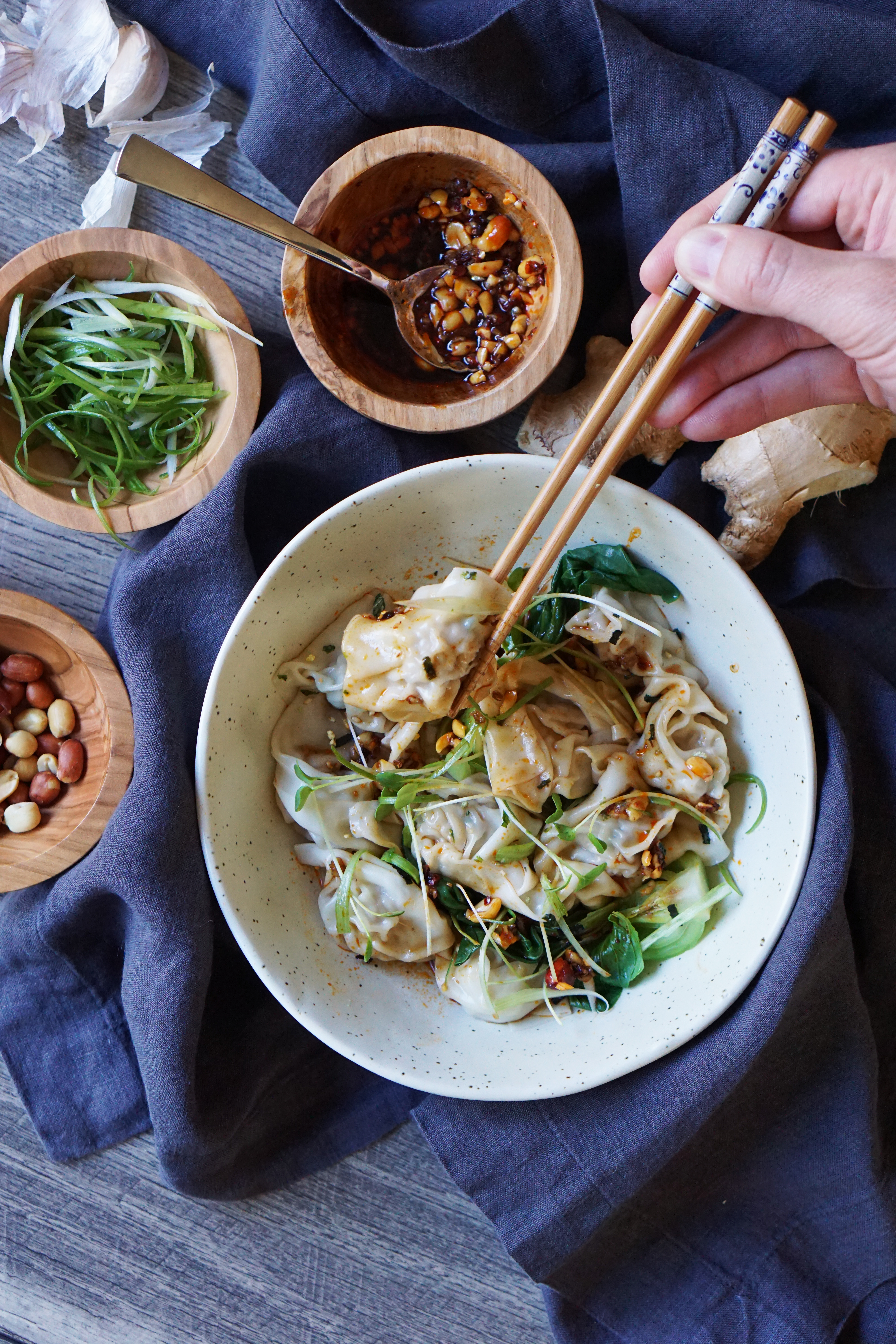 (My husband now thinks he's a hand model…)