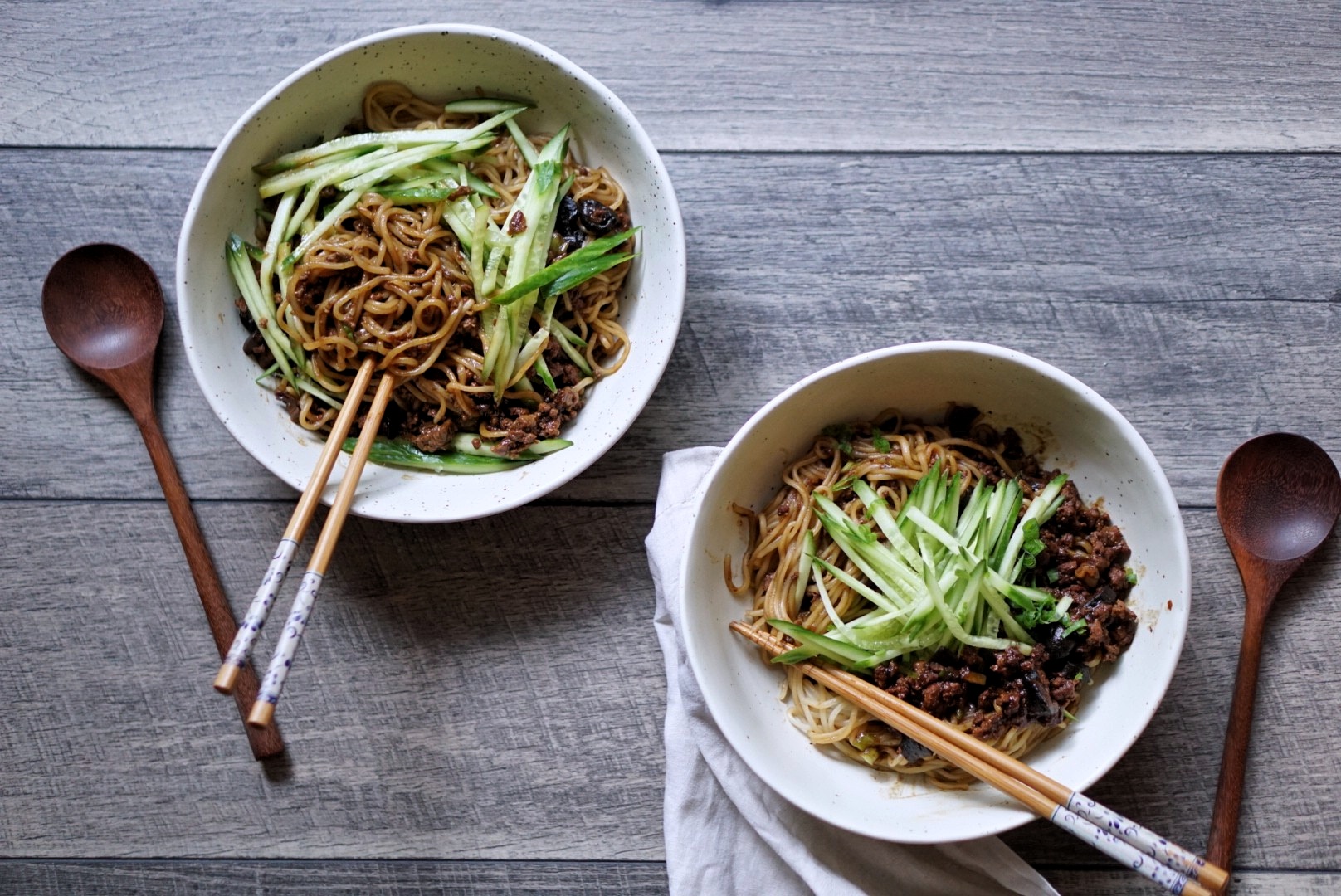 Zha Jiang Mian
Zha jiang mian (炸酱面) is one of my favorite home cooked Chinese dishes of all time. People tend to think of things like orange chicken, honey walnut shrimp and a befuddling thing called fried wontons when they think of Chinese food. Bad, greasy, congealed orbs and morsels stuck to the corners of takeout containers. Not for the faint of heart, nor the heartburn inflicted.
This, my friends, is nothing of the sort.
Zha jiang mian is a classic Chinese noodle dish that my mom used to whip up all the time, even after we immigrated to Canada some twenty odd years ago. It's everything that comfort food should be. Fresh chewy noodles topped with a succulent sweet and savory pork and shiitake mushroom sauce, finished with crisp, refreshing cucumber. This is the zha jiang mian recipe I grew up eating, and the one I would make for my drunk friends at 2am later in life. Drunk people love zha jiang mian!
There are many variations of the dish across Asia. In Beijing, it's made with a yellow soybean paste, so you get a saltier sauce. In Nanjing, it's a sweeter sauce that uses tianmianjiang, a sweet soybean sauce, and hoisin sauce. Koreans eat a similar version, called jjajangmyun, which uses a black bean paste with potato starch, which results in a thicker, lightly flavored sauce.
This zha jiang mian recipe is the Nanjing type, and it's my favorite kind of zha jiang mian. Once you get a taste of the mouthwateringly sweet, savory, umami-rich meat sauce, you will be addicted. You will inhale a giant bowl of chewy noodles, and lick your chopsticks clean. Later at night, you will sneak stealthily into the kitchen, and heat up leftovers for the most amazing midnight snack ever!
Serves 6 | 1 hour
Ingredients
1 package fresh wheat noodles (~2 lb)
3 Persian cucumbers, julienned
1 pound regular ground pork (do not use lean ground pork)
4 dried shiitake mushrooms, or 8 fresh shiitake mushrooms
1 medium onion, diced
3 green onions, sliced thinly
2 cloves garlic, chopped
2 slices ginger

Tips:
Fresh noodles: Find these in the refrigerated section. This recipe is not written in stone, so experiment with fresh noodles that look tasty. I prefer wheat, as opposed to egg, soba or udon, and I like them neither too thick nor too thin. Fresh noodles are wonderfully chewy, which you won't get with dried noodles. In Korean grocery stores, you can actually find noodles specifically made for this dish, and it's a bit like a fresh Asian spaghetti.
Tianmianjiang (sweet bean sauce), hoisin sauce and sesame oil: Find these in the jarred sauce section. There will be an aisle filled floor to ceiling with hundreds of jars of sauces. There are many brands of tianmianjiang and hoisin sauce.
Shaoxing cooking wine: This blog has a great post on what Chinese rice cooking wine is, and how to buy it. There are many brands of this as well, but they should be similar in quality and flavor. You can substitute sake if you're in a pinch, but the flavor will be slightly different. Do not substitute with rice vinegar.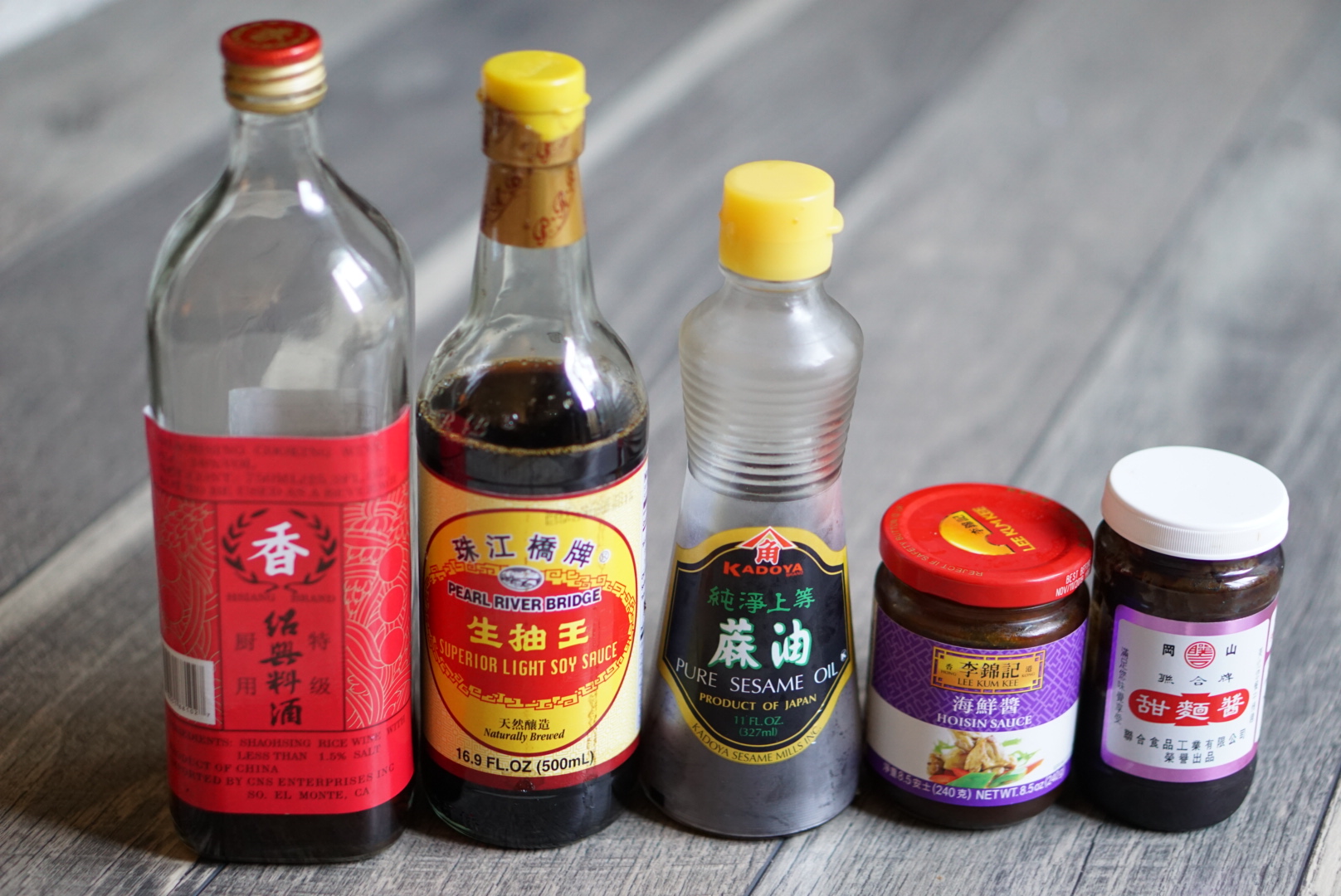 Directions
1. Put dried shiitake mushrooms in a small bowl and cover with cold tap water. Soak overnight. If you're pressed for time, soak the shiitakes in hot water for 30 minutes. Remove shiitakes from water, saving the soaking liquid. Rinse mushrooms to remove any grit. Squeeze out the water and roughly chop the mushrooms. If using fresh shiitake mushrooms, wipe clean with a damp paper towel, remove and discard stems, and roughly chop caps. Dried shiitakes have a stronger flavor and aroma than fresh shiitakes, so you can use fewer mushrooms if you use the dried ones.
2. Heat a large pan over medium heat and add canola oil. Add chopped onion and sauté for 1-2 minutes. Add garlic, ginger, green onions, star anise, and shiitakes. Cook for a minute, until fragrant. Push the vegetables to the sides of the pan, and add the ground pork. Cook until the pork is browned, breaking the meat up with the back of a wooden spoon.
3. Add Shaoxing cooking wine to the pan, and let it cook off for a minute. Add soy sauce, tianmianjiang, hoisin sauce, sesame oil, and sugar, stirring to combine. Add ½ cup of the reserved mushroom water. Be careful not to stir the mushroom water, as sediment and grit may have settled at the bottom. Turn the heat down to low, and cover the pan. Let simmer for 30 minutes, stirring every so often. If the sauce gets too dry and starts to stick to the bottom, add more mushroom water.  The sauce should have the consistency of a meaty pasta sauce. Taste the sauce as it cooks, adjusting seasonings to taste. The sauce is ready after 30 minutes, but you can let it simmer for up to an hour on low heat, for a more broken down sauce.
4. Bring a large pot of lightly salted water to boil. Cook the noodles according to the package directions, and drain noodles while they're just undercooked, because they will continue to cook a bit as you assemble the dish. The noodles should be dense and chewy.
5. Top each bowl of noodles with sauce, and half of a julienned Persian cucumber. Drizzle with a few drops of sesame oil, and serve immediately.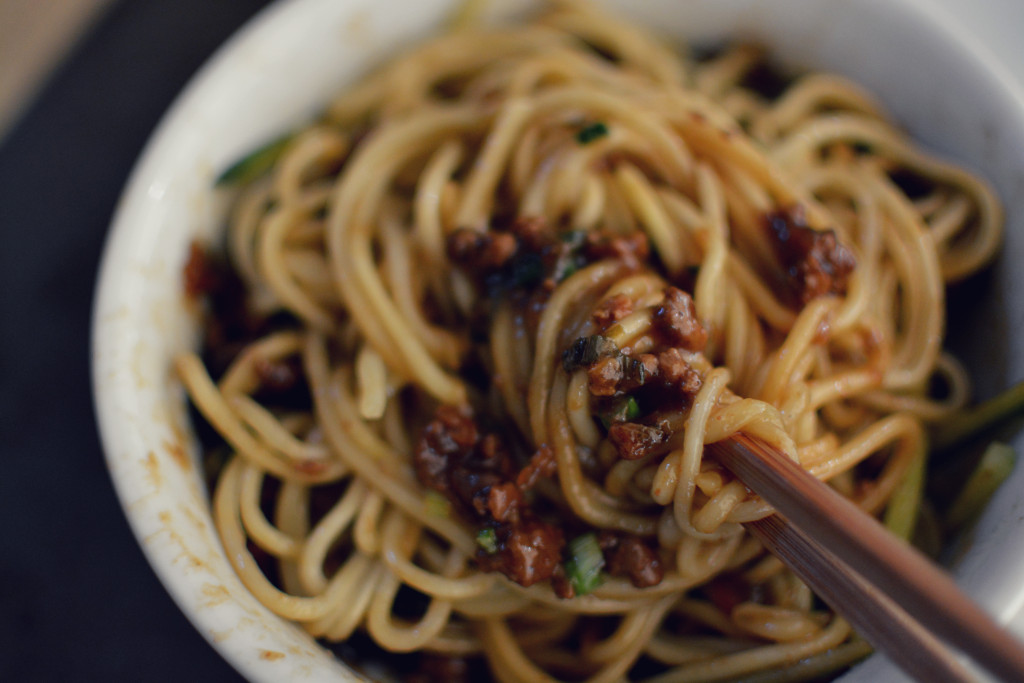 Written and photographed by Tracy Chow & Jennifer Yu