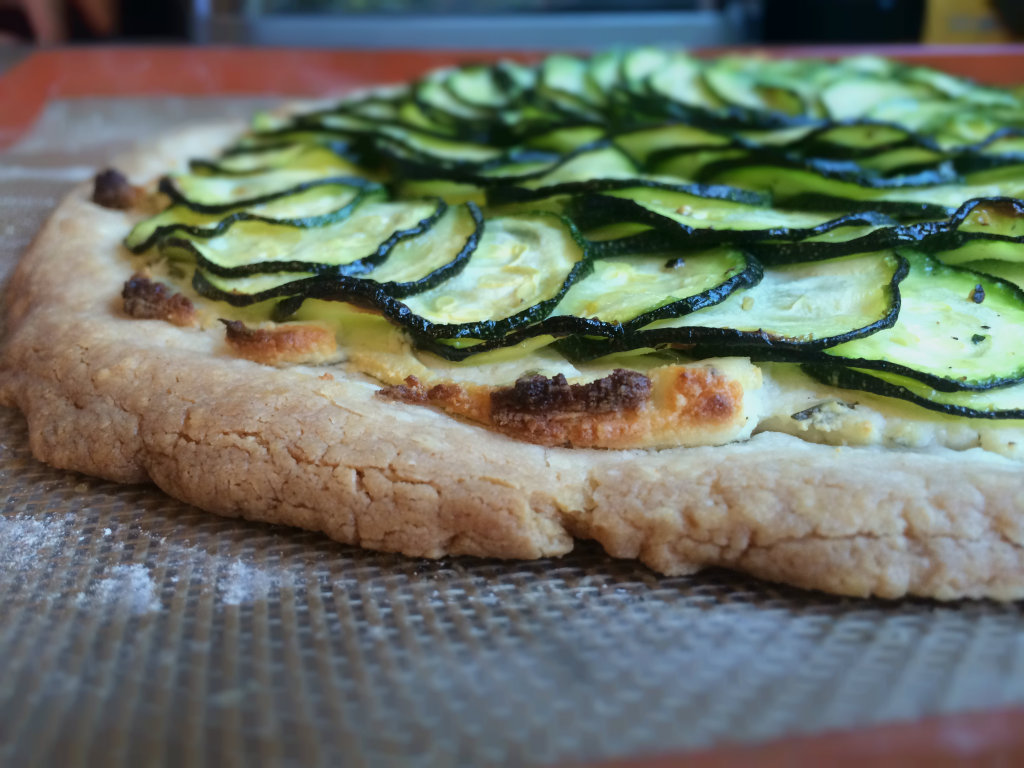 Zoe's Zucchini Tart
Guest Blogger Zoe Regan: I love Ina Garten and pretty much any recipe she puts out there. I sometimes find myself actually day dreaming that I am in Ina's house, listening to her soothing voice and hanging out with her and Jeffrey. If only for one day..! No, I'm really not that much of a stalker, but I do love her style and taste and I think her recipes are pretty delicious– they are always a crowd pleaser at any dinner party I have had.
When I came across the recipe for this zucchini tart on her blog, I was intrigued for a couple of reasons. For one, this is not actually one of Ina's recipes, nor did she ever make it. BUT, she did claim that it was "the best zucchini tart with lemon thyme and goat cheese tart that I've ever tasted", so I decided I'll just go with her assessment as pure fact.
The second reason I was drawn to this recipe was that it is simply visually stunning. It is total food art (not porn, because that would be offensive to the tart) and I just really wanted to take on the challenge and see if I could recreate this little beauty in my own kitchen.
The result?  Well, I'll let you be the judge– take a look at some of the amazing photos that Jen snapped. I think it turned out pretty darn good! As for the flavor, I hope you don't just take my word for it and actually try the recipe, but it was really really amazing. The earthiness of the thyme and lemon mixed with the sweetness of the zucchini and saltiness of the warm goat cheese, all on top of a perfectly flaky, buttery pastry crust was simply awesome. Paired with a good white wine, it's a perfect late summer appetizer for any dinner party. I will say that even though this may look like a dish that is hard to make, it was surprisingly really simple. We were both pretty impressed with our handiwork and even more excited to eat it!
Servings: 6-8 appetizer portions | Cook & prep time: 3 hours
Ingredients
Pie Crust
1-1/4 cups all-purpose flour
5 oz. cold unsalted butter (make sure the butter is really cold!)
¾ tsp Kosher salt
1/2 tsp. white vinegar
Toppings
1-1/2 lb. zucchini, trimmed and sliced into 1/8-inch-thick rounds (if you have one, a mandolin works well for this and ensures even, consistent slides)
Freshly ground black pepper
2 Tbs. extra-virgin olive oil
8 oz. plain goat cheese, softened
1 tsp. chopped fresh lemon thyme (If you can't find this, you can use thyme and zest of 1 lemon)
Directions
In a food processor, pulse the flour, butter, and salt until the mixture is crumbly and resembles small peas. Through the opening at the top of the food processes, add the vinegar and 3 to 4 Tbs. cold water, pulsing until the dough just comes together. Don't put too much water in, or your dough will be soggy. Add a little water at a time and slowly pulse until you reach the desired consistency. Next, shape the dough into a 1-inch-thick disk; wrap in plastic and chill for 30 minutes. Then, take the dough out of the fridge and roll it out onto a well-floured surface. You want it to be approx. 11-inch and 1/4-inch thick. If you have a baking liner for your baking sheet, it will help prevent the tart from sticking. Put the dough on the baking sheet, cover with plastic, and chill until ready to use (at least 30 minutes).
While your dough rests, toss your sliced zucchini with 2 tsp. salt and let it sit in the sink and drain for ~30 minutes. When the time is up, gently squeeze the slices with your hands to release excess water and transfer to a medium bowl. Toss the zucchini with 1 Tbs. of the olive oil and pepper to taste.
Now you're ready to assemble the tart and bake! Place a rack in the center of the oven and pre-heat the oven to 400°F. In a small bowl, mix the goat cheese with the lemon thyme and add salt and pepper to taste. Spread the cheese mixture over the cold dough and be sure to leave roughly a 1/2-inch border. Arrange the squash rounds in tightly overlapping circles all the way to the edge of the dough. I found that starting from the outside and working my way in was the best approach for getting pretty that overlapping effect. Last, drizzle the remaining 1 Tbs. olive oil over the top of the tart and bake until the zucchini is golden-brown and the crust is golden. The recipe recommends 40 to 50 minutes to bake, but I think the time depends based on how hot your oven is. Mine is very hot, and the tart was beautifully golden within about 25 minutes, so keep an eye on things. Enjoy!
Recipe adapted from Fine Cooking.
Written and photographed by Zoe Regan & Jennifer Yu
In fact, a skillful writer calls
like this
upon all of them