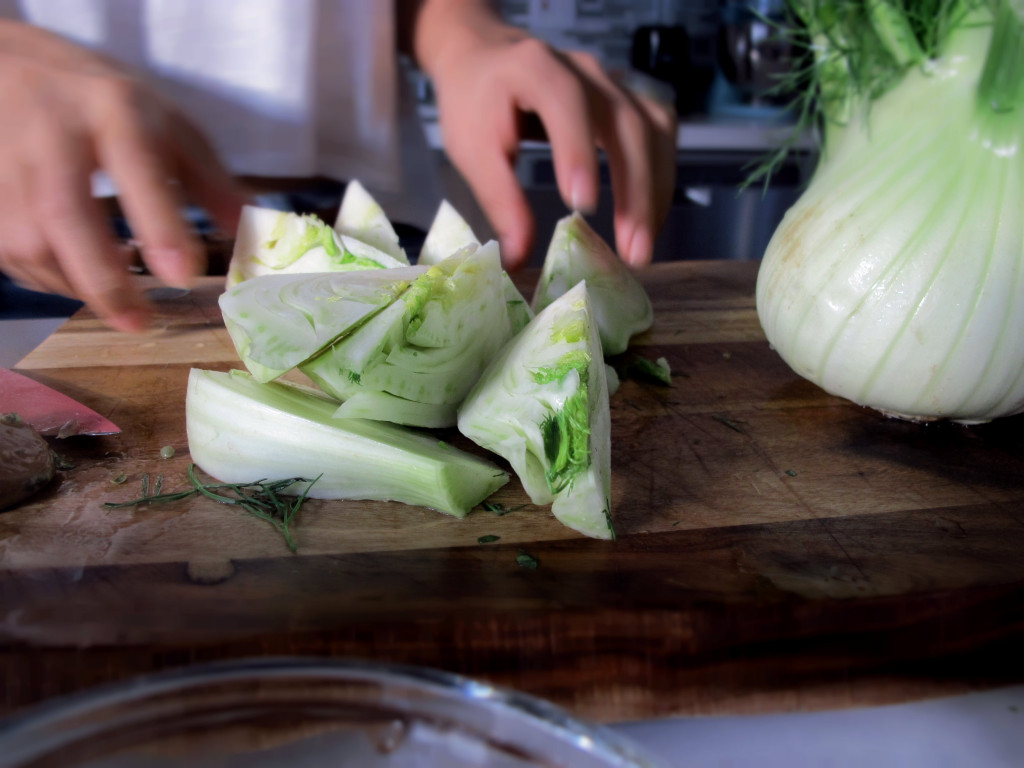 Braised Fennel
My love affair with fennel begins with the seeds and ends with the fronds.   Raw, braised, or in soup, I love fennel prepared in any way!  In peak season from fall through early spring, fennel is the perfect vegetable for a salad or side dish.  When done right, fennel transforms into the star of the dinner table, outshining all others with its beautiful shape, delicate licorice flavor, and tantalizing texture.
Fennel is so versatile, and every part of the vegetable can be used.  The beautiful white bulbous root, shaved paper thin and eaten raw with a splash of lemon and olive oil, makes a wonderfully refreshing, crunchy salad.  The seeds are a great flavor base for pasta sauce, especially when cooked with Italian sausage. Mario Batali's Pizzeria Mozza has quite possibly the best pizza on earth, with fennel pollen infused sausage atop a glorious chewy wood fired pizza crust.
In today's recipe, we created a succulent, buttery soft, sweet braised fennel, and served it alongside a roast rack of lamb.  The sweetness and slight anise flavor of the fennel complements lamb perfectly, but is also delicate enough to serve with fish.  First, we caramelized fennel wedges in a dutch oven.  Next, we braised the fennel with white wine, chicken stock, and honey until it's tender.  We served the braised fennel in its reduced braising liquid, garnished with the delicate dark green fennel fronds.
Makes 8-10 Side Dish Servings
Ingredients
4 bulbs of fennel
1/2 cup of dry white wine
3 cups of chicken stock
3 tbsp of honey
Olive oil
Salt & pepper to taste
Directions
Preheat oven to 350 degrees.
Trim the green stalks from the fennel bulbs, and trim the bottom of the fennel slightly to remove any unsightly brown bits.  Cut each fennel bulb in half.  Leaving the fennel core intact, slice each fennel half into 6-8 wedges, depending on the size of the fennel.
Heat a dutch oven over medium heat.  Brown fennel wedges in a single layer in olive oil, seasoning with salt and pepper as you cook each batch.  When all fennel has been browned, return all the fennel to the dutch oven.  Add wine, honey, and just enough stock to cover the fennel.  Bring to a simmer over the stove top.
When it comes to a simmer, cover the dutch oven and place in the oven for 30-45 minutes, depending on how soft you like your fennel.  Check the fennel after 30 minutes, and if you find it too crisp-tender, return to the oven for another 15 minutes.
To add an extra special touch, remove the fennel from the braising liquid.  Place in a baking sheet and broil for a few minutes until the fennel caramelizes.  Reduce the braising liquid over the stove, and pour over the fennel to serve.
Finally, garnish with a light sprinkling of fennel fronds.
Written by Jennifer Yu
Photographed by Tracy Chow centrelink payday loans