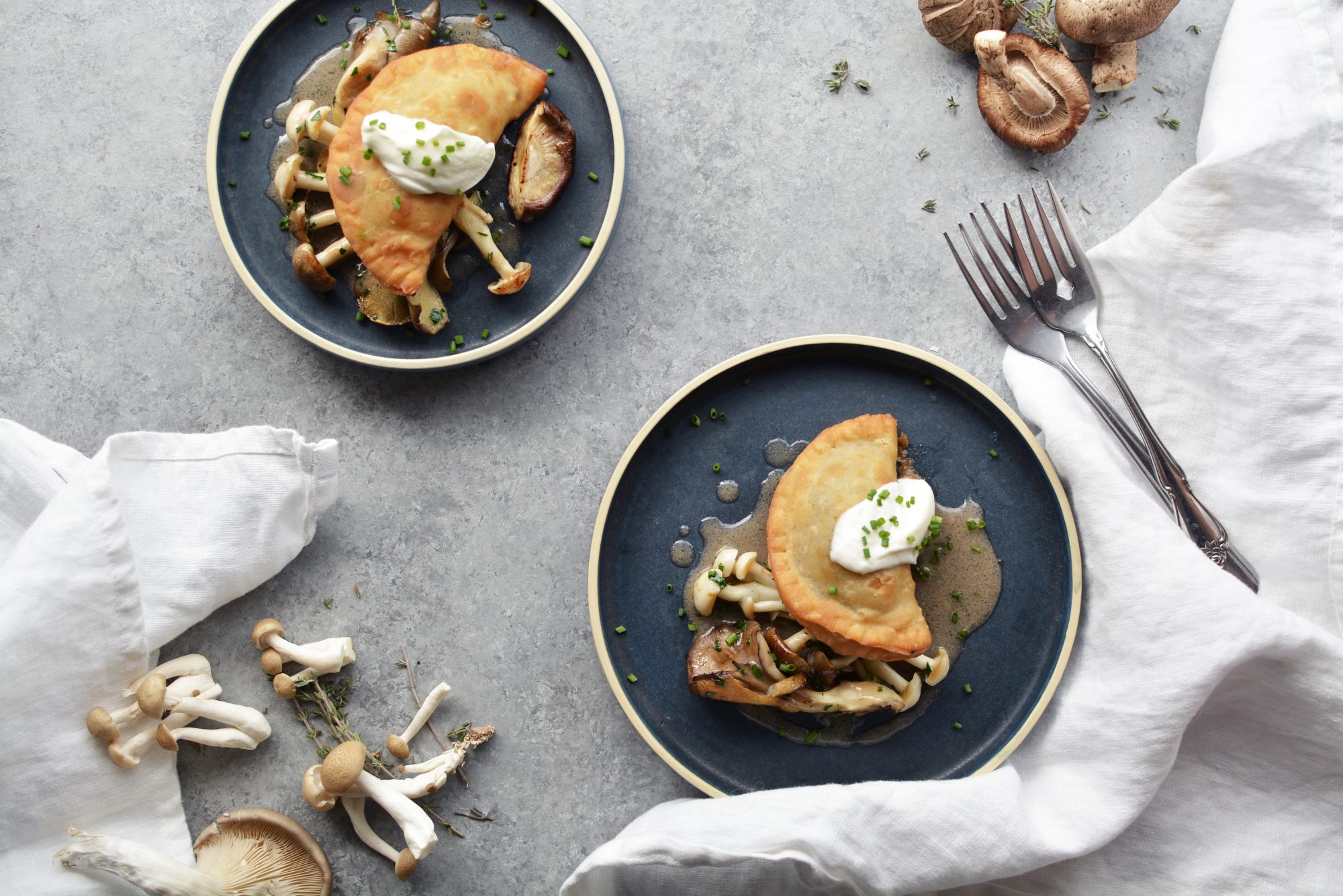 Braised Short Rib Pierogi
It's a big year for me and Jen. We are embarking on this motherhood journey together and welcoming two little boys into this world. Jen is currently 32 weeks pregnant and my little one is already 2 months old. This post is dedicated to our baby boys, Jaxon and Kaiden.
Our very first dinner party together, Jen and I made braised short rib. I remember this particular dinner party clearly, it was the very beginning of our friendship and it was the very first time we cooked together. I remember being nervous about it. I was still blogging on my own and Pantry was far from what it is today. This was only 5 years ago. It's only fitting that today as we celebrate our little ones and our new journey as moms that we revisit our all time favorite, the braised short rib.
This fried short rib pierogi takes patience and care, something that I want our boys to learn, and like everything in life, it's not worth doing if it's easy. It took three days for me to finally figure out how I wanted to prepare this dish. The final result was totally worth the time and effort, the pierogi skin despite being fried was light and delicate with a short rib filling that melts in your mouth. The golden parcel sits on top a generous serving of seared mushrooms and an umami packed short rib jus garnished with chives and a dollop of creme fraiche – absolute indulgence.
The pierogi dough comes together really easily, you just combine all the ingredients and mix! It's forming the little dumplings that takes time, I find this part incredibly therapeutic. It brings back memories of making dumplings with my family – aunts, uncles and cousins sitting around a large kitchen table with my grandma as the conductor carefully orchestrating the assembly line as we chat and fold dumpling after dumpling. I hope that these family traditions continue as our boys grow up. I'm anxiously waiting for Kaiden to help me out in the kitchen one day, but as a new mom I must remind myself, to take a step back, live in the moment and appreciate the helpless little lump he is now. Soon enough, he'll be in the kitchen folding dumplings with his little hands and while I know the dumplings themselves will be far from perfect, the moment will be everything I imagined.
I've always prepared pierogis the traditional way, boiled and pan fried. For some reason, I found it the skin incredibly dense this time around, I tried different things over the course of a couple days, boiling and pan frying, boiling and then deep frying, boiling and then torching, and then finally just deep frying which resulted in a perfectly flakey melt in your mouth dumpling skin. This is one of those recipes that I knew upon first bite would go into the archives, this will be a dinner party go-to, a real crowd pleaser. It will be the dish my husband and Kaiden beg me to make and the dish I use to bribe them when I want the house cleaned (and obviously not by me).
Makes about 16 pierogis
Ingredients
Pierogi dough (from Michael Symon's Live to Cook)
1 large egg
3/4 cup of creme fraiche, plus more for serving
1/2 cup of unsalted butter, softened (1 stick)
2 tbsp of chopped fresh chives, plus more for garnish
1 tsp of salt
2 cups of all-purpose flour, plus more for rolling dough
Braised short rib**
5lbs bone-in short rib
1/2 cup of flour for dredging
1/4 cup of red wine vinegar
2 red onions, quartered
2 carrots, cut into 2 inch pieces
6 cloves of garlic
2 cups of red wine
2 bay leaves
4 spigs of thyme
5 cups of chicken stock, plus extra
Seared mushrooms
1 lb mixed mushrooms (oyster, shiitake, enoki, maitake, etc.)
Olive oil
4 sprigs of thyme
Generous handful of chopped parsley
1/2 cup of dry white wine
Salt and pepper
Directions
1. Pierogi dough
First, prepare dough by combining all ingredients except the flour in a medium bowl, Mix well and set aside. Pile flour onto a clean surface and create a well in the center. Pour wet mixture into the well, and start mixing in the flour using a fork. Finally, use your hands to get the dough together, being careful not to overwork it. Wrap the dough in plastic wrap and refrigerate for at least 2 hours or up to 2 days.
2. Braised short ribs
Preheat oven to 350 degrees. Season short ribs with salt and pepper, and dredge in flour, shaking off excess. Heat dutch oven on the stove, add olive oil and sear short rib on all sides in batches. Set seared short ribs aside, Add chopped onions, carrots, and garlic to the same pan, and saute for 10 to 15 minutes. Add thyme, bay leaves, chicken stock, red wine vinegar, and red wine, and bring to a simmer. Return seared short ribs to the pan, making sure every piece of submerged in liquid. Cover dutch oven and braise in oven for about 2 – 2 1/2 hours. Depending on your oven this may take slightly longer or shorter, so check after 1 1/2 hours. The short rib is ready once it's falling off the bone. Once short rib is ready, remove the meat from the liquid and allow to cool. Shred meat and set aside.
3. Sauce
To make the short rib jus, skim off some of the fat, strain the liquid and return to a medium saucepan, you want at least 3 cups of liquid. If you don't have enough, add chicken stock. Boil on high heat until reduced in half, stirring frequently. Add a sprinkle of flour to thicken (sift flour into pot to prevent clumping) and season with salt and pepper to taste. Mix in 1/2 cup of cooled sauce with shredded meat and set aside the rest for serving. Make sure your filling is completely cooled before making the pierogis. A warm filling will make the dough sweat.
4. Pierogis
To make pierogis, cut dough into quarters. Roll a quarter of dough out on a floured surface to 1/8-inch thickness, and cut into 3-inch circles. Roll each 3-inch circle once more in each direction before filling with 1 tbsp of short rib. Fold pierogi into half moons and press sides together with your fingers, and then again with the edge of a fork. Place pierogis on a floured tray and transfer them in batches to the fridge while you make more.
5. Frying pierogis
In a medium size sauce pan, heat 2 inches of oil. Test the oil by dipping in the corner tip of a pierogi, once it's hot enough you'll see a sizzle. Drop in 4 pierogis at a time, frying in batches. They cook pretty quickly so make sure you're keeping an eye on them. I always recommend doing a test dumpling so you get an idea of how quickly it cooks before you start frying all of them. If you don't want to deep fry them you can always boil and pan fry.
6. Seared mushrooms
Once all pierogis have been deep fried, start searing mushrooms in batches (if you overcrowd your pan they will steam). In a large skillet, heat olive oil and add mushrooms. Allow to sear for about 2 to 3 minutes – do not stir. Toss mushrooms in skillet with chopped parsley, thyme, salt and pepper and a drizzle of white wine. Once white wine has evaporated, remove mushrooms and set aside. Repeat until all mushrooms have been seared.
7. The final stretch!
When you're ready to plate, spoon a generous amount of jus on a plate. Top with seared mushrooms, and place the fried pierogis on top so that the pierogis aren't sitting directly in the sauce – you don't want to spend all that energy frying them perfectly just to serve them soggy! Garnish the pierogis with creme fraiche and chopped chives.
**The best part about all of this hard work is that you will most likely have a lot of short rib leftovers, I intentionally make a lot so that I can use the short rib in other recipes like pasta or polenta! If you don't want leftovers I would half the braised short rib recipe.