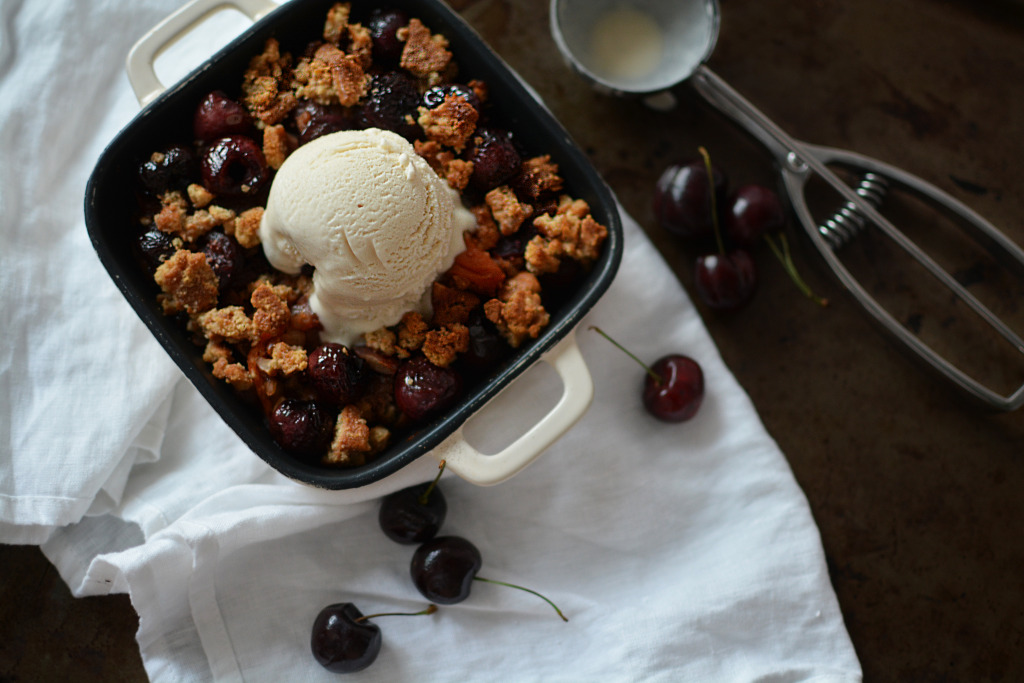 Cherry Apricot Crumble
Nothing says fall to me more than crumble, full of sweet and tart stone fruits, buttery crumb topping, with cold ice cream melting milky rivers into the dessert.
Summer is not over yet, but it doesn't mean we can't enjoy this Cherry Apricot Crumble! The markets are still overflowing with plump, sweet cherries, and tart, fragrant apricots. What better combination of fruits is there to turn into a crumble?
This is comfort food for dessert at its finest, as near and dear to the heart as the American apple pie. It's a kid favorite, but also sophisticated enough for grownup foodies. Bring this to your next BBQ with a batch of our Maple Ginger Snap Ice Cream, and watch it disappear before your eyes!
6 servings | 1 hour cook and prep time 
Ingredients for crumble:
2.5 lbs of apricots, halved and pitted
10 oz of fresh cherries, pitted
2 tbsp of cornstarch
4 tbsp of light brown sugar
Kosher Salt
1/2 vanilla bean, split lengthwise
8 graham crackers, finely crushed
3 tbsp of room temperature unsalted butter, cut into small pieces
1/3 cup unsalted, roasted almonds, coarsely chopped
Directions:
Preheat oven to 375 degrees. Combine apricots, cherries, cornstarch, 2 tbsp of brown sugar and a pinch of salt. Scrape in seeds from vanilla bean. Gently combine and transfer to a shallow baking dish.
Combine crackers and room temperature butter. Work until combined. Add nuts and remaining 2 tbsp of brown sugar and mix until combined. Scatter over fruit in baking dish, and bake until top is golden brown and fruit is bubbling, 35 – 45 minutes. Serve warm with maple ice cream.
Try our Maple Ginger Snap Ice Cream recipe, omitting the ginger snaps.
Crumble recipe is from Bon Appetit.
Written and photographed by Tracy Chow & Jen Yu.