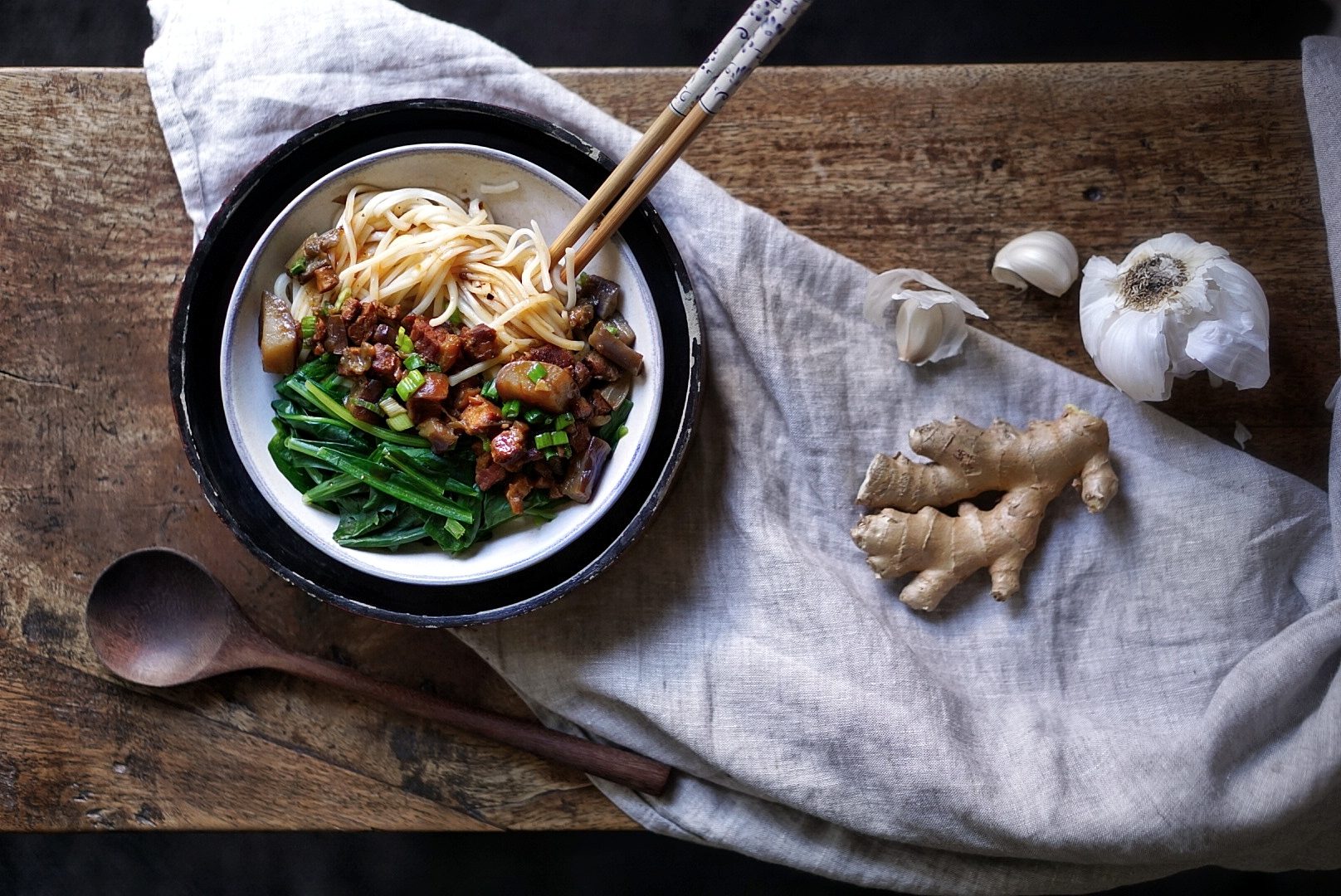 Eggplant Pork Noodles
Chinese New Year is just around the corner, and I'm busy imagining all the tasty dishes I'm going to ask my mom to whip up (ha!). As much as I love to cook, sometimes you just need some of mom's home cooking, like these eggplant pork noodles.
There are a few dishes that one "must" eat on Chinese New Year, noodles being one of them. Noodles symbolize longevity, because they're so… long. My mom will complain that eggplant pork noodles aren't special enough for Chinese New Year, but I think it's delicious anyway.
This eggplant pork noodles recipe uses ground pork because it's quick enough to whip up for a weeknight meal, but you can also use pork belly using the Lu Rou Fan (Braised Pork Belly on Rice) method. If you have any leftover Lu Rou Fan, you can use that as a starting point for this dish as well, but I never have any leftover.
Serves 2.
Ingredients:
1 Japanese eggplant, cut into 1/2 inch dice
1/4 lb ground pork (not the super lean kind!)
1/2 tbsp shaoxing cooking wine
1 tbsp light soy sauce
2 coins ginger
1 green onion, chopped
2 cloves garlic, chopped
1 tbsp Canola or other cooking oil
Pinch of sugar
Pinch of salt
1 tsp oyster sauce
Sesame oil
Chinese noodles of your choice
Directions:
1. Heat a frying pan over medium heat, and add cooking oil. Add ground pork and cook until golden brown.
2. Add ginger, garlic, and eggplant. Cook until eggplant is starting to become soft.
3. Stir in a pinch of salt, sugar, and oyster sauce, and adjust seasonings to taste.
4. Cover with water to just submerge the eggplant and pork. Cover and simmer on low for about 10 minutes, or until eggplant is soft but not falling apart.
5. While eggplant and pork is simmering, cook noodles.
6. To serve, top noodles with eggplant and pork sauce. If desired, serve eggplant pork noodles with some blanched greens. Finally, garnish eggplant pork noodles with green onion, and a small drizzle of sesame oil.