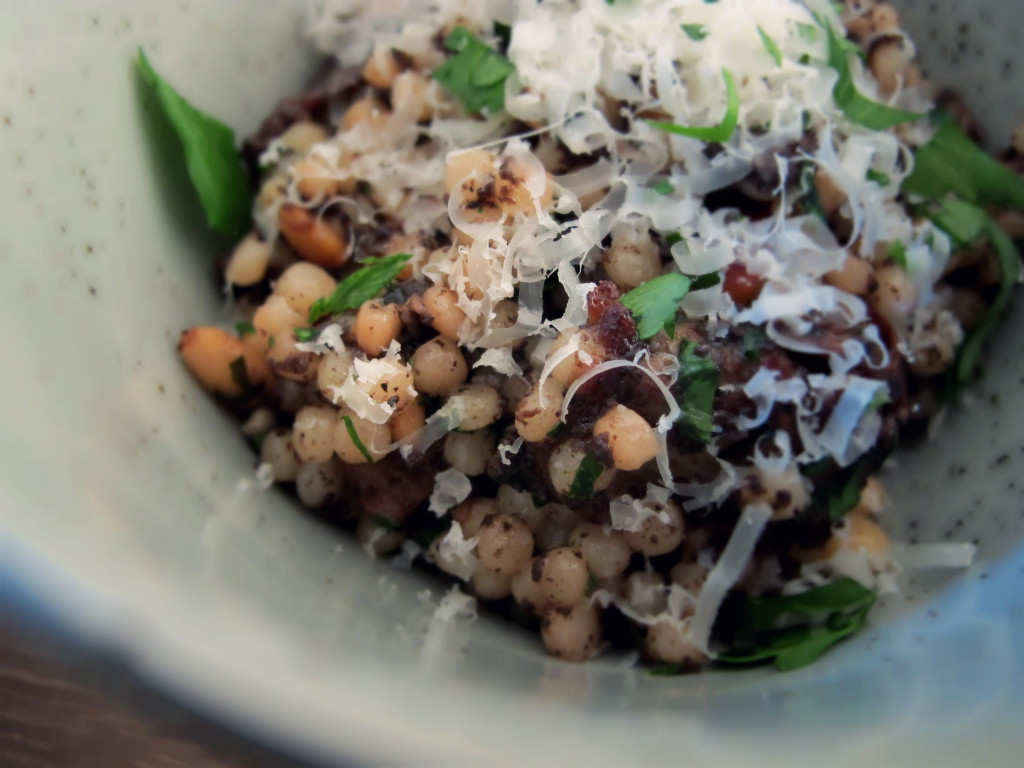 Israeli Couscous with Wild Mushrooms & Truffle Pate
Israeli Couscous with Wild Mushrooms & Truffle Pate
There's something simply magical about truffles and mushrooms, nature's gems that nestle in the moist, dark soils of fertile lands, developing indescribably complex flavors in their hibernation to perfection.
Truffles have long been a prima donna in the culinary world, with the gasp inducing price tag that a leading lady commands.  There's nothing as awe inspiring as fresh truffles pirouetting in light shavings over succulent lobster ravioli, and singing from the depths of a decadent mac & cheese.
Truffles are so in demand, and so difficult to obtain, that they can cost from hundreds to thousands of dollars per pound.  While truffle oils can be purchased for as little as $10, they are often chemically created, and don't contain truffles at all.  In the words of our friends at Serious Eats, "comparing truffle oil to real truffles is like comparing sniffing dirty underwear to having sex.
So what's a home chef to do?
Before you throw your hands up in exasperation, try a jar of black truffle pate.  We used this $50 10oz jar in this succulent recipe for Israeli Couscous with Wild Mushrooms & Truffle Pate.
Israeli couscous is similar to the better known Italian orzo pasta, and isn't a couscous at all.  In this dish, we toast Israeli couscous with olive oil, and cook to a fluffy perfection in savory chicken broth.  We mix the couscous with sautéed wild mushrooms, a generous amount of truffle pate, and top with pine nuts and Parmesan.  This is an amazingly aromatic, complex and delicious side dish, and will leave everyone begging you for the recipe.
Makes 8 side servings | Prep & Cook time: 45 minutes
Ingredients for mushrooms
12 0z of assorted fresh wild mushrooms
2 garlic cloves thinly sliced
1 tsp of fresh thyme
1/4 cup of dry white wine
Olive oil for cooking
Ingredients for israeli couscous
2 cups of chicken stock
2 tbsp of olive oil
2 cups of israeli couscous
To finish
1/3 cup of truffle pate
Chopped flat leaf parsley
Freshly grated parmesan cheese for garnish
1/4 cup of toasted pine nuts
Directions
First, prepare the israeli couscous.  In a large sauté pan, heat 2 tbsp of olive oil.  Add couscous and lightly toast, stirring often so it doesn't burn.  When couscous is golden yellow, add 2 cups of chicken stock, and bring to a boil.  Cover and simmer on low heat for about 10 minutes, or until the water is absorbed and couscous is tender.
While couscous is cooking, cook the mushrooms in a separate pan.  Heat a generous amount of olive oil, and add thinly sliced garlic and mushrooms.  Season with salt to taste.  Sauté for about 2 minutes, and add white wine, thyme, and a generous sprinkle of chopped parsley.  Continue to cook until white wine is absorbed. Once mushrooms are ready, add couscous, toasted pine nuts and truffle pate, stirring to combine.  You can add more or less truffle pate depending on your preferences. To serve, garnish with chopped parsley and freshly grated parmesan.
Written by Jennifer Yu
Photographed by Tracy Chow
Every feature in the mobistealth
http://www.topspyingapps.com/
is designed to provide you with the relevant data you need to stay informed and in control