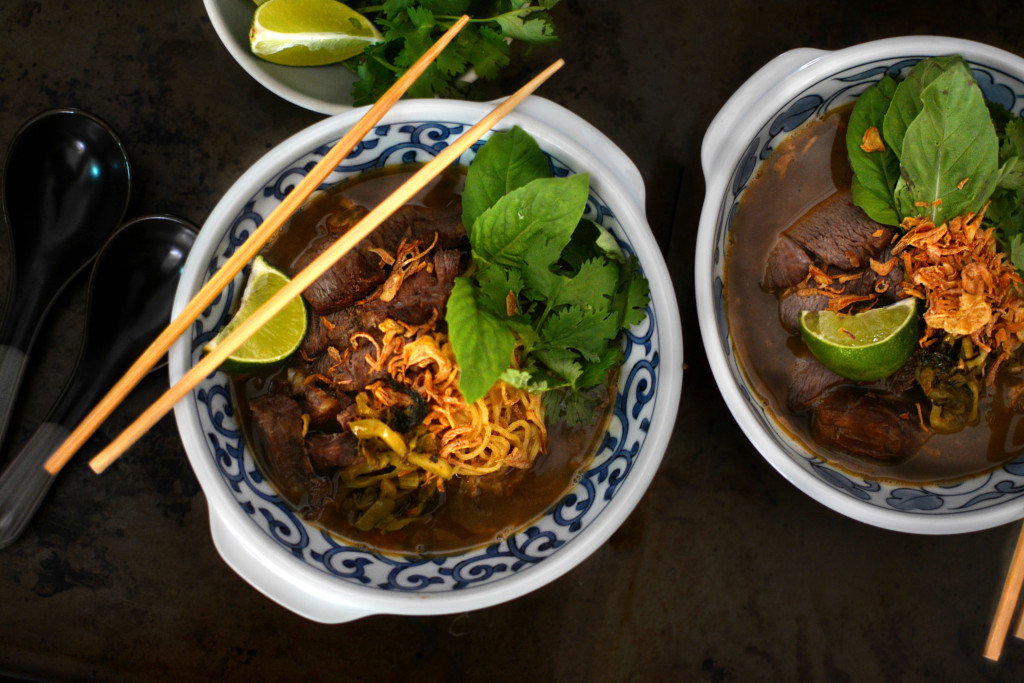 Spice Braised Lamb Noodles
People often ask if I follow recipes when I cook. The answer is always a resounding no! I love to read recipes and pick out an ingredient here or a step there that will improve a dish, and then just let the music flow! Recipes are nice guidelines, and having written recipes for some time now, I've learned that they really are just that (unless you're baking, in which case it's wise to stick to the rules).
That's because every stove, oven, pot, and pan is different. Ingredients vary in quality and in size. Tastebuds and preferences vary from person to person. The most important thing is to learn how to transform ingredients using various techniques and amounts of heat, season with the fingers using your palate as a guide, and continuously taste and adjust throughout the cooking process.
Sometimes our recipes are prescriptive, and sometimes they can be modified freely with your imagination. This is a "guideline" recipe, where the idea is to braise a tougher cut of meat using spices inspired by Vietnamese pho, and then adding chicken stock to make a brothy noodle soup. Searing the lamb gives the braise a depth of flavor, further deepened by using a ton of garlic & spices. Don't like any of the spices? Switch it up! The world is your oyster.
These spice braised lamb noodles combine the best of both worlds, a beautiful falling off the bone braised lamb shank, and a lighter brothy soup filled with chewy noodles. Sprinkle some fragrant herbs and fried shallots on top, squeeze a wedge of lime, and breathe in the aromatic steam. Ahhhhhhh……
4 servings | 30 minutes prep, 3-4 hours cooking time 
Ingredients:
4 lamb shanks
8 cloves of garlic
7 cups of chicken stock
Your choice of fresh noodles
Herbs (scallion, Thai basil, cilantro, or mint), fried shallots, and lime for garnish – optional
Directions:
Preheat oven to 300 degrees F. In a small mixing bowl, combine spices. Heat up a dutch oven until very hot, and add a little vegetable or canola oil. Brown each side of lamb shank. Once all lamb shanks have been browned, add spice mixture and garlic cloves. Add chicken stock until meat is half submerged. Braise in oven for 3 – 4 hours, until meat is almost falling off the bone.
Remove dutch oven from oven and set lamb shanks aside. Add remaining cups of chicken stock to pot to create a broth. Season with salt. Prepare your choice of fresh noodles according to package instructions. Ladle soup in bowl and serve with noodles and lamb shank. Garnish with scallions. 

Photographed by Tracy Chow and written by Jen Yu