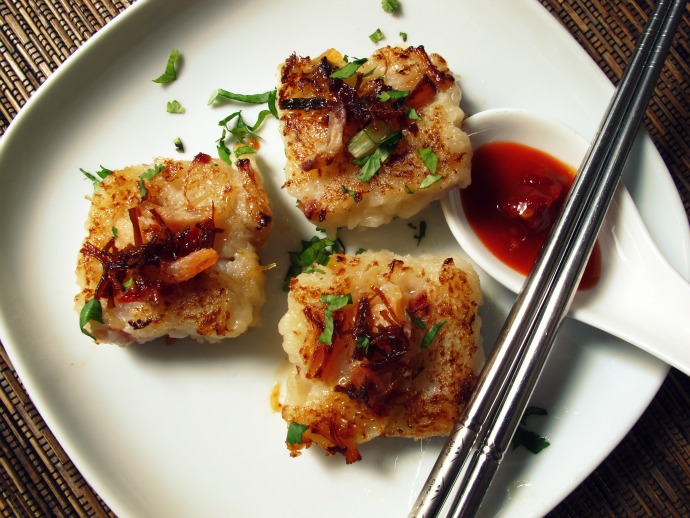 Turnip Cakes
恭喜发财, 新年快樂! Chinese New Year is here!  The most cherished and celebrated holiday of our wonderful Chinese culture.  In honor of this day and the year of the Horse, I'd like to share a beloved family Chinese New Year recipe: steamed turnip cakes with Chinese sausage.  Here, we use a traditional dried, hard pork sausage that's smoked, sweetened, and seasoned with rose water, rice wine and soy sauce.
Remy, my family housekeeper in Hong Kong, taught me this recipe.  It's not easy, but is definitely one of the more interesting things I've tried to make.  It's made all the more challenging by Chinese families and their lack of use of kitchen appliances, like a food processor and some cheesecloth!  Turnip juice on your hands starts causes a burning sensation that lasts a day, so gloves help too.  Remy, who is much tougher than me, simply shrugs and says "it'll be better tomorrow".
It sounds like I'm discouraging you from trying this recipe, but I assure you that quite the opposite is true.  Like so many hard won things in life, the more difficult the challenge, the bigger of an accomplishment you feel.  The result of these turnip cakes was absolutely amazing! Much better than the cookie cutter types you get off a cart at dim sum.  The restaurant version is made with more flour than turnip, because it costs less and holds it shape better.  The real deal is more rustic in shape and form, and oh so savory and succulent!
Prep time: 45 minutes | Cook time: 1 hour
Makes two large 9-inch turnip cakes
Ingredients:
5 large Asian turnips (aka. Daikon radish)
1 large piece of Chinese dried pork belly
2 Chinese sausages
1 handful of dried shrimps soaked in hot water
15 pieces of large dried scallops, soaked in hot water and shredded
500 grams of rice flour
5 tbsp of salt
1 piece of rock sugar
1 tbsp of chicken powder (optional)
1 piece of ginger
Directions:
Shred turnips either by hand or using a food processor. Wring out all excess water with cheese cloth into a separate bowl. Take the excess water and boil with a large piece of rock sugar and 3 tbsp of salt.
Once the water is boiling, set aside a quarter of the shrimps and scallops and add the rest to the pot along with the shredded turnips. Season with another 2 tbsp of salt and the chicken powder.
Dice Chinese sausage and dried pork belly. Lightly stir-fry in a small frying pan, with a slice of ginger and the remaining shrimps and scallops. Set aside half the mixture. Mix the remaining half into the turnip mixture.  Let turnip mixture cool, uncovered, for at least an hour before mixing in the rice flour. Mix in rice flour slowly and evenly, and divide into two 9-inch tins that are at least 3 to 4 inches deep. Sprinkle the top with the stir fried mixture.
In a pot large enough to fit the 9-inch tin, boil 1 ½ inch of water and steam the tins separately for an hour each.  You can also steam the turnip in small little bowls to create individual portions. As you can see, we steamed in both large and small containers.
You can serve this dish three ways. The first way is to cut out a small cube and serve immediately as a steamed dish. The second way is to let the turnip cake sit overnight and cut them into whatever size square you prefer and lightly pan-fry them for about 3 to 5 minutes on each side or until golden brown. You can also pan fry them with an egg by scrambling an egg and dipping the turnip squares before frying. Serve with hot sauce, hoisin sauce, soy sauce or eat them plain!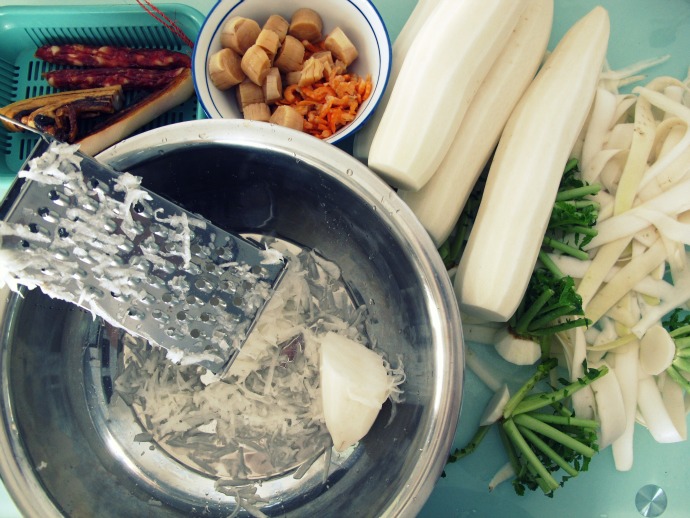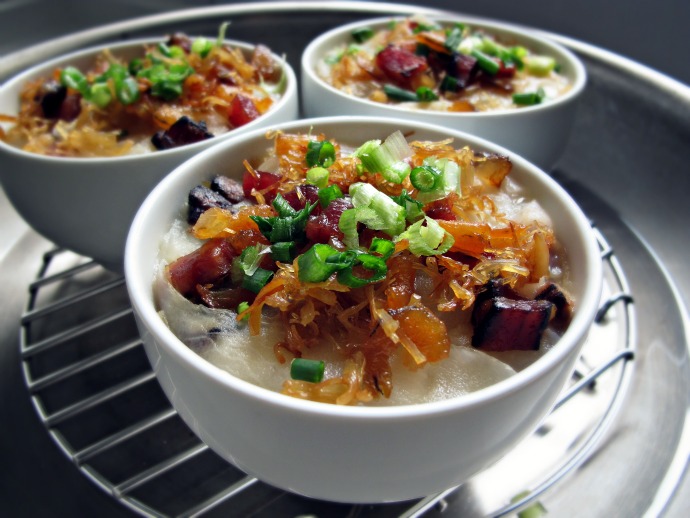 Written and photographed by Tracy Chow
Thousands perish each year and tens of thousands of lives are injured
http://www.trymobilespy.com
for the rest of their lives because of it