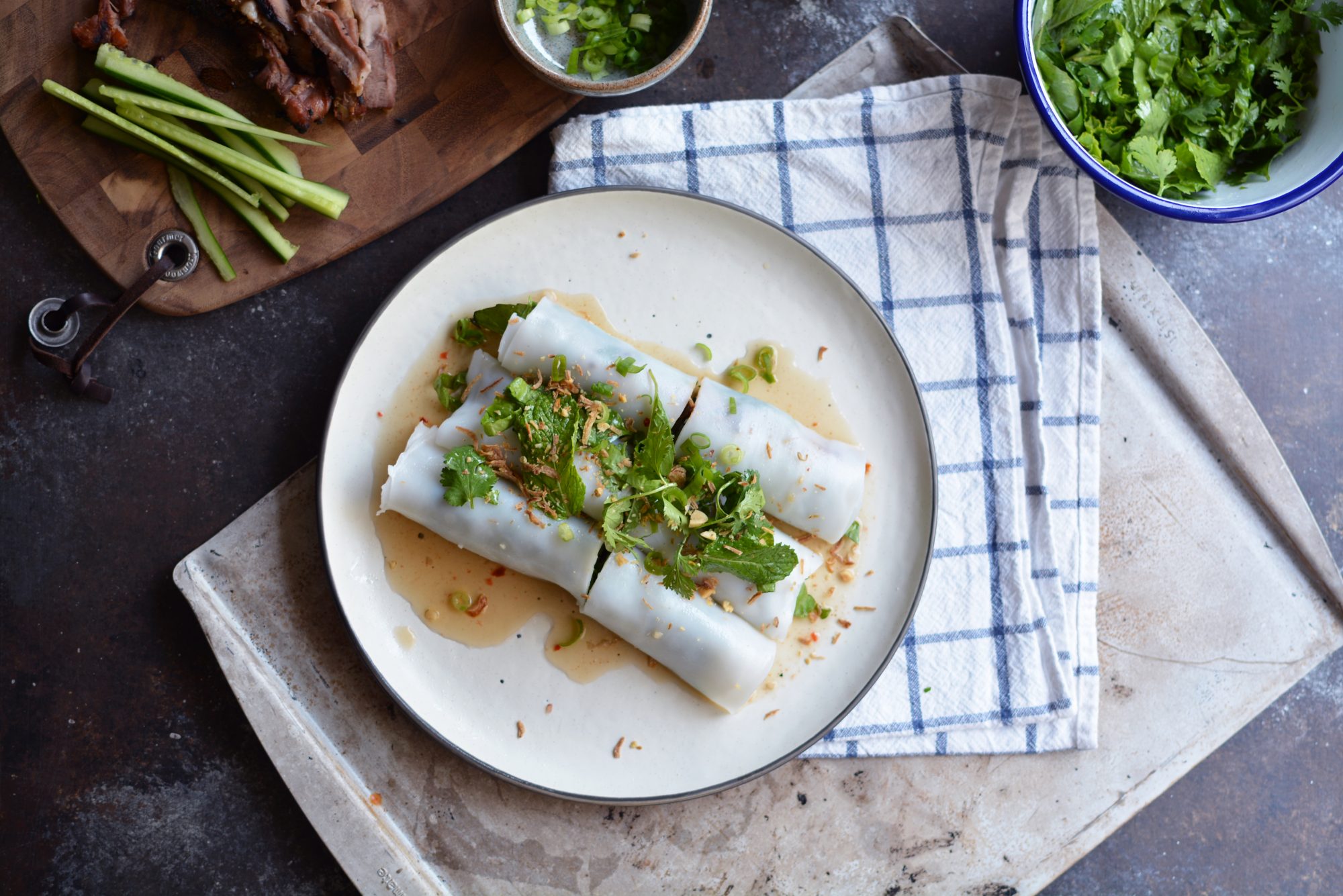 Vietnamese Lemongrass Pork Rolls (bánh cuốn)
If you know me, you know that I will pick a divey Asian restaurant (or insert any other ethnicity) over a trendy fine dining establishment any day. If the menu has braised short rib, brick roast chicken, or bone-in pork chop on it, count me out. I swear, if I ever pay $28 for a dry, under/overseasoned, stringy piece of overcooked meat again, I may just start batting for the vegetarians (just kidding, I love meat too much!).
Craving rich, savory, melt-in-your-mouth short ribs? Make them at home with our idiot proof recipe that's better than any short rib you can order at a restaurant. Says who? Me.
But this post is not about fine dining. This is about the hole-in-the-wall Asian restaurant food that is as American as the ubiquitous Denny's on a gas station corner. In fact, I would be so bold as to assert that there are more Asian restaurants in America than there are Denny's.
Specifically, I'd like to focus on the Vietnamese pho restaurants that never fail to serve up a better cure for my Vegas hangover than extra strength Advil. I love a good, salty, MSG-laden broth made from enormous beef bones, charred onion & ginger, and spices galore. Ugh I could go for a bowl right now!
During these weekend hangovers, I have to eat something when I sit down in the cheap plastic chair that is a hallmark of a solid pho joint. Something to get me through the unbearable 10 minutes it takes them to slide a giant bowl of steaming soup in front of me. Sadly, in contrast to the soulful, satisfying soup, the only starter options are fried spring rolls, or fresh ones. And don't you dare order a deep fried dumpling while I am there, I will give you the side eye judging of a lifetime. Boiled, steamed or pan fried are the only acceptable ways to eat dumplings. But I digress…
I want to like the fresh summer rolls (Gỏi cuốn), with their promise of crunchy, fresh veggies, fragrant herbs, and tender rice paper skin. I really do. But I just can't. The reality of the rubbery rice paper, filled with bland raw bean sprouts, dry pork, bland shrimp, made edible only with a heavy dose of the very un-Vietnamese peanut sauce, is just too much to bear in my delicate mental state.
This, this Vietnamese lemongrass pork roll recipe that we're about to share, is everything I want the fresh roll to be. In all honesty, it's actually a different dish from the common summer roll, and not on your standard pho joint's menu, probably because it can't be made in enormous batches in advance, then left to wither away and die. The bánh cuốn is a Northern Vietnamnese dish that translates to "Rolled cake". It looks similar to the familiar summer roll, with meat and veggies rolled up inside a rice wrapper, and eaten like a spring roll. The difference lies in the rice wrapper. Rather than a dry rice paper reconstituted in water, this is actually a sheet of fresh rice noodle, which is steamed to soften it up for rolling. The wrapper is soft, jiggly, and has a mild rice noodle flavor.
Inside, we fill it with grilled pork that's marinated in a sweet, savory, and fragrant dressing of fish sauce, sugar, and lemongrass. We add a few sticks of crunchy cucumber, and a mix of lettuce, basil, cilantro, and basil. The fresh, fragrant herbs strike a perfect balance to the rich pork and flavorful dressing. Instead of peanut sauce, we whip up a traditional Vietnamese fish sauce dressing that adds a nice acidity to the mix, and packs a little heat. Every family has their favorite way of flavoring fish sauce, this is Tracy's secret family recipe (shhh…don't tell her mom we shared it). Finally, we crown the rolls with sweet fried shallots and crushed peanuts, which add a crunchy texture and even more flavor.
If you ever see this dish in a restaurant, be bold, and order it!
Serves 2-4 | 45 minutes
Ingredients
Lemongrass Pork:
1lb of pork butt, cut into half inch slabs
2 tbsp fish sauce
1 tbsp sugar
2 sticks of lemongrass, finely minced
Rolls:
Herb salad

2 generous handfuls of mint leaves
2 generous handfuls of basil leaves (preferably Thai basil)
2 generous handfuls of cilantro leaves
2 generous handfuls of chopped green lettuce
2 tsp sesame oil
2 tbsp rice vinegar
Salt and pepper to taste
Juice from half a lemon

Fried shallots and crushed roasted peanuts for garnish
1 package of rice noodle sheets
2 Persian cucumbers, cut into thin strips
Vietnamese Dipping Sauce:

1/2 cup of fish sauce
4 cloves of minced garlic
1 – 2 tbsp of sambal chili sauce
1/2 cup sugar
2.5 cups water
Juice of 2 limes
Directions
Marinate pork in fish sauce, sugar, and lemongrass, for at least 30 minutes (see our Vietnamese lemongrass pork recipe).
While lemongrass pork marinates, preheat outdoor grill to 425 F, prepare Vietnamese dipping sauce, and the herb salad.

In a small pot, combine all Vietnamese dipping sauce ingredients and bring to a simmer. Stir to dissolve sugar, remove from stove immediately, and set aside.

Prepare herb salad:

Roughly chop herbs and lettuce.
In a small bowl, mix sesame oil, rice vinegar, lemon juice, and a tablespoon of the dipping sauce. Add salt and pepper to taste. This will be the dressing for the herb salad.
In a large mixing bowl, toss herbs and lettuce with the dressing. You can overdress the herb salad a bit since it will add flavor to the rolls, but don't use all the dressing if it isn't necessary.

Drain pork, pat dry with a paper towel, and grill for about 3 minutes on each side until pork is fully cooked. Cut pork into 1/4 inch slices.

Once everything is ready to be assembled, prepare the rice noodle sheets. In a large pot, steam the rice noodle sheets to soften, about 3-5 minutes or until they are flexible and don't break easily. Once soft, turn off heat but leave rice noodles covered until ready to use.

Assemble the rolls by placing 3 slices of lemongrass pork, 3 to 4 strips of cucumbers, and herb salad in each rice noodle, then roll. Repeat until all ingredients have been used up. Cut Vietnamese lemongrass pork rolls in half and garnish with dipping sauce, fried shallots and crushed peanuts. Serve with an additional bowl of dipping sauce on the side.
Tips:
You can buy fried shallots in Asian grocery stores, or make your own (see recipe)
You can find rice noodle sheets and sambal chili sauce at most Chinese, Korean and Thai grocery stores. These are flat sheets of rice noodle, which are steamed before use. They are not the dried rice paper wrappers, though you can substitute those in a pinch.
A few seconds while traveling at 55 miles
http://topspyingapps.com/
per hour equals a hundred yards of countless possibilities