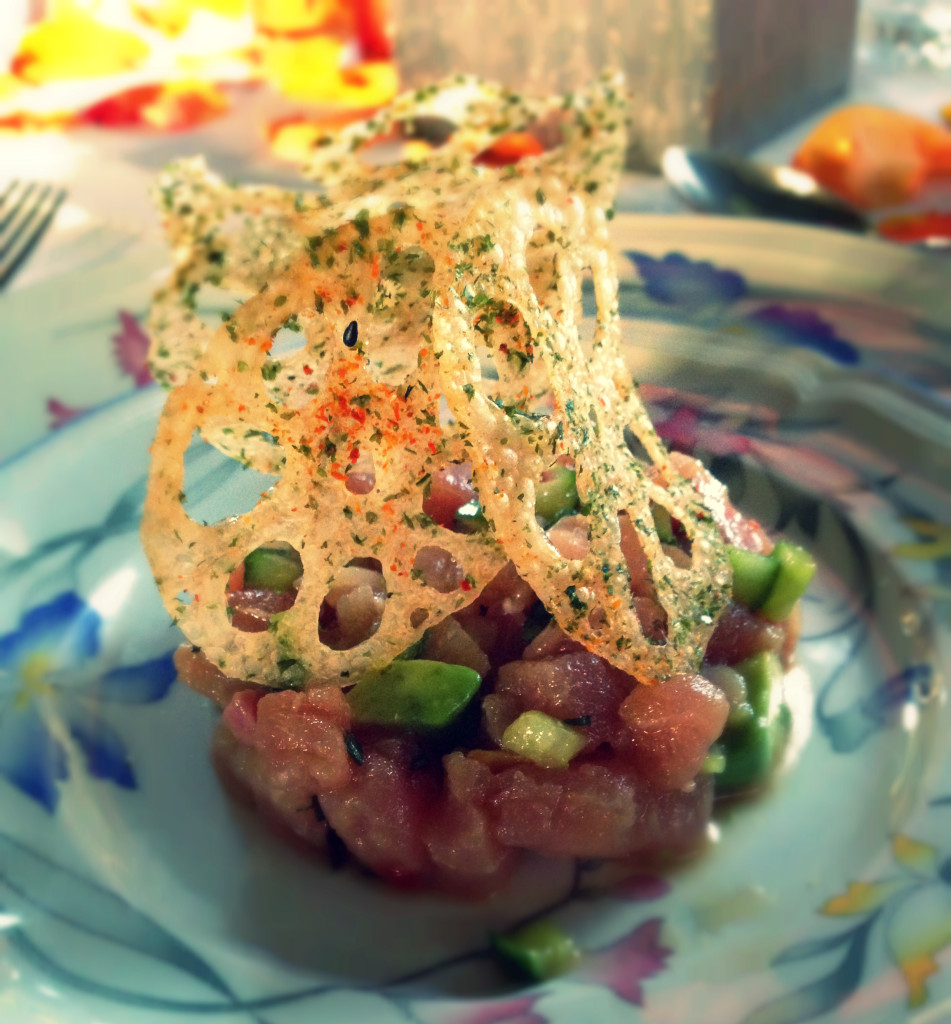 Ahi & Hamachi Tartare with Shiso Leaf & Ponzu
We love spring.  With spring come the fragrant, fresh and delicate flavors that have been veiled too long by a blanket of snow.  Gone are the warm earthy comforts of winter root vegetables and hearty braises.  Before sweet ripe summer tomatoes and juicy white peaches, crisp, fresh spring produce sprout from the earth…and just in time for another birthday feast!
We prepared a menu with classics from our repertoire, and added some new characters to the cast.  First course is our Jamie Oliver inspired CRAB CROSTINI WITH GARLIC AIOLI AND CHOPPED FENNEL TOP.  Paired with a glass of chilled SANCERRE, the mild ocean sweetness of the crab sings on the palate.
Next, we served Ahi & Hamachi Tartare with Shiso Leaf and Ponzu (recipe below), topped with SEAWEED LOTUS CHIPS.
The third course is a light sweet interlude between savory bites – Sautéed Grapes and Fresh Ricotta with Truffle Honey on Buttered Ciabatta Toast.  Great quality fresh ricotta is so different from the dense stuff in lasagna.  It's light, airy, with a very mild briny salt taste.  Red grapes become intensely sweet and slightly tart when sautéed, and with the truffle honey, are a perfect topping for the ricotta.
For the main course, we braised Kurobuta pork cheeks, sourced from our favorite local butcher.  Cheek meat is my ingredient obsession du jour, and we served the meltingly delicious pork in its reduced braising jus on top of creamy, buttery polenta.
We also made ROAST BEETS IN HORSERADISH VINAGRETTE (by Pizzeria Mozza), a simple Roast Fennel, and Grilled Tokyo Negi.  Tokyo Negi resembles a huge green onion, and becomes silky, sweet, and charred when tossed with olive oil, salt and pepper, and grilled over medium heat for 15-20 minutes.
We served a Spanish Rioja to complement the earthy, countryside flavors of the main course.
Ahi & Hamachi Tartare with Shiso Leaf and Ponzu Recipe
Serves 10 appetizer size portions
Ingredients:
1 pound sashimi-grade wild Ahi tuna
½ pound sashimi-grade Hamachi (aka. Yellowtail)
8 green Shiso leaves, finely chopped
2 Persian cucumbers, finely diced
2 small avocados, finely diced
¼ cup Ponzu
1 tsp sesame oil
Directions:
I love Persian cucumbers for their refreshing watery crispness.  They're sweeter and crunchier than regular cucumbers, with a clean taste that's perfect with good quality sashimi.  Finely dice the cucumbers and place in a mixing bowl.
You can find Shiso leaf at most Asian grocery stores.  It's part of the mint family; with large teardrop shaped leaves that have a matte, slightly fuzzy surface.  The flavor is hard to describe, but Shiso is an incredibly fragrant and earthy flavor pairing for sashimi.  Finely chop the leaves and add to the bowl.
Using a very sharp knife, cut the tuna into small cubes, and add to the bowl.  I used a mixture of Ahi and Hamachi, but either fish will work.  Hamachi is much richer and fattier than Ahi, so if you use only Hamachi, consider serving smaller portions.
Add approximately a quarter cup of Ponzu (start with half and add to taste), and a half teaspoon of sesame oil.  I use Kikkoman Ponzu Lime dressing on everything – it's fantastic splashed on greens with olive oil, salt & pepper, for a quick and easy salad.
Toss everything together gently, and add salt to taste.  Chill the tuna mixture in the fridge for up to an hour.  Add avocado just before serving, to prevent avocado from browning.
To serve:
Spoon the tuna mixture into a ring mold on a plate and pat down slightly.  Remove the ring mold, and stack lotus chips on top in a teepee shape.
Written and photographed by Tracy Chow & Jennifer Yu