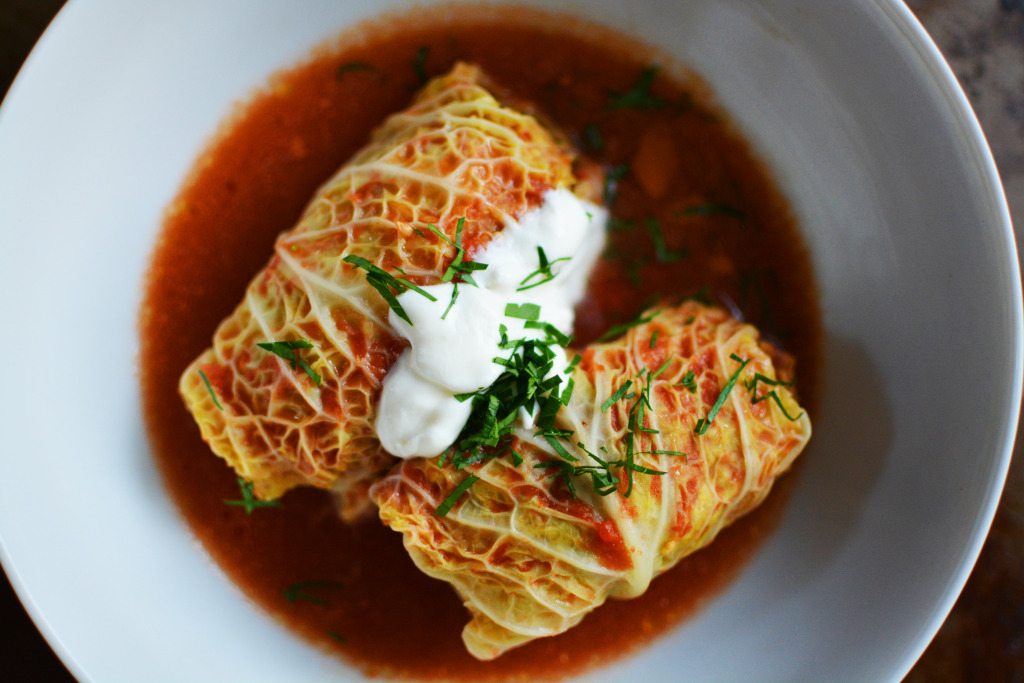 Karina's Stuffed Cabbage Rolls
Some say cabbage rolls go back in Jewish culture as far back as 2000 years. Indeed, today, there are as many versions of the humble cabbage roll as there are Eastern European grandmothers who claim theirs is the most authentic. When I got married last year, I learned how to make my husband's favorite dish from his mother, Karina, and I promise you, the best stuffed Russian cabbage rolls are hers.
At first, it seemed like our families couldn't be more different.  His, a boisterous, emotional, bear hugging clan of Russian Jews from New Jersey.  Mine, a reserved, contemplative Chinese family from Hong Kong who shrivel at the thought of expressing undue emotion.  After 10 years of dating, our families united at our wedding, for very the first time.  Last September, over a magical weekend of celebrating, feasting like kings, and drinking one too many Russian vodka shots, our families realized that we are not so different after all.
One thing we have in common is our love of food, and the family bonds forged over hours of hovering over steaming stovetops, weekends spent celebrating birthdays and graduations, years of meals enjoyed together, and a lifetime of memories from around the dining table.  Sickness is healed with a hearty soup – steamed ginger chicken soup for me, bold red Russian borscht for him.  Holidays are spent making dozens of homemade jiaozi, pierogies, and varenyky, depending on whose side of the family you're on.  Dinners are enjoyed with free flowing Russian vodka shots, or porcelain pots of hot green tea.  But that was then, this is now, and today, our families and our tables are one.
I want to share Karina's recipe for stuffed cabbage rolls, so that you can fill your family with the same love that binds ours.  Even as I write this, I can smell the earthy aroma of savory minced meat stuffed in sweet savoy cabbage, simmering gently in a bath of sweet and sour tomato broth.  This is Russian comfort food at its best – warming, filling the stomach and the heart, simple, but also balanced and complex in flavor.
Makes 8 rolls | 4 Servings 
Ingredients for cabbage rolls:
1lb of ground chuck, 20% fat
1 head of cabbage
1/4 cup of uncooked rice, cooked
1 tbsp of fresh thyme
4 tbsp of chopped parsley, additional for garnish
1 yellow onion, grated
2 cloves of garlic, minced
Salt and pepper
Ingredients for tomato broth:
4 cups of chicken broth
1 16oz can of crushed tomatoes, preferably San Marzano
Red pepper flakes, optional
1 sprig of fresh Thyme
1 tbsp of sugar
Salt and pepper
Directions:
In a large pot, bring water to boil and boil entire head of cabbage for about 5 minutes, remove and set aside in a bowl. In a large bowl mix remaining stuffed cabbage ingredients. Season generously with salt and pepper.
To remove whole leaves of cabbage, cut the cabbage stems by inserting knife at the base of the cabbage. Trim off the thick part of the stem so that the leaf can be easily rolled. Lay each leaf flat and carefully skim your knife parallel to the stem to trim down the thickness as much as you can without cutting through.
Spoon two tablespoons of the cabbage mixture into your palm and roll into a thick log. Place on the leaf towards the bottom, fold in the two sides and roll. Repeat until all cabbage mixture has been used. Set cabbage rolls aside while you prepare the broth.
In a large shallow pot combine all tomato broth ingredients and bring to a light boil. Carefully add cabbage rolls so that they don't unfold. Cook for about 25 minutes. To serve, place 2 cabbage rolls in a bowl with a generous ladle of broth, garnish with parsley and sour cream.
Written and photographed by Tracy Chow & Jen Yu.